Joffrey's 'Nutcracker' showcases classic holiday ballet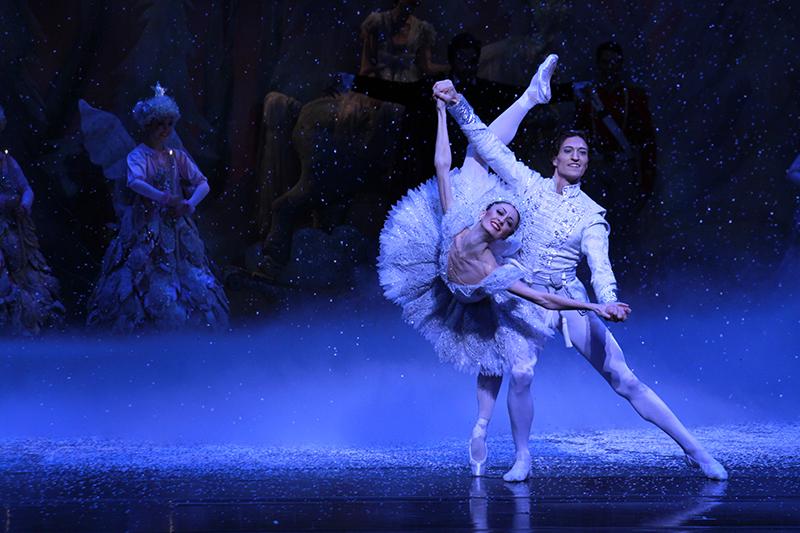 Last Friday officially ushered in the holiday season in Chicago with the Joffrey Ballet's "The Nutcracker" opening at the Auditorium Theater.
Joffrey's adaptation of "The Nutcracker" begins Christmas Eve sometime in the 1850s, where the Stahlbaum family—the Mayor (Temur Suluashvili), his wife (Victoria Jaiani) and two children, Clara (Caitlin Meighan) and Fritz (Elivelton Tomazi)—alongside their servants, prepare for a Christmas celebration.
When their guests arrive, the living room is transformed into a gifting mecca with packages of various sizes passed everywhere, and with Fritz and Clara as the main recipients. The last to enter, Dr. Drosselmeyer (Fabrice Calmels) and his nephew (John Mark Giragosian), come with the best gifts of mechanical dolls which double as entertainment for patrons young and old:  Columbine (Cara Marie Gary), Harlequin (Yoshihisa Arai), Vivandiere (Elizabeth Hansen), and the Soldier (Rory Hohenstein). Drosselmeyer also brings the most important gift: a nutcracker.
After the nutcracker comes to life and battles the Mouse King, Clara and Drosselmeyer journey to the mythical Land of Snow where they meet the Snow King (Temur Suluashvili), Queen (Victoria Jaiani) and Prince (Elivelton Tomazi). The dance sequence in the Land of Snow was one of the highlights of the performance with snowflakes falling and an impressive duet between the Snow King and Queen set with the corps of snowflakes.
As Act II began, their magical migration continued into the Kingdom of Sweets. It is here Clara is welcomed by the Sugar Plum Fairy (Jeraldine Mendoza), bestowed more gifts and bombarded with beautiful interludes of international decent—Chocolate from Spain (Amber Neumann), Coffee from Arabia (Victoria Jaiani and Temur Suluashvili), Tea from China (Amanda Assucena and Elivelton Tomazi), Nougats from Russia (Jacqueline Moscicke, Yoshihisa Arai, Raul Casasola, and Lucas Segovia), Marzipan Shepherdesses (Mahallia Ward and Kara Zimmerman), and Mother Ginger (Francis Kane).
A large puppet-woman clad in Victorian clothing, Mother Ginger was another highlight. Entering stage left, clapping her human-operated hands, ballet-goers went wild. Her children, hiding in her skirt, took turns bursting from the hem of her garment dressed in clown garb, giving the audience a lighthearted and upbeat moment.
These costumes were beautifully crafted, with each filled with bright colors and glint, evoking emotion from the crowd as the "oohs" and "aahs" queued following each entry, and especially those of the inhabitants in the kingdom. The precision of these fashions communicated the plot and made up for the muteness of the production.
This acclimatization was sublime. From the costumes to the cavorted dance, "The Nutcracker" is truly an experience to be had by the whole family.
View Comments (1)