AP: Militants attack sites in Paris, murder satirical newspaper employees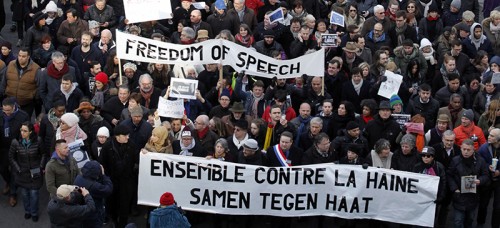 For three days, two al-Qaida-linked brothers and an associate who seized a kosher grocery, terrorized France and shook the world.
The Kouachi brothers allegedly carried out the massacre of 12 people at satirical newspaper Charlie Hebdo, while their associate is suspected of killing a policewoman and wounding a street sweeper. On Friday, they hunkered down with hostages in separate sieges that ended in a blaze of gunfire and explosions. A chronology of the terror.
WEDNESDAY, Jan. 7:
—Masked gunmen shouting "Allahu akbar!" storm the Paris offices of Charlie Hebdo at noon during an editorial meeting. They head straight for the paper's editor, Stephane Charbonnier, killing him and his police bodyguard. With military-style precision, they go on to slaughter seven other journalists, a maintenance worker and a visitor.
—Making their escape in a black car, the gunmen pause to kill a Muslim police officer, shooting him in the head as he writhes on the ground.
—France raises its terror alert system to the maximum — Attack Alert — and bolsters security with thousands of extra soldiers and officers to guard media offices, places of worship, transport and other sensitive areas.
—French police identify three suspects: The two brothers, Cherif Kouachi, 32, and Said Kouachi, 34, and a suspected accomplice, 18-year-old Mourad Hamyd. A witness quotes the gunmen as saying: "You can tell the media that it's al-Qaida in Yemen."
—Hamyd turns himself in at a police station in Charleville-Mezieres, a town in France's eastern Champagne region.
—Heavily armed police move into the city of Reims, also in Champagne, apparently searching for the Kouachi brothers.
THURSDAY, Jan. 8:
—Police release photos of the Kouachi brothers amid fears they will strike again. SWAT teams backed by helicopters hunt for them in the Picardie region north of Paris. Nine people, suspected members of the brothers' entourage, are detained for questioning in several regions.
—Fears of a backlash against France's large Muslim community are heightened when grenades and gunfire hit a mosque overnight in the city of Le Mans, southwest of Paris. No one is in the building at the time and no one injured.
—An assailant opens fire on a police officer in a pre-dawn shooting on the southern edge of Paris, killing her and injuring a nearby street sweeper. The suspect is identified as Amedy Coulibaly.
—Police swarm a gas station in the northern Aisne region where the Kouachi brothers are reportedly spotted.
—Four leading French imams and the Vatican issue a joint statement denouncing the Charlie Hebdo massacre.
FRIDAY, Jan. 9:
—French Interior Minister Bernard Cazeneuve says an operation is underway to detain the brothers in Dammartin-en-Goele, about 40 kilometers (25 miles) northeast of Paris.
—The brothers are cornered with a hostage inside a printing house. Security forces backed by a convoy of ambulances stream into the small industrial town. Helicopters hover above. Schools go into lockdown and town residents are told to stay inside their houses.
—A gunman takes hostages at a kosher grocery on the eastern edge of Paris, wounding several people. Police say the hostage-taker is armed with an automatic rifle and there are multiple hostages and wounded.
—A police official identifies the gunman as Coulibaly. Police release his photo and that of a suspected female accomplice, Hayat Boumddiene, calling them "armed and dangerous."
—Police link Coulibaly to the Kouachi brothers.
—Just before 5 p.m., the Kouachi brothers came out from the printing plant with guns blazing, a French police official said. They were killed and their hostage was freed.
—Minutes later, police storm the Paris kosher grocery in another eruption of gunshots and explosions. Coulibaly and at least four hostages are killed. Fifteen hostages are freed.
— A member of al-Qaida's branch in Yemen says the group directed the attack on Charlie Hebdo.