DePaul Center candy shop Gioia Chocolate & Gelato stays strong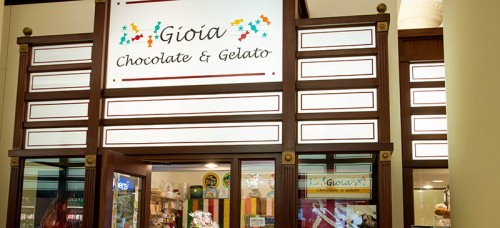 Business suits and backpacks pass by on a weekday. Students and adults rush to class, most likely unaware of the assortment of goodies awaiting in the corner store, most likely not aware it even exists.
At least that's what DePaul senior Anam Sardar figured when she passed by the same candy shop time after time without inquiring what it offered. After entering for the first time a few weeks ago, Sardar particularly liked the assortment of candies and imported chocolate that Gioia Candy & More has to offer.
Located in DePaul Center on the first floor, just past Barnes and Noble, Gioia has been the resident candy shop for 10 years and has survived all other businesses that have come and gone in the building. It is the store's only location in Chicago.
Five years ago, owner Ok S. Kim acquired the shop from the man who owned the Sbarro on the other side of the building. Kim kept the name and items sold in the shop. She has been happy to keep the place going and continue the tradition of selling treats to students and others who stop by.
Kim's selection of candies and chocolate include candy bars and assorted bags, as well as handmade buttercreams, truffles and milk chocolates. However, the gelato in the shop is handmade and imported from an Italian company.
Sardar, like many of Kim's customers, is especially interested in trying the gelato.
"The shop looks expensive from the outside," Sardar said. "I think if more people knew it was reasonably priced, they would go in."
Kim's prices go for the average candy bar selling for about $1 and a scoop of gelato between $2 and $4.
Senior Nina Johnson has shopped regularly at the store for about a year now, usually once per week. She especially likes that it is never busy and she can stop in for a candy bar before heading to class.
"It's more convenient than anything," Johnson said. "I like the idea that there is a campus store right there to get a quick sweet tooth fix. It makes it more fun to shop at when we know that it's there for the DePaul community."
According to Kim, most of her customers stopping by are buying chocolate. However, Sardar has noticed all types of people: students, adults and occasionally business people in suits.
According to the DePaul Public Safety, the DePaul Center rents out the space to businesses, mostly restaurants, keeping a variety of places to choose from to weed out competition.
However, there hasn't been much turnover because the businesses are going strong.
"If I'm around the area, I would definitely stop in to grab a candy bar," Sardar said. "Some of those candies are so old and we haven't seen them in so long. I love it."
Because of students like Sadar, business has remained strong. The assortment of candies and other goods ensure that students return time and again.
"I do occasionally buy coffee from the Starbucks in the Barnes and Noble, but I like getting other sweets from (Gioia) because there is never a line and you can take your time," she said. "Plus this place almost brings you back to your childhood. It offers more specific items rather than other random chips and snacks."
Some of those old candies include Bit O'Honey, Mary Janes, Bullseye caramels and Smarties. Johnson and Sardar also said it is one of the most unusual places in the DePaul Center.
"It stands by itself and if you're hungry, you think of going toward the other direction, but it's right there, so convenient," Sardar said. "One thing I would have to say is I wish they would do something to get more students to notice it."