Press play on these 5 indie games
Hang on for a minute...we're trying to find some more stories you might like.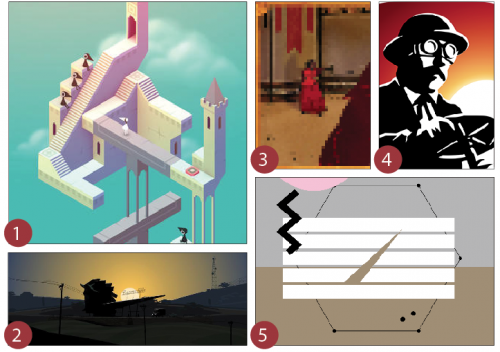 As we enter 2015, there is one lesson to draw from the past year in video games: they have never been so diverse.
"In terms of gameplay, there are now games that include everyone, and not just one specific group," Ruth Williams, a DePaul game design student, said.
Whether they tell personal stories, provide a moment of relaxation or are suited for play on a whim on the train, games now have the potential to appeal to the general public. For the new year, here are five indie games that anyone might enjoy, each for entirely different reasons.
1. Monument Valley (iOS, Android – $3.99)
"Monument Valley" is a very short experience, providing both some clever reflection challenges and a very welcome dose of relaxation. The role of the player is to guide a little princess dressed in white across a dreamlike world of impossible geometry. In this mystical realm, castles float in the skies and gardens stand in the sea.
The challenge lies in the ancient mechanisms that can be triggered with a gentle touch: to make stairs rotate, to walk on ceilings or to slide entire blocks of stone across the void. Often, the illusion of perspective can change reality itself and create bridges where there are none. This is a world where everything is music and joy. The tiniest steps sound like bells ringing, clicks are crystal melodies and the quiet music in the background soothes the mind.
2. Kentucky Route Zero (PC, Mac, Linux – $25)
The last place where one expects to find a poetic depiction of the American south is in a video game. Yet "Kentucky Route Zero" is a journey across highways, late-night pubs and abandoned coalmines with an occasional bluegrass folk song echoing in the distance. Visually, the theatrical direction of the game and its bluish, evasive shapes is charming. It is equally refreshing thanks to its slow pace and absence of puzzles. Instead, the game stands out for its literary influences.
"The writing is tight and immersive, and the music is perfect for any fan of trance or American blues," Isabelle Johnson, a creative writing major at DePaul, said. "It is a love letter to magical realism and to the dreamy, haunting unknowns of the American south."
Besides the mood itself, "Kentucky Route Zero" is grounded in the hardships of life in troubled economic times and will not fail to bring a note of melancholy.
3. The Yawhg (PC – $9.99)
There are plenty of games to play online with strangers, but local multiplayer games to play with friends around the same screen are a rare sight. "The Yawhg" is one of those. Everyone picks a character and chooses how to spend their week in a fantasy city: drinking at the tavern, dancing at the palace or even learning magic in the alchemy tower. But the great interest of the game lies in the absurd or tragic situations to which you will be confronted with, and in how you decide to react.
Will you approach this woman with the sharp teeth in a poorly lit street? Defy this bard on a lute duel? The consequences will always be equally entertaining and unexpected. With some fairytale-like hand-drawn scenes and bouncy writing, an eventful party is always guaranteed.
4. 80 Days (iOS, Android, Kindle Fire – $5)
Inspired by Jules Verne's "Around the World," "80 Days" is a true wonder that will please those who seek the spirit of adventure at their own pace. While primarily text-based, it is nonetheless an engaging work in which no two journeys are ever alike. There are dozens of cities to explore by air, train or ship.
"Besides the wonderful writing and the minimalistic, but beautiful art, the game stands out due to a fantastic background story," Mischa Hiessboeck, a game design instructor at DePaul, said. "(It is) truly an amazing alternative version of 'steampunk.' "
The unexpected encounters with locals or travelers prove endlessly surprising and bring memorable situations such as a sea monster hunt in a submarine, a political rebellion in India, a murder mystery on a dirigible and even a love story.
5. Patapap (Any Web browser – Free)
"Patapap" is your go-to interactive experiment when you find yourself lacking inspiration for a midterm paper. Open a tab, go to patapap.com and start pressing keys randomly to compose music.
It does not get more complicated than that, but it truly is addictive. For each key pressed, a sound, a beat or a jingle is played while a bouncy animation briefly appears on screen. The most music-savvy will successfully compose entire melodies, but for the rest of us, "Patapap" remains a genuinely fascinating exercise in synesthesia. The immediate, rich responsiveness of the game to the slightest input conveys a joyful urge of creativity that it is hard to resist, whether 6 years old or 66.