DePaul Theatre School alumni reunite in 'Top Girls'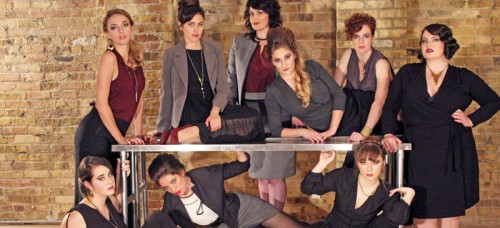 This winter, The Arc Theatre is bringing the renowned "Top Girls" written by Caryl Churchill and directed by Mark Boergers, to life. The show is saturated with talent, strong female characters and several dynamic DePaul Theatre School graduates. 
"Top Girls" chronicles the life of an ambitious and career-driven woman named Marlene. The show is a unique culmination of past and present; the first act is a historical dinner party in which Marlene meets influential women from the past and the second act is more deeply grounded in reality, exploring Marlene's life and where the work place and family collide within it.
Director and long-time fan of the play, Boergers said he is thrilled to bring this play to the stage this season. When it comes to directing, a love of logic and a love of art collide within him. Stepping back to watch a production come to life isn't easy, but in Boergers' eyes, it is an absolutely essential part of the creative process.
"It's hard," he said. "But it's also something that I have gained some freedom with. (Art) and theater, and especially live theater, are not about control. It's kind of about chaos and things happening in the moment; that's what makes it exciting."
Boergers is also thrilled to be working with so many other DePaul Theatre School graduates, and the camaraderie that comes with it.
"They are professional, and they are intelligent," Boergers said of his cast. "They are just all a beautiful mix of left-brained and right-brained and it is a joy to work with every one of them."
Patricia Lavery, who portrays the lead role of Marlene, described a shared "vocabulary" that the actors possess, which enables them to communicate on a whole new level.
"On the first day of rehearsal we already had that friendship and trust that you need to have with your acting partners all built in so we hit the ground running," Lavery said.
For her, the significance of "Top Girls" extends beyond the realm of the stage and into the world beyond. Its message is deeply intimate but also widely universal and, all the while, it is full of female characters who are inspiring, identifiable and honest.
"I can't think of that many plays where the entire cast is women and it doesn't revolve around 'getting the boy' or any sort of male character," she said. "It's really awesome to work on an ensemble show where every character is a female and each character has a nice journey and a meaty role that actors can really dig into. "
While some of the female characters are from history and others are from modernity, all of them stem from a real place and represent real conflicts and triumphs that women face.
Cast member Pamela Mae Davis has taken on two vibrant and unique roles within "Top Girls." The first is the legendary Pope Joan who disguised herself as a man in order to pursue her interest in academia, and the second is a woman named Louise who seeks a job at Marlene's agency.
"She is a model of a sort of older, second-wave feminist who wears the suit and no makeup and no heels and wants to be taken very seriously and feels like she has to downplay or sacrifice some sort of sensuality or femininity in order to do that," Davis said.
In addition to her work as an actor, Pamela teaches theater to high school students at summer camps. The experience is a symbiotic one; as she imparts knowledge on young actors, she is revitalized in her own career ,as well. Davis finds the definition of "good" acting can become harmfully rigid and working with students helps reawaken different, new and inspiring possibilities.
"I find it really, really important for me to, at least once a year, reconnect with 15, 16-year old kids who are learning for the first time how magical it feels to see inside a different person and that feeling of experiencing empathy on a deep level," she said. "Seeing that for the first time in a 14-year-old boy is pretty awe-inspiring. It makes me want to come back home and work harder."
Cast member Meg Elliott has also taken on two roles within the production. The first of these is revolutionary English and Scottish explorer Isabella Bird who, despite her physical limitations, forged forward in order to travel and explore.
The second character Elliott portrays is a woman by the name of Mrs. Kidd, whose husband, Howard, works in the same office as Marlene.
"To steal a metaphor from an explorer, when you go to climb a mountain you want to have all your supplies and tools with you and I really feel like what I learned at DePaul and all of the expertise and skill and insight of all the teachers there really helped prepare me," she said.
A cast mate and DePaul alumna, Aislinn Kerchaert, has also taken on an integral role within the production.
"I'm playing Angie, who is, without giving too much away, the daughter and one of the youngest characters within the play," she said. "She is a little bit different in the sense that she is a little bit slower processing things and takes in the world differently than I would say the average human being."
"Top Girls" brings a fascinating and inspiring dose of female power to the stage this winter. It is heartfelt, meaningful and full of alumni that prove how much talent truly does lie within the DePaul Theatre School.
"Top Girls" will be at The Den Theatre from Jan. 15 to Feb. 8.
View Comments (1)