MCA celebrates renowned Chicago sculptor Richard Hunt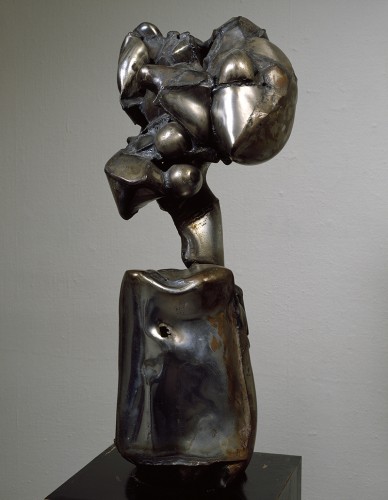 Chicago is celebrating long-time resident and prolific abstract sculptor Richard Hunt this year.  In addition to the Museum of Contemporary Art (MCA) exhibition, the Chicago Cultural Center is hosting another survey of his work, on display in its galleries until the end of March.
Renowned since he was a student at the School of the Art Institute of Chicago, Hunt attempts to reconcile opposing concepts in his art.  New York's Museum of Modern Art displayed the first retrospective of his work in 1971, when Hunt was only 35 years old.
As one of the United States' most widely commissioned public works artists, he has completed more than 125 major public commissions around the country, with 35 in Chicago alone.  His most recognizable pieces in Chicago are on display at Midway Airport and the State of Illinois Building.
He utilizes industrial materials such as bronze and steel to create highly mobile, organic forms, which are monumental, yet appear weightless.  Like other modernist artists, he attempts to access the sublime through distinctly modern forms.
For his 80th birthday, the MCA is hosting an exhibition for its DNA series with work spanning the 1950s to the present.  The small, first-floor gallery is filled with studies for his famous public works, drawings and smaller welded pieces.
A map of Hunt's public works greets patrons at the gallery's entrance, calling attention to the huge volume of work he has completed across the East Coast and Midwest especially.  The state of Illinois hosts 67 of his pieces.
As they enter the gallery, viewers get a sense of the evolution of his style through the decades as he experimented with styles and form.  This is especially evident in his drawings.The earliest one, from the 1950s, shows Hunt trying on a cubist style.  In later drawings, viewers watch him evolve the more fluid and organic forms he is famous for in his sculptural work.
The exhibition includes several of Hunt's studies for monumental works as well, including one for "We Will," on display at Randolph Street outside the Chicago Cultural Center.  Smaller studies allow viewers to get a sense of the pieces' entire compositions in the round.
In his work, Hunt explores the relationships between seemingly contradictory qualities, such as weight and lightness, movement and stasis, as well as modern and ancient.  In a more recent piece, titled "Persepolis," Hunt updates the ancient city's legacy in a distinctly modern way.
Alongside the exhibition, the MCA published a video on its website in which Hunt discussed his work.  "The angling upwards, the idea of ascendency," Hunt describes in the video, "The idea man has always had of being able to fly, just a freedom from gravity … there's been a lot of that in my work over time."  The short film offers a privileged window into Hunt's private studio.
The MCA hosts a talk with Hunt himself on Jan. 29 from 6 to 7:30 p.m., and another with Naomi Beckwith, one of the exhibition's curators, on Tuesday, Feb. 10 from noon to 1 p.m..  The MCA's exhibition is on display until May 17.  The Chicago Cultural Center's retrospective is on display until March 29.