DePaul men's basketball upsets Seton Hall 64-60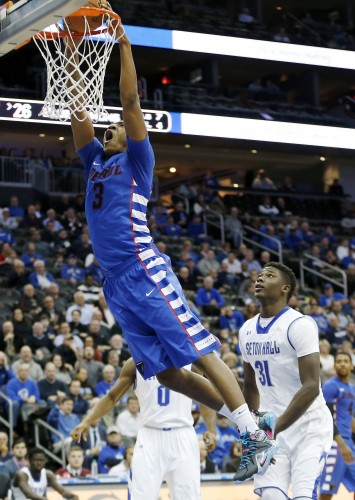 The unexpected success for the DePaul men's basketball this season continued Thursday night as they upset No. 24 Seton Hall on the road 64-60.
And this time the benefits were even better than the other wins — earning their first win against a nationally ranked team since 2008.  It was the team's first nationally ranked win under head coach Oliver Purnell and it moved them into a tie alongside Providence and Georgetown in the Big East.
Junior forward Myke Henry led DePaul (11-9, 5-2) with 14 points and eight rebounds, while sophomore guard Billy Garrett Jr. contributed 13 points of his own. The Blue Demons also had 23 points off the bench, including 11 from sophomore guard Darrick Wood and 10 from junior forward Rashaun Stimage.
The two teams hung close to each other for most of the first half, although DePaul took an advantage by going on an 8-0 run to stretch their lead to 26-18 with 6:25 to go in the half. Seton Hall cut the lead by the end of the half, going into the locker rooms down 36-33.
Seton Hall climbed back again after DePaul went up 43-33 with 17:44 to go in the game. Off the back of a 22-4 run, the Pirates rolled out to a 55-47 lead with 5:47 to go in the game. The Blue Demons rallied one last time and, despite Billy Garrett fouling out with 2:47 go, and gained a lead with 1:49 to go and would not relinquish their lead for the rest of the game with a final score of 64-60.