Road salt: The unexpected car killer
Chrysler, car companies show lackluster response to problem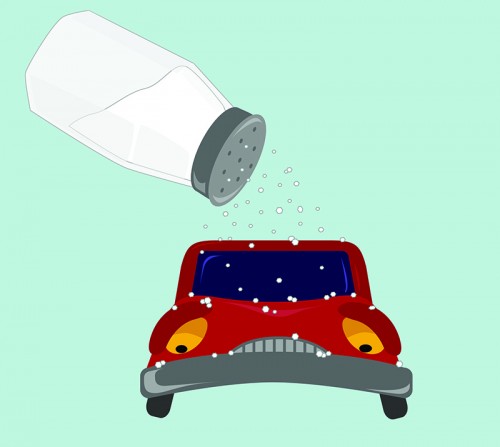 The unexpected cause of many of your car problems may be the thing we most welcome during winter: road salt.
The components in road salt are the same as what we use in our food, the only difference being one is in rock form and the other granulated. Like the salt we consume — which can cause high blood pressure when not used sparingly — road salt is also harmful, producing damages such as contaminated drinking water; accrual in streams, lakes, reservoirs and groundwater. It may also lead to eradication of roadside vegetation and corrosion of metals and concrete, which includes vehicles.
According to the Cary Institute of Ecosystem Studies, who released a report in December 2010 entitled "Road Salt: Moving Toward The Solution," increases in salt levels may continue after its use has stopped because road salt can take decades to breakdown in drainage areas. They advised that we achieve safety while also being resourceful with our road salt.
The document went on to explain that salt, as a tripartite financial entity, imposes the following costs: direct, with the salt itself, labor and distribution; indirect via corrosion and other related repairs, replacing equipment, bridges, concrete, reinforcing steel and vehicles. Long-term costs included the mitigation of salt from surfaces and groundwater.
An alternative to salt is sand, which costs only $.60, compared to salt at $1, and is non-corrosive.
Most vehicles, by design, have underbodies that are completely exposed and susceptible to everything — allowing said harmful objects to stick and corrode. Experts suggest owners get a car wash at least once a week, some say twice, preferably with undercarriage spraying.
Full service car washes, including an exterior wash, interior vacuum, windows, dashboard and drying, can run owners anywhere from $3 to $15, which doesn't include the undercarriage spray. A super wash — full service wash, polish wax, undercarriage spray, air freshener and tire gloss — can cost between $12.50 and $30, with larger vehicles on the pricier end of the spectrum. At those prices, owners would be expected to pay upwards of $100 per month in car washes alone.
Recognizing the safety issues high exposures to salt can pose, especially in "salt states" like Illinois, several motor companies (primarily foreign ones) have recalled vehicles. Hyundai recalled 239,000 Sonata and Azera sedans due to the rear suspensions' ability to rust and fail, as well as around 20,000 2013 Santa Fe Sport SUVs. In 2012, Nissan voluntarily recalled their 1996-2004 Pathfinder in salt states due to front strut corrosion; they released a 54-page document in August 2012 advising dealers of ways to detect corrosion and determine the vehicles' ability to be repaired.
However, not all companies enact policies with customers' safety in mind. Chrysler refused to recall their 2004-2005 Pacifica vehicles. They released ample technical service bulletins, informing owners that the engine may stall due to fuel pump or powertrain control module (PCM) fault; other potential problems for owners included one or both headlights failing; engines stalling under certain conditions; the fuel line under the vehicle may leak; and a warning that rust may not be a major safety risk, but could cause "engine vibration and/or shake." A service bulletin means that owners are entitled to a reimbursement for any repairs paid out-of-pocket, provided it be within their warranty period.
"I have a lot of problems with this vehicle, like electrical problems, engine mount problems, front end problems, there are many problems," mechanic Joseph McPherson of Classic Auto Repair in Evanston, said.
Chrysler Group LLC released a statement in November 2010, regarding 2004-2005 Pacifica models, informing owners that their warranties would be extended to 10 years or 150,000 miles, whichever came first.
"We are extending the warranty period on your front engine cradle because some vehicles operated in areas of high road salt usage, may experience engine cradle corrosion resulting in a drivability [sic] vibration and/or shake," it read.
Shortly thereafter, however, Chrysler reneged on its offer and isolated the terms of the extended warranty to apply to vehicles made within a small time-frame — Feb. 23, 2004 to March 31, 2004.
"The root cause was a quality issue in which the e-coat thickness was not done properly. There was a spike in the data that drew to this correlation," Chrysler's spokesman, Michael Palese, said when questioned about the nature of their renege.
Natasha Dennison, who owns a 2004 Pacifica, has paid to replace nearly everything on the car out of pocket. Within the six-year duration of her ownership, she has replaced numerous parts of the car, including spark plugs, starter, battery and headlights (on numerous occasions).
"More recently though, say within the last three months, I've replaced (additionally) the front struts, front brake pads, sway bushings and the frame had to be welded," Dennison said when asked about her out-of-pocket repairs.
Testimonies on the National Highway Traffic Safety Administration (NHTSA) website related to the 2004-2005 Pacifica featured hundreds of owners claiming to have experienced problems similar to Dennison's in regards to the vehicle's structure and corrosion.
"(I) was shown the frame of my car, on the passenger's side, was rusted out. A new frame was $3,000 plus $1,000 in labor," one complaint read.
Another complaint said, "This vehicle has a faulty sub-frame and is too dangerous to be driven. There are two extensive areas of rust, one on either side of the engine cradle."
Chrysler refused to recognize these complaints as valid or do something constructive to aid owners experiencing or paying for repairs related to corrosion — which they had initially admitted was the problem in the Nov. 2010 warranty notice.
"Chrysler Group performed a vehicle evaluation with a worse case corroded cradle and determined no safety implication," Palese said.
When questioned about Chrysler's conclusions and failing to acknowledge the ample NHTSA corrosion related complains, Palese said, "(The) incidents relate to your allegation that this a safety issue. It is not."
With car corrosion continuing to be a problem for wintertime drivers, it remains to be seen whether companies such as Chrysler will ever address their consumers in a safe and fair manner.