More young people cut cable with TV streaming services
With Netflix, Hulu and the introduction 

of Sling TV, more young people cut cable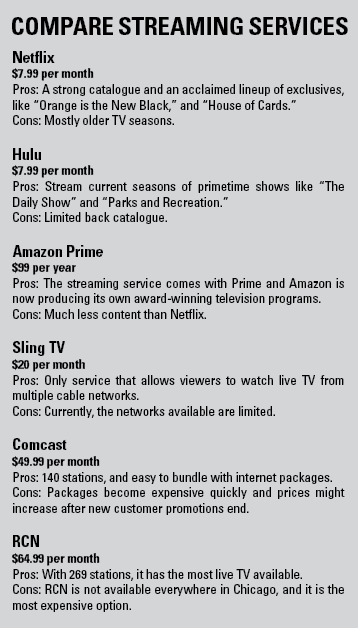 In retrospect, satellite and cable TV were inconvenient sources of media, forcing viewers to revolve around television schedules to catch their favorite shows. Now, with access to popular streaming services such as Netflix, Hulu, HBO Go and many more, watching specific programs is no longer an ordeal.
Not only did streaming services make it incredibly easy for users to find what they're searching for ­— some of them, such as Netflix, are completely free of advertisements.
A new service, called Sling TV. attempted to modernize live TV. Started by Dish Network, a company which has lately been struggling, its aim is making live TV more accessible with the ability to access a plethora of channels across several devices with an interface reminiscent of other streaming services.
While streaming services often got the latest episodes of shows much later than cable and satellite networks did, this benefit didn't seem to have the impact that it used to. The current generation lives in a world of convenience, and with more and more adopting the ease of streaming services, having to make time to watch a show right when it airs is no longer ideal.
Live television was also a considerable perk of cable and satellite services, however, they weren't the necessity that they used to be. News coverage and sporting events are now almost always covered and posted online, often in an even more timely fashion than televised news.
Joey Ziemniak, a sophomore at DePaul, cut cable a long time ago and uses Netflix, Hulu, Amazon Prime and HBO Go in his apartment.
"I subscribe to so many because they each offer different options, and a lot of them have original programming," Ziemniak said. "For example, I can only watch "House of Cards" on Netflix and nowhere else."
Roger Lynch, CEO of Sling TV, has agreed with the notion that today's youth doesn't prefer paid TV. The design of the application was made to allow users to sign up without any major commitments.
"We designed a service based on how millennials consume content without contracts," Lynch said in a CNET interview.
The service included channels such as ESPN, CNN, Disney Channel, Cartoon Network and many others. Users can purchase even more channels through $5 add-on packages as well.
The success or failure of Sling TV is vital towards the future of live TV. If the service succeeds, it proves that live TV is still relevant and that all it needed was a modern and flexible interface. However, if it fails, it proves that the current generation simply isn't interested in live TV, despite the application's similarity to other streaming services.
Timothy Stenovec, a tech reporter for The Huffington Post, said that Sling TV is a wakeup call to networks.
"An increasing number of people, especially young people, are choosing to get their entertainment through a handful of streaming options rather than paying lots of money for channels they don't watch," Stenovec said.
Aside from faster internet making streaming possible, there are other factors that contribute to its popularity.
"Simplicity and offering programming people want to watch have made them popular," Stenovec said. "Netflix is the gold standard here — the company has invested billions of dollars to license and create programming that will keep people subscribing each month."
When considering the future, Stenovec speculated there will be services similar to Sling TV with smaller packages of channels that can be cheaply streamed online.
"I think that we'll continue to see networks offer their programming in streaming only packages," he said.
Last year, AT&T offered a package that included broadband, HBO and a year of Amazon Prime. Stenovec sees more of these bundles happening in the future, and speculated that HBO may offer a discount on HBO if purchased with a broadband connection.
Stenovec doesn't see any services overtaking another. He compared these different services to channels, considering how each has its own exclusive programming not found anywhere else.
"People will subscribe to Netflix because they want to watch 'Orange is the New Black' and 'Breaking Bad,' and they'll subscribe to Hulu to catch up on recent TV shows," Stenovec said.
Paul Booth, assistant professor of media and cinema studies at DePaul, said that Sling TV is a good experiment to see how people approach television.
"I think the big question is whether its audience uses it. I also think that we should be cautious to think that any one technology is going to change everything. I hope Sling TV catches on, not because I think it's so great, but because I hope it's the beginning of major changes to the cable monopoly."
While Booth is for streaming services, he believed their downside was that consumers are often "at the mercy" of the corporation, in terms of what shows the service chooses to include.
While cable and satellite TV seem to need many renovations in order to stay relevant, live TV is here to stay.
"Live TV isn't going anywhere," Stenovec said. "But I do think we'll have more ways to watch it. Sling TV is only the beginning."