An American at Oxford: Off to the pubs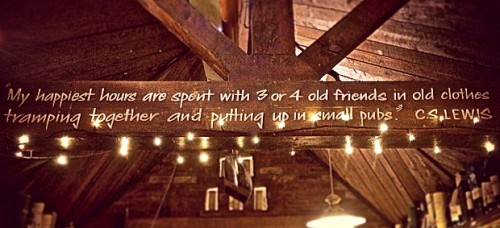 I made a conscious and steady effort to go into this year with no preconceived notions about Oxford. This was usually done in the form of refusing to search any images on Google of the cobblestone streets and old libraries. I did expect a few things, however. I expected there to be academia, robes worn to dinners and masters that sit at high table during hall.
I expected to hear a lot of Harry Potter references and see a lot of rowing teams. I did not, however, anticipate the madness that is called "Entz," short for "Entertainments." Which is a party that occurs four times during term and is attended by tutors and students alike. It is heavily themed and unlike most themed parties in America, people actually get into it. And when I write "people," I mean boys, and when I write boys, I mean the boys take the Brazilian theme rather literally and all wear bikinis. Thank God, though. Somebody had to do it and it wasn't going to be me.
If I could not predict the Entz, I was ready for the pubs. You can be sure that they are as authentic as you are imagining. In no particular order, the ones I have come to know are: The Lamb and Flag, The Bear, Turf Tavern and The White Rabbit. To the outsider, they may all seem the same with their modest signs and stone walls. However, you could not make a bigger mistake in that assumption as they all have something stimulating to offer.
The White Rabbit is often crowded and fairly small on the inside, but if you are wise enough to follow the signs to the garden you will find a few chairs around folding tables pushed up next to a heat lamp on a bed of fake grass. It is there where your conversations will discover their potential and thrive. The Lamb and Flag and The Bear are different in stature, but both contain a fireplace, which is all I require on a winter's night. And you won't really know the Turf Tavern if you enter into the low-ceiling door and decide to leave after finding the bar packed. In this pub, you have to go all the way back and discover the corners that are unoccupied, discover the place where Bill Clinton sat when he was a student and sit there yourself; do as he did.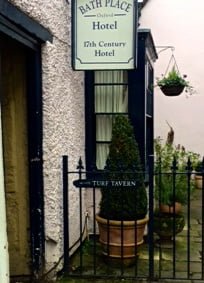 Lastly, there is The Eagle and Child. I grew up hearing about it. A picture of the famous pub sat in my home for years. I knew before I came here that it was where C.S. Lewis and J.R.R. Tolkien met to chat about their stories. They named their group 'The Inklings' and discussed and discovered some of my favorite characters. I knew they called it "The Bird and the Baby" and that this real-life fantasyland existed somewhere, if only I could get to it.
These pubs have become little homes to me and while the history of The Eagle and Child may be the first thing that you hear upon an initial visit, it is not the tourist appeal that connects me to it. It is because it is 'our pub' now. And that's the only way I can describe it. It was where we went, where we go. It was the first pub I ran to during my first week in Oxford. It was where I sat and realized, "Yes, I have finally arrived." It was where I took my mentor from DePaul when she made a trip back to her homeland of England and drove hours to see me. It was where I said goodbye to some of my friends and it is where I will take my mother and father someday.
I hope I do the intellectuals of Oxford past proud. I hope that their ghost forms attend my conversations in pubs, listen in on my queries and confusions about life. I hope they forgive us for our insanity, are happy with our choices and take part in our adventures. I hope they still find us authentic and inspiring even as we end up at the local food truck after a busy night of laugher and "putting up in old pubs." We are really not that different from them, after all.
View Comments (2)