Can't buy me love: Valentine's Day celebrates consumerism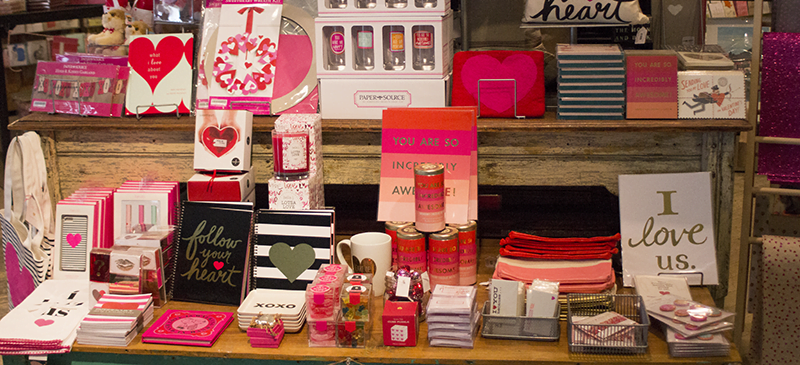 Valentine's Day is thought of as a day of romance, but with companies such as Hallmark cashing in, it has become more of a holiday to celebrate consumerism
People all over the world will go through similar routines on Feb. 13. Greeting card and drug stores will be packed as people frantically flock to the card aisle to search for words that they can't seem to muster up themselves. As they search for something not too cheesy, but not too bland, they'll have to make a pit stop in the quintessential Valentine's Day aisle. This aisle has all the items that represent the commercial value of love. From oversized teddy bears and chocolate roses, to heart shaped pillows, balloons and mints, it might just be smart to buy it all.
Maybe a cheap bottle of champagne should be added to the cart as well. And just for the heck of it, the fresh roses at the checkout. And don't forget to stop at the jewelers to pick up a necklace. And maybe you should upgrade your Valentine's Day card. Rather than a boring 2-D heart-shaped cardstock, you can buy a card that sings "My Girl" by the Temptations, or you can buy a card that pops up when you open it. The 3-D is so impressive, it could poke an eye out. With all those purchases, your partner is sure to know just how much you love them.
Valentine's Day has been deemed a Hallmark holiday. This term refers to holidays that are believed to exist solely for their commercial value, and not for their relation to a historical or traditional event. While Valentine's Day has certainly evolved over time — its origins have been questionably linked to fertility festivals during the Roman Empire — some people are staunch supporters of this holiday's non-commercial value. Greeting card empire Hallmark Cards is no stranger to defending Valentine's Day as a holiday that is worth more than people give it credit for. Donald J. Hall, Jr., Hallmark Cards chief executive since 2002, doesn't believe in the concept of the Hallmark holiday.
"We haven't created a single occasion. I wish we could. We understand what people are saying to each other, what they are feeling and want to share," Hall said to the Guardian.
Hallmark's website boasts of holiday cards pertaining to Sweetest Day, Grandparents Day and National Boss Day, and even promotes "Anytime" cards, making any day of the year a reason to celebrate.
"I want to believe that I would boycott traditions created by big businesses to increase sales," DePaul sophomore Taylor Gillen said. "However, they have taken such a tenacious hold on our culture that I take part in them anyway."
It seems that society has become so accustomed to celebrating holidays that it is almost frowned upon when people don't participate. This year, "total spending for Valentine's Day is expected to reach $18.9 billion," Michael Shay, National Retail Federation president and chief executive officer said.
"It's encouraging to see consumers show interest in spending money on gifts and Valentine's Day related merchandise. It's a good sign for consumer sentiment as we head into 2015," Shay said. Consumers are clearly still placing value on holidays such as Valentine's Day.
And possibly for a good reason.
With Hallmark's new "Put your Heart to Paper Valentine" campaign that features a same-sex couple, can Hallmark holidays such as Valentine's Day be used to make a statement? The advertising campaign features several real-life couples that show them discussing the positives of their relationships. This isn't the first time Hallmark has supported the LGBTQ community. Hallmark made a statement in 2008 and "garnered praise from the LGBTQ community after it first introduced a line of same-sex wedding cards," according to the Huffington Post.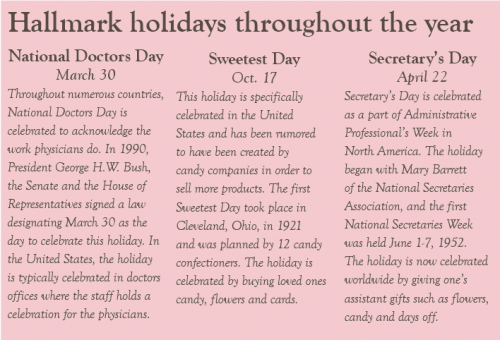 The National Retail Federation's Valentine's Day consumer spending survey revealed that "an average celebrant will spend $142.31 on candy, flowers and such, up from $139.91 a year ago. More than half of those surveyed will purchase candy with flower power the second-most popular option, and about one-third will pay for a special night out including dinner and a movie." Men have also been known to spend nearly twice as much for Valentine's Day as women, spending an average of $190.53 compared to women at $96.58.
Bling, flowers, the box office, gourmet dinners and candy can all add up to make Valentine's Day an evening to remember. Whether you attach commercial value to the holiday or believe that it has a deeper significance, Valentine's Day will most likely be a successful day for businesses around Chicago. Restaurants, flower shops and bakeries are sure to be preparing for the big holiday.
If you have a significant other this holiday, there are tons of things to do around the city that won't break the bank, and can provide you with a somewhat unconventional Valentine's Day experience. From the Chicago Auto Show at McCormick Place to a Mardi Gras celebration at the Chicago Cultural Center, there are ways to avoid getting sucked into the Hallmark holiday aspect of Valentine's Day, while still being able to do something with your loved one.
"I can say that I won't be falling prey to the gimmicks for consumers, but I will still spend Valentine's Day with my significant other," Gillen said. "I think there can be something positive from participating in something like a Hallmark holiday as long as you bend the rules to make it something your own."
Or, if you prefer to go the traditional route this Valentine's Day, take Hall's advice: "It's about finding the right card for the right person at the right moment."
View Comments (1)