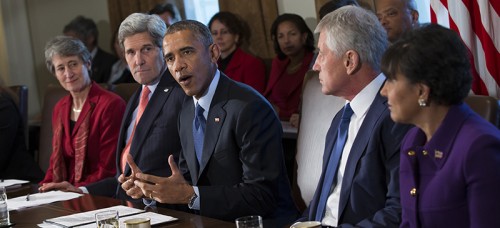 White House proposes initial budget for 2016
Promising to help America's middle class, President Barack Obama on Monday sent Congress a record $4 trillion budget that would hammer corporate profits overseas and raise taxes on the wealthy while boosting tax credits for families and the working poor.
Obama's budget also would steer hundreds of billions of dollars to the nation's crumbling infrastructure of roads and bridges, help provide two years of free community college and reverse the across-the-board, automatic budget cuts that have slammed the Pentagon and nearly every government department.
In the face of certain opposition from Republicans, an optimistic Obama hailed a "breakthrough year for America" of new jobs, lower unemployment and shrinking deficits after the great recession of 2008, and he called for moving past years of "mindless austerity." The blueprint for the 2016 budget year that begins Oct. 1 represents a 6.4 percent increase over estimated spending this year, projecting that the deficit will decline to $474 billion.
However, Obama's plan ignores the new balance of power in Washington, with Republicans running both the House and Senate. The GOP found plenty to criticize in his proposed tax hikes that would total about $1.5 trillion.
"Today President Obama laid out a plan for more taxes, more spending, and more of the Washington gridlock that has failed middle class families," said House Speaker John Boehner, R-Ohio. "This plan never balances — ever."
Republicans aren't offering specifics yet but will respond this spring with their own plan, a balanced-budget outline promising to get rid of "Obamacare," ease the burdens of the national debt on future generations, curb the explosive growth of expensive benefit programs and reform a loophole-cluttered tax code in hopes of promoting economic growth.
While Obama's plan was rejected out of hand on budget day, proposals to ease automatic cuts and boost transportation funding are likely to return later in the year and require extensive negotiation.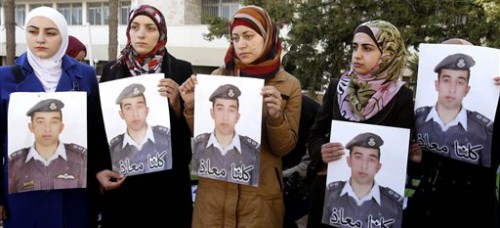 ISIS execution of Jordanian pilot sparks retaliation
Islamic State group militants burned a captured Jordanian pilot to death in a cage, according to a purported video of the violence released Tuesday. The kingdom, which had vowed a swift and lethal response, executed two al-Qaida prisoners by hanging early Wednesday.
The pilot's gruesome death sparked outrage and anti-Islamic State group demonstrations in Jordan. The video emerged after a weeklong drama over a possible prisoner exchange for a female al-Qaida operative imprisoned in Jordan who was one of the two prisoners executed.
The Jordanian military confirmed the death of 26-year-old Lt. Muath Al-Kaseasbeh, who was captured by the extremists in December when his F-16 crashed while he was flying a mission as part of the U.S.-led air campaign against the Islamic State group.
He was the first airman participating in the U.S.-led bombing raids against militant positions in Syria and Iraq to be captured.
In a first response to the killing of the pilot, Jordan executed Sajida al-Rishawi and Ziad al-Karbouly, two Iraqis linked to al-Qaida, government spokesman Mohammed al-Momani said. Another official said they were executed by hanging.
Over the past week, Jordan had offered to trade al-Rishawi, a failed suicide bomber, for the pilot, but froze any swap after failing to receive any proof that the pilot was still alive. Jordanian TV said the pilot was killed as long ago as Jan. 3.
Al-Rishawi had been sentenced to death after her 2005 role in a triple hotel bombing that killed 60 people in Amman orchestrated by al-Qaida in Iraq, the predecessor of the Islamic State group. Al-Karbouly was sent to death row in 2008 for plotting terror attacks on Jordanians in Iraq.
Al-Kaseasbeh had fallen into the hands of the militants when his F-16 crashed near Raqqa, Syria, the de facto capital of the group's self-styled caliphate.
In the 20-minute video purportedly showing his killing, he displayed signs of having been beaten, including a black eye. Toward the end of the clip, he is shown wearing an orange jumpsuit. He stands in an outdoor cage as a masked militant ignites a line of fuel leading to it.
The video, which threatened other purported Jordanian pilots by name, was released on militant websites and bore the logo of the extremist group's al-Furqan media service. The clip featured the slick production and graphics used in previous Islamic State videos. The video could not immediately be confirmed independently by The Associated Press.
The killing of the 26-year-old airman appeared aimed at pressuring the government of Jordan — a close U.S. ally — to leave the coalition.
The latest video was released three days after another video showed the purported beheading of a Japanese journalist, Kenji Goto, who was captured by the Islamic State group in October.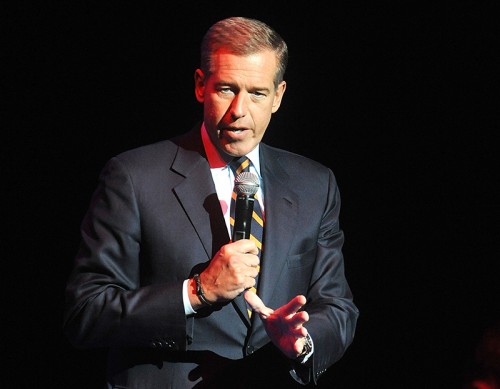 News anchor's integrity questioned over Iraq
NBC News anchor Brian Williams found himself the story Thursday, his credibility seriously threatened because he falsely claimed he had been in a helicopter hit by a grenade during the Iraq war.
NBC News officials would not say whether their top on-air personality would face disciplinary action. Williams, the "Nightly News" anchor for just over a decade, had become an online punching bag overnight.
Williams apologized Wednesday for telling the story a week earlier during a "Nightly News" tribute to a veteran he had befriended during a 2003 reporting trip to Iraq. Before expressing his regrets on the air, Williams did so online and in an interview with the newspaper Stars & Stripes.
He speculated online that constant viewing of video showing him inspecting the damaged helicopter "and the fog of memory over 12 years, made me conflate the two, and I apologize."
Shortly after the incident, Williams had described on NBC how he was traveling in a group of helicopters forced down in the Iraq desert. On the ground, he learned the Chinook in front of him "had almost been blown out of the sky"; he showed a photo of it with a gash from a rocket-propelled grenade.
The NBC crew and military officials accompanying them spent three days in the desert, kept aground by a sandstorm.
Then, in a 2013 appearance on David Letterman's "Late Show," Williams said that two of the four helicopters he was traveling with had been hit by ground fire "including the one I was in."
Williams' story was first questioned in posts to the "Nightly News" Facebook page. It's a touchy topic: Members of the military who are wounded or who come under enemy fire consider themselves members of a special kind of brotherhood and don't like people who try to intrude, said retired U.S. Army Col. Pete Mansoor, a professor of military history at Ohio State University.
"It smacks of stolen valor," Mansoor said — an offense that Williams specifically denied in his online apology.