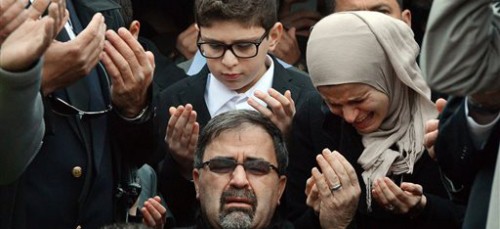 Muslim groups planned to take their demands for a federal hate-crime investigation of three young Muslims slain in North Carolina to the White House on Friday.
The groups said on social media that they would hold prayers in front of the White House on the Muslim Sabbath, hours after the FBI's North Carolina office said agents were launching an inquiry parallel to a police homicide investigation.
Craig Stephen Hicks, 46, is charged with first-degree murder. Police say he shot 23-year-old Deah Shaddy Barakat; his 21-year-old wife, Yusor Mohammad Abu-Salha; and her sister, 19-year-old Razan Mohammad Abu-Salha over a long-standing parking dispute in the condominium complex where he lived with the newlywed couple. But the families of the victims said they were gunned down because of their religion.
"This has hate crime written all over it," the women's father, Mohammad Yousif Abu-Salha said.
The FBI said Thursday that its preliminary inquiry seeks "to determine whether or not any federal laws were violated" while it continues to help police in the college town of Chapel Hill process evidence for their homicide investigation.
Chapel Hill police have said they are investigating whether religious or ethnic hatred motivated Hicks in any way, and federal investigators previously have said hate crimes haven't been ruled out.
Mohammad Yousif Abu-Salha reiterated to about 5,000 people attending a Thursday memorial service for the three victims that he wanted the FBI to investigate.
"Let's stand up and be honest and see what these three children were martyred about. It was not about a parking spot," Abu-Salah said during the memorial service at North Carolina State University, which all three victims had attended.
Hicks described himself as a self-described "gun toting" atheist. Barakat's former roommate said Hicks complained regularly about cars parking in unreserved spaces open to visitors, expressing his objections with a handgun strapped to his hip in a holster. Members of both families have said the victims reported similar encounters.
Neighbors described Hicks as angry and confrontational. His ex-wife told The Associated Press that he was obsessed with the 1993 shooting-rampage movie "Falling Down" and showed "no compassion at all." His current wife said she believes the killings "had nothing do with religion or the victims' faith." She then announced that she's divorcing him.