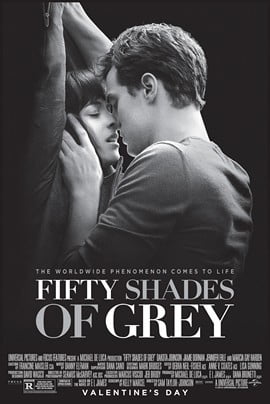 On a very lucky Friday the 13th, a movie theater was filled with nervous audience members, nervous energy and pretending-not-to-be-nervous giggling. Everybody took pictures of their movie ticket — seeing a movie like this without telling anyone would be creepy.
That's right, I exchanged legal tender to see the infamous new movie, "Fifty Shades of Grey," on its opening night.
To be frank, the movie was funny and certainly not on purpose. The awkward screenplay effectively paralleled "Twilight" — a fan-fiction from which this controversial franchise was born in the first place — and the audience often laughed at the movie more than with it.
Jamie Dornan probably tried his best to portray the vague Christian Grey, who has an ambiguous job that pays well but requires little to no work, and who has no discernable personality traits other than an unsettling mean streak.
Unfortunately, Dakota Johnson, who plays Anastasia Steele, chose this film to reveal her surprising talent. According to film critic A.O. Scott's New York Times review of the movie, "Anastasia's portion of the dialogue is more likely to be funny on purpose," making the movie a bit more bearable.
Both the book and its movie have received scrutiny for their content — to such an extent that petitions were created boycotting the movie.
A popular petition on Life Petitions by Jonathon van Maren pointedly attacks BDSM (Bondage and Discipline, Domination and Submission, Sadism and Masochism), saying that if someone consents to violent acts such as being "slapped" or "whipped" during sex, "it makes it legal (perhaps)" but not any less "disgusting or violent." His readers agreed.
The irony in this is that feminists are officially telling women what they are and are not allowed to enjoy during sex.
A dominatrix, B.O. Kane, commented in a review of the movie on The Daily Beast that "the majority of dominant/submissive relationships begin online or after meeting at a fetish event." Not all who enjoy BDSM are forced into it through an abusive relationship, like Ana, and in this respect, the film incorrectly portrayed a fairly unknown topic.
Although controversial to some and alien to most, BDSM is not inherently bad. Scott said in his review, "sex is a knotty business, perhaps all the more so when actual knots are involved." If anything, "Fifty Shades of Grey" has untied some of these knots for the public, making kink more acceptable and less foreign.
What deserves scrutiny is that the knots on Ana's wrists are tightly bound to an abusive relationship widely considered as romantic.
Christian is controlling. He follows Ana wherever she goes and tells her what she can or cannot eat, drink and do. He clearly pressures her into his alarmingly "unconventional desires" and is thrilled by her apparent inability or lack of motivation to stand up for herself. He also introduces Ana to BDSM, which of course must be the most glaring issue. 
Yet, the movie is still considered erotic and romantic by most of its fans. This would be less of an issue if the film, which earned $81.7 million by the end of its opening weekend, didn't grow to more than what it is: a really, really bad movie made from an equally amateurish novel.
Hopefully, "Fifty Shades of Grey" has a minimal impact on what women expect from relationships. Hopefully, men don't take its boyfriend tips. And hopefully, society can still see abuse and BDSM as two different things.
Whether or not "Fifty Shades of Grey" will change the world, we can all expect a sequel soon.