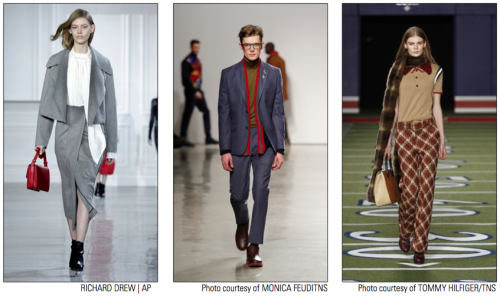 Fashion Week is not for the faint of heart or those with cheap tastes, an apparent trend as New York Fashion Week kicked off.
In the world of pop culture, Fashion Week is one of the most talked about and reported events of the season, and is the cause of many clogged Instagram feeds.
"I really enjoy spring Fashion Week because, historically, I've enjoyed these collections more," Kristin Stahlke, sophomore and social media manager for Designed by DePaul, said. Spring fashion week highlights trends for the following fall. "I enjoy watching the runway shows that are streamed on the Internet and keep up with trends by following designers and fashion bloggers on social media."
2014 was all about the '90s, but it's time to say goodbye to choker necklaces and welcome bohemian influences like embroidery and flared hems. One of the biggest trends for fall 2015 is a revival of '70s styles and silhouettes. Designers like Rebecca Minkoff, Jill Stuart and Anna Sui incorporated '70s influences in their collections.
Some of the most popular recurring trends from this decade revival included chunky turtleneck sweaters, A-line mini skirts, a lot of denim and wide legged pants.
To incorporate this subtly, focus on silhouette and shopping according to color. Thankfully, Pantone's color picks for fall 2015 — such as "marsala," "reflecting pond," and "stormy weather" — channel the '70s well. Experiment with fabrics like corduroy in these fun colors, but avoid browns to prevent looking frumpy.
"The trend I'm most looking forward to is turtleneck layering, which probably sounds odd," Leah Voskuil, sophomore and vice president of Designed by DePaul, said. "I've long been a fan of oversized sweaters — they're everywhere on the runway this year and they're being worn under dresses, large necklaces and clean-cut coats."
Men can rock the '70s trend as well. Designers like Hermès and Fendi used things like jewel-toned color palettes, chunky sweaters and fabrics like denim and corduroy. Dip your toes into this trend by looking for colors like mustard yellow, charcoal gray and khaki green.
Freshman Michael Fuentes said he is eager to try trends, but in moderation.
"The most important thing about dressing myself is that it is comfortable and it fits," he said. "I think that if you can mesh trends with your style and you are comfortable wearing it, that's all that matters."
Among the '70s glamour, another trend has emerged as a popular contender on the runways this year: fur and shearling. Fur started gaining speed as a trend this fall and winter, but it is only getting stronger for fall 2015.
Jason Wu's show featured fur in a unique way, by using it as the center of his looks rather than an accent.
Since neither your bank account nor PETA would be thrilled about incorporating real fur into your wardrobe, opt for faux instead. Faux fur brings an air of glamour to any outfit and can be done subtly. Look for jackets, vests or even cardigans that have a faux fur collar or trim.
Shop retailers like Zara, Topshop and H&M for trendy pieces at affordable prices. Whenever trying a new trend, the easiest way to go about it is to pair it with a neutral, classic base. Accenting a simple outfit with trendy pieces ensures the trends aren't overwhelming or gaudy.
"For new trends, I almost always will go to H&M. They have a constant cycle of relatively inexpensive pieces that are spot-on with what is on the runway, in a more toned down sense," Voskuil said. "If I want to go big with a certain trend, I always check out the sale section at Topshop or go to a thrift store."
You don't have to be a street style icon or a celebrity at a runway show to adopt new trends. The best rule of fashion is to wear everything with confidence, so take a risk next fall with some of these show-stopping trends.