Review: MCA's Doris Salcedo retrospective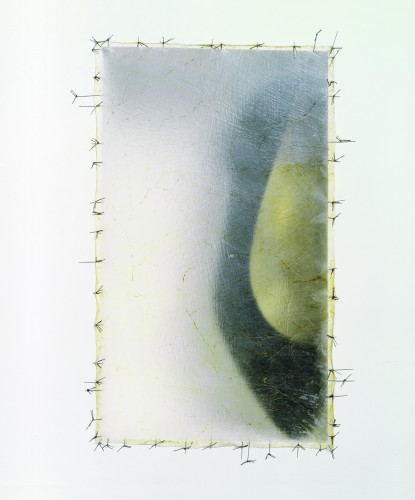 The Museum of Contemporary Art's fourth floor houses Colombian artist Doris Salcedo's first retrospective.  Salcedo has produced sculptures, installations and public interventions for the last 30 years.  She extensively researches conflict and interviews victims of political violence to inform her work.  Then, using materials like silk, animal fibers, cloth, used furniture and cement, Salcedo creates pieces that are both delicate and powerful. Her work manages to honor the individual victims through painstaking detail while speaking to senseless violence.
Salcedo packed the gallery's entrance with a maze of near-identical sculptures: tables covered in a layer of dirt pressed under another inverted table, with yellow-green blades of grass sprouting between the cracks.  The tables are approximately coffin-sized, setting the exhibition's tone as a funerary event.
"We are no longer capable of responding to tragic events," Salcedo said in the looped documentary video featuring some of her public works and interventions.  She states that one of her tasks as an artist is to create space for individuals in war-torn countries to adequately mourn their losses.
The retrospective features work spanning from 1986 to 2014.  "Untitled Works" (1989-90) features neat stacks of folded white shirts impaled by a steel rod.  Created in response to two 1988 Colombian plantation massacres, these works mark the beginning of Salcedo's interview practice.  The stacks of shirts evoke absence, families living amongst the artifacts of the dead.  The steel bar penetrates the uniform workers' shirts with an impersonal violence.
Another series, "Atrabiliarios" (1992-2004), occupies an entire room.  Shoes, singles and pairs, are displayed in small alcoves cut into the museum's walls.  Salcedo covers the alcoves in screens of stretched and preserved cow bladder, creating a hazy sepia filter-like effect.  The screens are roughly stitched onto the museum wall with black thread.  This piece is a response to Colombia's desparecidas, disappeared women, whose remains were often identified by their shoes.
A series of tunics, called "Disremembered" (2014), was inspired by meetings with Chicago mothers who lost children to gun violence.  For each tunic, Salcedo intricately weaves silk threads with nearly 12,000 needles to create an impossibly delicate garment.  It reflects both the divinity and pain of grief.  Salcedo seeks to bring survivors of violence to the center of society, rather than ostracizing them and adding to their painful alienation.
The exhibition's final room houses a vast rippling piece called "A Flor de Piel" (2014), a garment made of hand-sewn rose petals.  The piece is a tribute to a Colombian nurse who was kidnapped and tortured to death.  According to Salcedo, the piece began "with the simple intention of making a flower offering to a victim of torture."  The room is all but covered in the train of blood-red mottled petals, filling the air with a floral headiness.
After touring the circuitous gallery, viewers must exist the way they came: through the coffin-like table maze.  On the way out, perhaps the defiant blades of grass become more evident: A vain but necessary hope.