National and international headlines for the week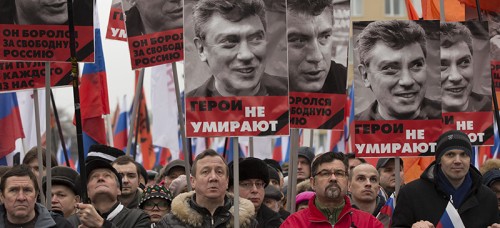 Outspoken Vladimir Putin critic found murdered
Boris Nemtsov, a charismatic former deputy prime minister turned Russian opposition leader, was shot and killed in Moscow Saturday, Feb. 28, officials said.
Nemtsov's death comes just a day before a planned protest against President Vladimir Putin's rule. The Kremlin said that Putin will personally oversee the investigation.
Nemtsov, who was 55, was a sharp critic of Putin, assailing the government's inefficiency, rampant corruption and the Kremlin's policy on Ukraine, which has strained Russia-West ties to a degree unseen since Cold War times.
The Russian Interior Ministry, which oversees Russia's police force, said that Nemtsov was shot four times from a passing car as he was walking a bridge just outside the Kremlin shortly after midnight.
Opposition activist Ilya Yashin said on Ekho Moskvy radio that he last spoke with Nemtsov two days before the killing. Nemtsov was working on a report presenting evidence that he believed proved Russia's direct involvement in the separatist rebellion that erupted in eastern Ukraine last year.
Ukraine and the West have accused Russia of backing the rebels there with troops and weapons. Moscow has denied the accusations, but large numbers of sophisticated heavy weapons in the rebels' possession has strained the credibility of its denials.
Yashin said he had no doubt that Nemtsov's murder was politically motivated.
"Boris Nemtsov was a stark opposition leader who criticized the most important state officials in our country, including President Vladimir Putin. As we have seen, such criticism in Russia is dangerous for one's life," he said.
Nemtsov served a deputy prime minister in the 1990s and once was seen as a possible successor to Boris Yeltsin, Russia's first elected president. After Putin was first elected in 2000, Nemtsov became one of the most vocal critics of his rule. He helped organize street protests and has relentlessly exposed official corruption.
He was one of the organizers of the Spring March opposition protest set for Sunday, which comes amid a severe economic downturn in Russia caused by low oil prices and Western sanctions.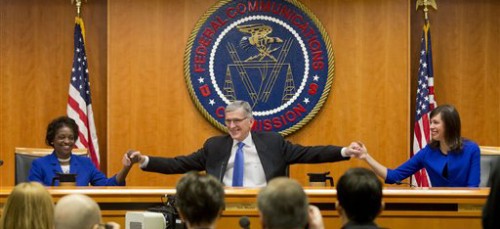 Vote marks victory for Internet neutrality
Internet activists declared victory over the nation's big cable companies Thursday, Feb. 26 after the Federal Communications Commission voted to impose the toughest rules yet on broadband service to prevent companies like Comcast, Verizon and AT&T from creating paid fast lanes and slowing or blocking web traffic.
The 3-2 vote ushered in a new era of government oversight for an industry that has seen relatively little. It represents the biggest regulatory shake-up to telecommunications providers in almost two decades.
The new rules require that any company providing a broadband connection to your home or phone must act in the "public interest" and refrain from using "unjust or unreasonable" business practices. The goal is to prevent providers from striking deals with content providers like Google, Netflix or Twitter to move their data faster.
"Today is a red-letter day for Internet freedom," said FCC Chairman Tom Wheeler, whose remarks at Thursday's meeting frequently prompted applause by Internet activists in the audience.
Net neutrality is the idea that websites or videos load at about the same speed. That means you won't be more inclined to watch a particular show on Amazon Prime instead of on Netflix because Amazon has struck a deal with your service provider to load its data faster.
For years, providers mostly agreed not to pick winners and losers among Web traffic because they didn't want to encourage regulators to step in and because they said consumers demanded it. But that started to change around 2005, when YouTube came online and Netflix became increasingly popular. On-demand video began hogging bandwidth, and evidence surfaced that some providers were manipulating traffic without telling consumers.
By 2010, the FCC enacted open Internet rules, but the agency's legal approach was eventually struck down in the courts. The vote Thursday was intended by Wheeler to erase any legal ambiguity by no longer classifying the Internet as an "information service" but a "telecommunications service" subject to Title II of the 1934 Communications Act.
That would dramatically expand regulators' power over the industry and hold broadband providers to the higher standard of operating in the public interest.
The FCC says it won't apply some sections of Title II, including price controls. That means rates charged to customers for Internet access won't be subject to preapproval. But the law allows the government to investigate if consumers complain that costs are unfair.
Industry officials and congressional Republicans fought bitterly to stave off the new regulations, which they said constitutes dangerous overreach and would eventually raise costs for consumers. The broadband industry was expected to sue.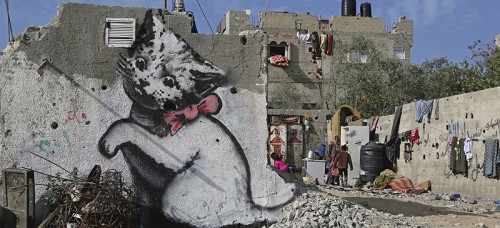 Graffiti artist Banksy produces war-zone art
The work of mysterious British graffiti artist Banksy has made an appearance in the Gaza Strip.
In a short film posted on his website, the popular street artist appears to have sneaked into Gaza through an underground tunnel from Egypt. The video combines footage from the Israeli-Hamas war last summer, with political commentary about the coastal strip's misery.
Some of Banksy's work is seen as well, such as a drawing of a playful kitten, children swinging from what looks like a black watchtower and a Greek goddess cowering against a remaining concrete slab of a destroyed structure.
The video ends with the following message on a wall in Gaza: "If we wash our hands of the conflict between the powerful and the powerless we side with the powerful — we don't remain neutral."
Banksy publicist Jo Brooks confirmed on Friday that he visited Gaza, getting there through a tunnel. Brooks would not say when the visit took place.
Local residents were skeptical about this account since Egypt has stepped up its military campaign against the tunnels and destroyed most of them after last summer's war.
Mohammed Shenbary, 29, said a Western artist arrived with a Palestinian translator about three months ago and started painting on the remaining wall of his battered home in Beit Hanoun, in the northern Gaza Strip. He said the man looked to be in his mid-30s and painted the kitten in about a half hour.
"He asked me not to remove the wall and to maintain the painting," Shenbary said, adding that the now-famous graffiti has had little impact on his life.
Jamal Abu Eitta, a 60-year-old, on whose home there is a graffiti depicting a watchtower, was equally unimpressed.
"We don't care about it. Gaza streets are full of posters, graffiti and drawings," he said.
It's not Banksy's first foray into the Mideast conflict. He previously drew a painting of a girl pulled upward by balloons on Israel's West Bank separation barrier.