DePaul women's basketball grabs share of Big East title with win over Marquette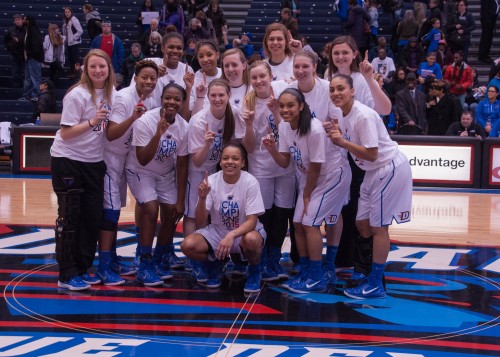 With just over a minute to go, head coach Doug Bruno called a timeout and subbed out senior guard Centrese McGee, followed a few seconds later by fellow senior guard Brittany Hrynko.
The seniors received an ovation with a comfortable lead that had been in doubt earlier in the game, but the Blue Demons prevailed and won their regular season finale Sunday against Marquette 99-82. The win clinched for them a share of the Big East regular season championship, their second consecutive conference title and the first time they had won consecutive titles in school history.
"These seniors sitting next to me are special," Bruno said. "This is a group that's done what no other team at DePaul has done. I'm really proud of them and this is always a tough day for us."
The Blue Demons (23-7, 15-3) did struggle at points against Marquette (8-21, 4-14) but in the end, the seniors were able to finish their last game with a victory and a conference title.
"I felt joy," Hrynko said. "I know I was happy but sad at the same time because of our last game in this gym but playing with these guys is just joy."
Hrynko finished with 19 points. Juniors Megan Podkowa and Chanise Jenkins each led the game with 24 a piece.
The Blue Demons got off to a hot start as they jumped to a 13-4 lead at the first media timeout and looked like they were going to put the game out of hand early. Marquette, however, kept pace with the Blue Demons, never letting DePaul out of their sight.
DePaul maintained a ten-point lead for most of the first half but shot poorly from beyond the arc, going 5-of-22 from three. When these shots stopped falling towards the end of the first half, Marquette was able to cut the deficit in the waning minutes. At the end of the first half, the Eagles were within three and trailed 46-43.
The second half started off similar to the first, with DePaul stretching their lead a bit before going on a 15-4 run that put them up by as many as 14 at one point. The Eagles kept coming back, however, and were back within six at the under-12 timeout with 11:35 to go.
For the rest of the game, however, DePaul was able to take a large lead and hold it. After the Eagles got to within four, the Blue Demons increased their lead to 12 with 7:33 to go. From there, Marquette never got to within ten again and DePaul pushed forward for the 99-82 victory and their second consecutive conference title.
"It's not the same as last year," McGee said. "You don't expect to do it again so you appreciate it as you're cutting down the net."
Next up for the Blue Demons is the Big East tournament, which will be held March 7-10 at Allstate Arena. DePaul will be the No. 2 seed as they look to win their second consecutive tournament title.