Q&A: 'The Hunting Ground' director Kirby Dick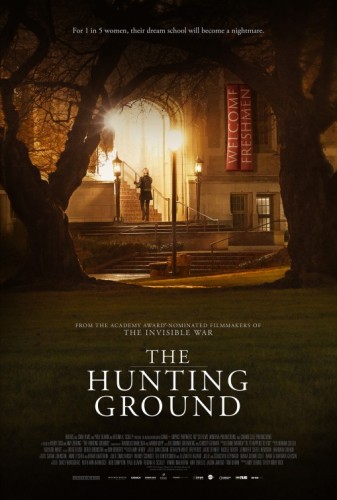 Oscar-nominated documentarian Kirby Dick, whose works include "The Invisible War" and "Twist Of Faith," has created another stirring call to action with his latest film, "The Hunting Ground." The documentary focuses on sexual assaults on college campuses, and how many women are stepping forward to challenge the education system that denied their claims. The DePaulia sat down with Kirby Dick to discuss his upcoming work. "The Hunting Ground" opens March 20.
"The Hunting Ground" was a reaction to your last film "The Invisible War," which prompted you to make it. Can you talk a little bit about how you got involved with making "The Hunting Ground?"
After "The Invisible War," we were working on a film that had nothing to do with sexual assault, but we were still taking the film around to colleges. In the Q&As that followed the screenings, students and a few faculty would start talking about rape on college campuses, and we were really taken back by that, and it kept happening again and again. It seemed like something was under the surface there, and then we started getting letters with people saying "please make a film on this", sometimes from survivors, and we just decided we had to make a film on it. Even though I was aware that it was an issue, I just wasn't aware that it was so pervasive, so we went ahead and made it.
Was there a specific event that happened or a certain specific tipping point where you definitely decided this was a sure thing?
I hit three schools in a row on one tour, and the first school a lot of people talked about it. The second one, it was in the news, and I thought "oh they're bringing me because of "The Invisible War" and they want to talk about it. How proactive!" But it was just the opposite. I was picked up by a low-level administrator, dropped me off a couple hundred yards from the screening, and she said, "the students will take care you. It's over there." I've never been to a place where I wasn't taken around by an administrator or a faculty member for the whole evening, you know as accompaniment. So it became clear that there was a real fear around this issue. We had already become aware of the prevalence of it, but then you see the fear and you realize something has to be made. If the people who know about the problem are afraid to even meet a filmmaker to talk about just the general issue of sexual assault, there's a problem.
With the themes of your other films, as well as this one, do you see yourself as an activist for sexual assault awareness?
I see myself as both an activist and a filmmaker. I just see it as a challenge to be able to make a film you feel so passionate about. Some people tend to think of it as an "either/or" position, but it's not. I think one of the most important things about art is you take on a challenge; it's the ambition. You juggle both the advocacy and the art.
You visited a lot of universities as your approach towards making this film, though you focus primarily on Harvard, UNC, FSU, and Notre Dame. What was your motivation for focusing on them?
We were following stories at dozens of universities and we spoke to more than one hundred fifty survivors and interviewed more than seventy. One of the reasons we did that was we didn't want people walking out of the theater thinking "oh this is just a problem at these one or two schools" we wanted to get a sense of what was going on in the country. We ended up choosing those schools because we wanted to present an array of different kinds of schools: Harvard is an Ivy League school, UNC is a liberal arts state school, Notre Dame is religious, Florida State has a reputation as a football school. And even when you go down south to these conservative areas, the schools themselves are very liberal. We wanted to present a range of schools, so people had an understanding that this was a nationwide problem.
With so many voices in the survivor community, how did you go about choosing who would represent the group?
That was a real challenge, we had so many powerful stories, they're still coming in every day, and I'm thinking "really? The film's over? Can't I just go back and put these new stories in too?" It enrages you. We came across Annie and Andrea very early in the process. They had just a couple months earlier filed their Title IX complaint and were beginning to talk about it as a national issue. So we wanted to follow them from the very beginning, like many others, and we had a sense they would become a storyline in the film. We didn't think they would set out to accomplish so much in so little time, and become the central thread of the film. It was a continual juggling, the amount of investigative research that was going on in this film. As soon as someone was going public, we were hearing these stories, and often we were getting them months or even years before they went public.
You focus on Jameis Winston for a bit, and there's that moment at the FSU national championship game where you're interviewing a flood of people who are more in support of him and blaming Erica Kinsman, who he raped. Can you talk more about your experiences talking with those people?
That was done at the Rose Bowl, and it was a situation where you were getting a sense of what Erica, or any survivor, would face if they came forward. And rightfully so, because I think people in their college experiences are very loyal to their school and they can be very protective. So when a survivor comes forward, they run into that kind of response, it's almost a natural response. I think that gives you an idea of the testament of the courage that these survivors have because not only are they going up against their institution, but they're also dealing with their social group, the pushback and in some cases retaliation. These people are really whistleblowers and really heroes and we wouldn't be talking here today if it weren't for people like Erica and Annie and Andrea. Sadly this isn't something that colleges or even society has brought to the floor. This is something that's on the shoulders of students to bring forward.
What was your approach in interviewing the survivors? Did you set any boundaries? How did you make them feel comfortable talking about such delicate information?
Well, we had just made "The Invisible War," so we had that experience. And Amy Ziering did the interviews with the survivors, so she laid down and created a very safe space where she said, "your health, your well-being, is the most important. You can talk about whatever you like or not talk about whatever you like. We can start and stop."
I think the survivors felt very comfortable. There's something validating about a survivor who comes forward and has experienced all this retaliation or obstruction from the school, to have an Oscar-nominated film crew come in and say, "we're very interested in your story." This is a different kind of support. In some ways people come forward because they want the schools to say they would change and so us coming in and saying, "we understand what you're going through and we want to hear your story" I think created a feeling of comfort for them.
What was your approach towards structuring your documentary to make it the most powerful piece of art for the public?
That was one of the greatest challenges, when you're trying to make a film about the entire country, how do you structure it in such a way that's coherent as a film? Once we started editing, I think it became clear that we wanted to follow Annie and Andrea's story, so that provided the spine. And editing documentaries is just so labor intensive; you have to continually cut it. What I do is I always have these small, informal screenings in my home, and have discussions afterward to gauge not only if people are reading the structure, which is extremely important, but also how people are perceiving the issue, and what kind of preconceptions they come with. Trial and error really is what it comes down to.
One of the statistics in your film says that at the University of Virginia there were zero expulsions for sexual assault, but one hundred eighty three expulsions for cheating and other honor code violations. Do you think these facts are enough to change policies?
Well, "The Invisible War" resulted almost immediately in some policy changes shortly after the former secretary of defense saw the film. And in the couple of years after the film was released, there was quite a few major reforms, although even the military has a long way to go. I think what can change for this is that you hear the survivors, you see them telling us about their assault, and more importantly how the schools have responded. I think it will have an important effect on this issue, but it's really up to everyone to push for a reform, because this is a moment of opportunity. Three or four years from now it might pass and institutions tend to try to weather societal efforts to change them rather than just jump out and try and take care of it head on.
View Comments (2)