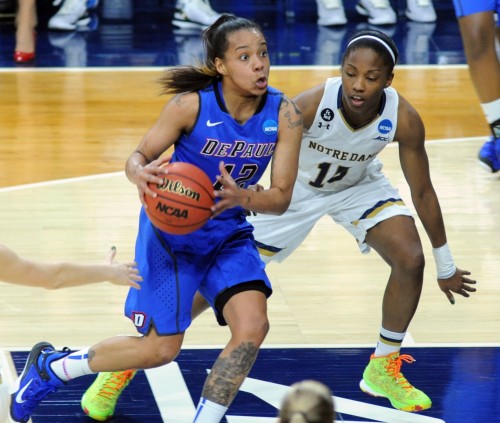 SOUTH BEND — Brittany Hrynko's last game didn't go the way she wanted it to, but she was still proud of her four years as a Blue Demon.
"Coach always gives us about 10 minutes usually to reflect on the game and what we could have done better, and I don't think I've had my 10 minutes yet," Hrynko said, smiling. "But it's just been a great four years for me here. Coach (Doug) Bruno is a great guy. My teammates have been great. Great people to be around. It's just been fun."
Hrynko's attitude, mixed with signs of nostalgia and relief, was all she could show after getting done playing Notre Dame in a rematch. There were no tears or signs of frustration from Hrynko or anyone else on the Blue Demons.
DePaul simply lost to the better team.
DePaul's season came to a close Sunday as the Blue Demons fell 79-67 to Notre Dame in the Round of 32 of the NCAA tournament. The game lacked the drama of December's meeting, where the Blue Demons lost 94-93 in overtime.
"Notre Dame is a really good team, and for us to beat a really good team, we knew we were going to have to play very well on all sides of the basketball," Bruno said. "And I think we just got a little bit impatient. When you're a high scoring team like we are, it's hard to ask them to do what we don't do. We have to play like we have to play. We went in a scoring rut, and that's really where the game went. The game got away from us."
For most of the first half, it appeared the Blue Demons (27-8, 15-3 Big East) were on its way to a massive second-round upset, similarly to how DePaul beat Duke to reach the Sweet Sixteen last season. DePaul's pressure forced Notre Dame turnovers, and the Blue Demons were able to penetrate the paint.
DePaul led by as many as eight, taking a 20-12 lead with 12:10 left in the first, before Notre Dame (33-2, 15-1 ACC) answered with a dominant defensive performance.
The Fighting Irish took away DePaul's ability to get to the rim and held the Blue Demons scoreless over a six-minute span. During that stretch, Notre Dame found its rhythm offensively, using their superior size and speed to go on a 12-0 run.
Notre Dame guard Michaela Mabrey proved to be a major problem for DePaul as she scored 11 first half points and hit a 3-pointer to give her team a 27-24 lead with 4:54 in the first half. Mabrey finished with 19 points on 6-of-10 shooting.
"I'm thrilled with the win to be going back to the Sweet Sixteen," Notre Dame head coach Muffet McGraw said. "I thought Michaela Mabrey had an unbelievable stretch where she hit some threes. She even grabbed some defensive rebounds, which I think surprised all of us. She did a great job on both ends of the floor."
Notre Dame used that run to feed off the energy from the crowd of 5, 658. It was another strong home performance from the Fighting Irish, who are 66-3 since the start of the 2011-12 season at home.  DePaul slightly narrowed the gap before halftime, trailing 37-31.
In the second half, however, DePaul couldn't muster a comeback in a similar way like they did against Minnesota. The Blue Demons' full court pressure wasn't as effective with Notre Dame's bigs being able to push the ball up the court if the guards were trapped.
"I thought their crowd just brought their energy," Hrynko said. "We're not used to playing on their court, so it was a matter of getting used to their crowd and making shots."
The Blue Demons failed to get their offense going. They finished shooting 36 percent and Bruno said his team tried to rush their shots.
DePaul forward Megan Podkowa led the Blue Demons with 19 points. In her final game, Hrynko scored 11 points, but shot just 3-for-16.
It was an uncharacteristic night for Hrynko, who had 32 points in the first meeting, and Notre Dame guard Jewell Loyd. Loyd put up a career-high 41 points in the first meeting, but was held to only 10 points in the rematch.
Still, it was Notre Dame's size difference that ended up becoming the main factor. Forwards Taya Reimer and Brianna Turner each had 14 points.
Besides Hrynko, forward Centrese McGee and Megan Rogowski will be the other two Blue Demons who are graduating this summer. The trio accomplished a lot at DePaul, including two back-to-back Big East titles and making the NCAA tournament in each season they played at DePaul.
"This season has been great," Hrynko said. "Making it this far in the tournament is big. Of course we wanted to go farther, but since we got this far, you can't hang your head on it."