Alexa Ben of DePaul soccer called up to United States U-20s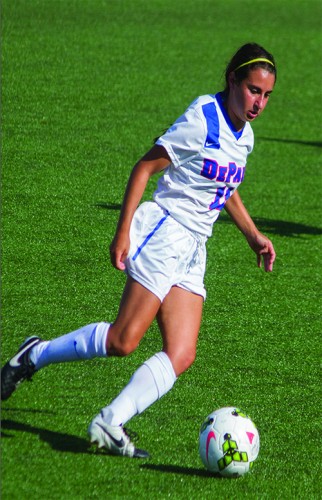 Freshman Alexa Ben could hardly contain her excitement as she smiled and got more animated with each answer. Fresh off a spring practice, Ben would soon be leaving for California for a great opportunity  — competing at an under-20 training camp for the Women's National Team.
Starting Saturday and running through April 18, Ben will be one of 24 players practicing at the U-20 Women's National Team domestic training camp at the U.S. Soccer National Training Center in Carson, California.
The opportunity, if successful, could lead to a spot to play in the World Cup and the Olympics.
"It's going to be a really good experience to go in and do my best," Ben said, smiling. "We'll see what comes out of it."
It's a special chance for Ben, who is the first DePaul player to be invited since Julianne Sitch was for the 2004 U-21 Women's National Team in 2004. Sitch is also DePaul's all-time leader in goals.
During her time in Carson, Ben will be scrimmaging against her peers. She will also compete in two games against college teams, facing USC on April 17 and No. 1 UCLA on April 18.
Ben first found out that she got the invite when she got a text at 8 a.m. from her head coach, Erin Chastain.  Still sleeping at the time, Ben woke up later to the news. She also received an email from the Women's National Team later in the day, confirming the invite.
"I'm really proud of it," Chastain said. "She had a wonderful fall season, and even prior to coming here, she was that type of player with that potential. She's fully deserving."
Ben caught the attention of Michelle French, head coach of the Women's National Team. Earlier in the fall, Chastain sent French an email to advocate for her player, but French re-inquired about Ben about two weeks before the invite, Chastain said.
Ben had a tremendous season in her first year at DePaul, scoring nine goals finishing the season with 29 points — second most in DePaul's history. She was a large part in why DePaul went 16-1-4, their sole loss being in the NCAA tournament.
Now that she is going to have a chance to compete on the world stage, Ben said she is eager to see how she fits in.
"I'm hoping to see my work ethic with some of the best U-20 players in the country," Ben said. "I'm hoping to gain better knowledge of the game and an understanding of what I need to do better. I want to see what I need to do to make it on the team."
Chastain said that the key for Ben is just to relax and enjoy the experience.
"It's a pressured environment," Chastain said. "I want her to be able to perform. She just needs to not put pressure on herself, and do what she does well. She just needs to not try to do anything crazy."
Ben's skillset, Chastain said, is one that DePaul hasn't had before. At 5 feet, Ben relies on her tremendous speed as a smaller player as well as her excellent vision to find her teammates. Along with her nine goals, Ben also had a school record of 11 assists.
"She added a different attacking dimension to our team," Chastain said. "She fit in right away with our team. Everyone loves her."
The response Ben has received so far from her teammates, family members and friends has been "a sense of warmness," she said.  It will be her first time ever competing on a national stage.
Asked if she ever wants to jump up and down and just let people know she's made it, Ben laughed.
"Yeah, but I try not to," Ben said. "I try to stay reserved as much as possible."