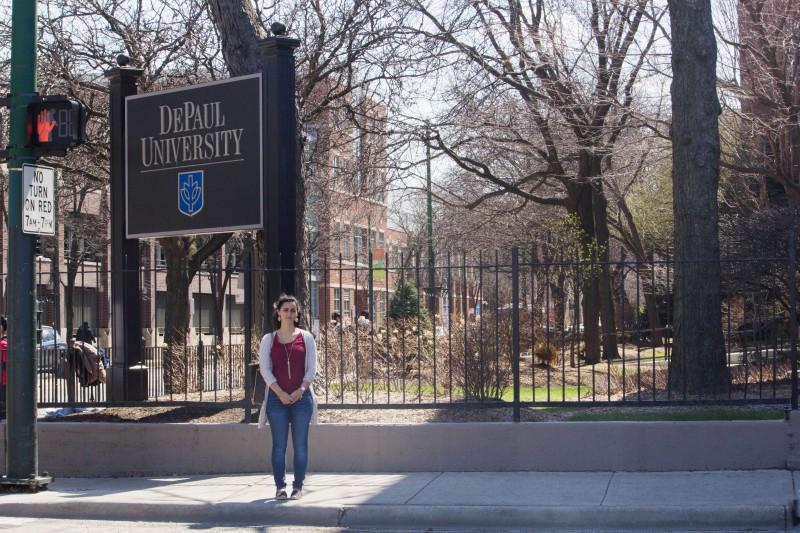 Sheila Gerhardt, a third-year student at DePaul, stands on Fullerton Avenue just west of Sheffield Avenue in the location where she and her roommate were mugged September 2013 on their way to class. Theft is the most common crime reported to DePaul Public Safety and the Chicago Police Department near the Lincoln Park campus. (Courtney Jacquin/The DePaulia)
[dropcap]S[/dropcap]heila Gerhardt and her roommate were walking to their first class of the day after grabbing coffee at Starbucks on Sheffield and Fullerton Avenue, now taken over by Whole Foods, like any other fall quarter morning.
As they were walking west along Fullerton Avenue to their 11:20 a.m. classes in Arts & Letters Hall, they noticed a loud group of teens not far behind on the sidewalk. And then the morning wasn't so usual.
"This girl slapped my roommate on her butt … they used that as a distraction to unzip her backpack and take her wallet," Gerhardt, a third-year DePaul student studying creative writing, said.
Gerhardt then ran after the group screaming to get the wallet back, but in the process was tripped by one of the offenders, hitting her head on the cement and spraining her ankle, later requiring medical treatment.
She and her roommate immediately went to DePaul's Public Safety office to report the incident, and those involved were caught within 10 minutes according to Gerhardt.
"I definitely believe in Public Safety in a way I hadn't before," Gerhardt said. "I never encountered (Public Safety) in that way. The way they supported me was really cool."
The incident, which took place Sept. 30, 2013, was part of a larger attack involving three separate incidents in a half-hour span that morning. Chicago Police arrested four of the six offenders, three of whom were minors.
Gerhardt's unfortunate incident is not uncommon near DePaul's Lincoln Park campus. In a survey of Chicago Police Department data from Sept. 1, 2014 to Dec. 1, 2014 — roughly DePaul's autumn quarter — just over 200 crimes were committed in the sliver of Lincoln Park DePaul inhabits. Incidents happening between Armitage Avenue to the south, Wrightwood Avenue to the north, Lakewood Avenue to the west and Halsted Street to east were considered.
Among those reports to the Chicago Police Department, nearly half were theft with 90 reports. Criminal damage to property came in second with 19 reports and battery with 17. The majority of thefts were reported as taking place on the street, with 23 of the 90 reports fitting that location description.
DePaul Public Safety reports mirror the prevalence of theft around DePaul's campus. From Sept. 5 to Nov. 8, 2014, 24 theft reports were filed to Public Safety.
At the start of Spring Quarter, DePaul students were reminded of the reality of crimes on campus — Public Safety sent out an alert of an aggravated robbery near campus on the first day of classes for the quarter.
According to the alert a male student was approached just before 9 p.m. March 30 on the 1200 block of Webster Avenue by three males who "demanded his personal belongings."
Public Safety is not a campus police force. When students report crimes to Public Safety they are given the option to also separately report crimes to the police with the help of a Public Safety officer.
DePaul Public Safety Director Robert Wachowski declined to be interviewed for this report.
INFOGRAPHIC: Crime on DePaul's Lincoln Park campus
"In the case of an emergency, we're advised to call 911 as soon as possible," said a resident advisor at the DePaul-affiliated 1237 Apartments who wished to remain anonymous because of the RA's position with the university. "Then, we notify our residence life manager, she reaches out to Public Safety if the police or fire departments enter the building and DePaul students are involved."
The RA was unable to comment on any specific cases that have taken place during the RA's time working at 1237, due to student privacy.
"Our residents' safety is very important to me," the RA said. "I take it very seriously, and it's the reason I must sometimes put myself in uncomfortable situations."
According to data kept by the Chicago Tribune, Lincoln Park was ranked No. 12 of 78 in Chicago neighborhoods for the most thefts per 1,000 residents for the past 30 days. Neighboring Lakeview falls much lower on the list at No. 25. From March 1 to March 31, 122 thefts were reported to the Chicago Police Department in Lincoln Park.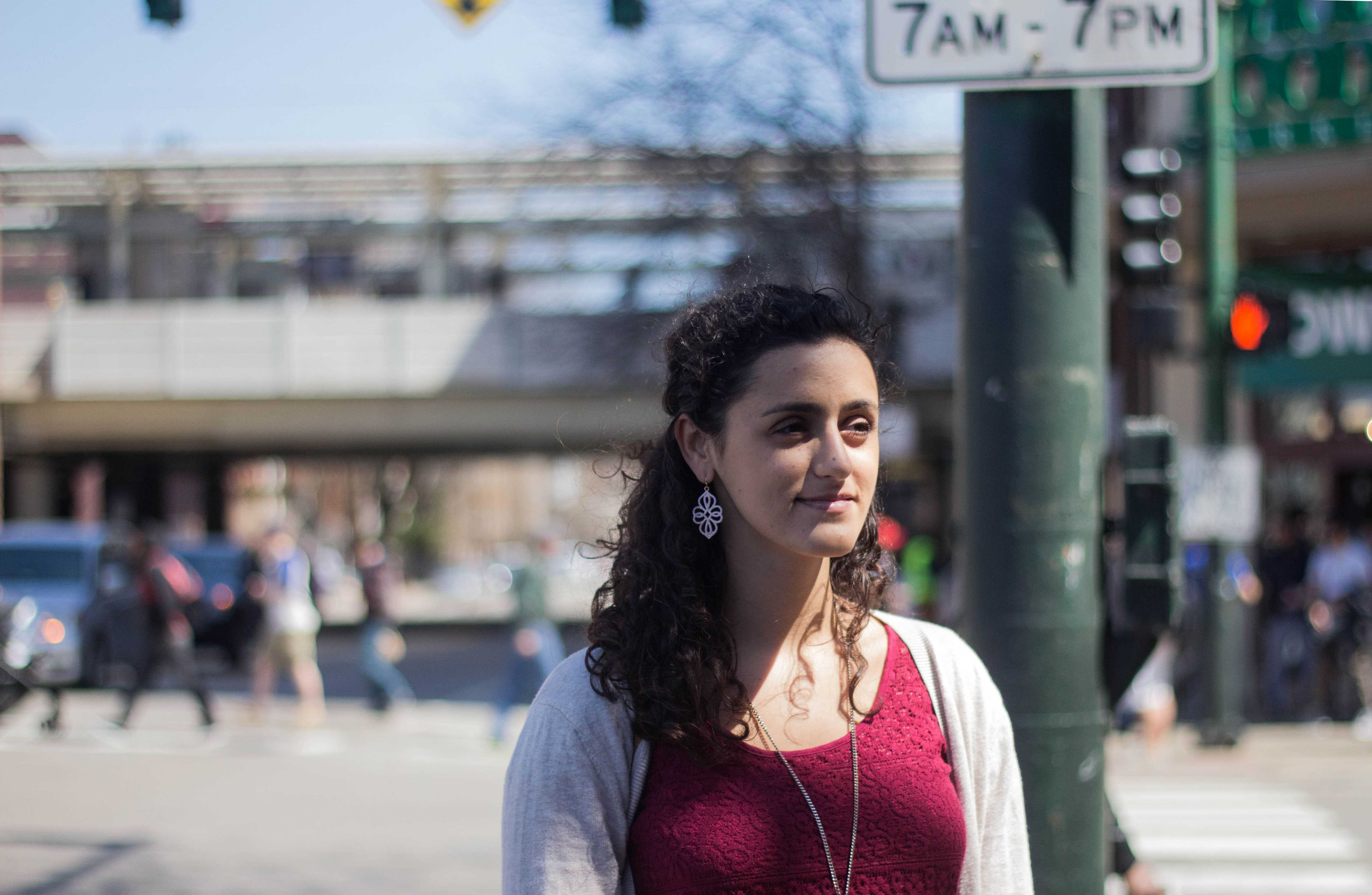 "I feel very safe (in Chicago)," Mehdi Bichri, a senior management information systems major who lives in Lakeview, said. "It's the city of Chicago, you have to make sure you're cognizant of your surroundings and that you know who to call or where to go if something happens."
Bichri said he takes precautions such as refraining to use his headphones late at night and not using his phone while by himself on the street or while riding the CTA. Bichri lived on or near the Lincoln Park campus for his first two years at DePaul.
"Just because it's Lincoln Park doesn't mean it's Candy Land," he said.
The realities of the threat of crime around DePaul's campus are certainly fresh in Gerhardt's mind.
"I don't think I'll ever feel safe in Chicago again," Gerhardt said, who plans of moving to Scotland for graduate school in the fall. "In Chicago any time somebody bumps me I'm afraid they've stolen something from me.  So I guess it's that sense of security that's been taken from me.
"I don't think I'll ever feel the same in Chicago."
Crime Map: Sept. 1, 2014 – Dec. 1. 2014. Incidents highlighted in red indicate thefts, all other incidents in grey. View the data here.
Correction: An original version of this report online and in the April 13 issue of The DePaulia stated DePaul PUblic Safety can be given permission from the Chicago Police Department to make arrests on their behalf on campus. According to Public Safety Director Robert Wachowski, this is untrue.