Brittany Hrynko selected, traded to Atlanta Dream in WNBA draft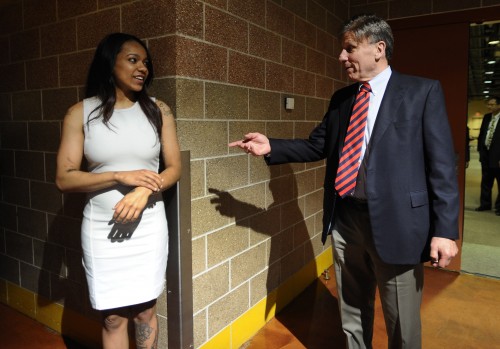 Brittany Hrynko shivered as she felt the breeze from the floor of the Mohegan Sun Arena in Uncasville, Connecticut. There for the WNBA draft on Thursday, seven members of her family, as well as DePaul head coach Doug Bruno, surrounded the Blue Demon guard.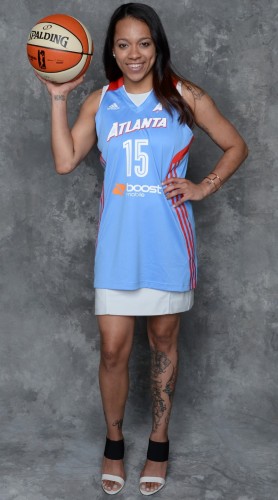 Hrynko watched while Notre Dame guard Jewell Loyd — a player she faced twice — went No. 1 overall to the Seattle Storm. With the second pick, she watched another player she faced in the NCAA tournament be picked, this time Minnesota center Amanda Zahui B. to the Tulsa Shock.
She then watched players get picked one by one until the fifth pick of the draft. It was then when her nerves started to kick in. Where would she go? Would she be drafted at all? Thoughts like this flashed through her mind, but Hrynko tried to remain calm.
Yet while she sat there trying to keep her cool, the sound of fingers tapping on the table followed by her sister Tiffany chewing on her fingernails only added to her anxiety.
It started to turn into impatience.
"I just had to say 'Stop!'" Hrynko said. "She told me she was getting nervous, and I had to keep smacking her hands like stop, stop."
But about an hour and a half into the draft, Hrynko's impatience turned into relief.
Hrynko was selected as the 19th overall pick, or the seventh pick in the second round, by the Connecticut Sun. Her moment with the Sun, however, would be short lived as she was traded to the Atlanta Dream in exchange for guard Jasmine Thomas.
The night turned out to be worth the wait.
"Because I was sitting there so long and I was getting impatient, (when I was picked) I was hugging Coach Bruno and he said, 'Make sure you smile. Make sure you smile,'" Hrynko said. "It was just a matter of it happening. It was just so exciting."
Hrynko walked on to the stage and posed for a picture with her jersey and Renee Brown, the WNBA's Chief of Basketball Operations and Player Operations. After that, she enjoyed the moment with her family before doing media interviews backstage.
The funny part, Hrynko said, was that when she finished up interviews and obligations, she took a moment to wind down and started a conversation with Samantha Logic, the No. 10 overall pick in the draft and an Iowa point guard.
The two were chatting when Bruno came by and told them that they were now teammates. It took an initially confused Hrynko a second to process what Bruno had told her.
"I had to do the whole circuit of talking to the media again," Hrynko said, laughing. "But it was just great. It was just so much fun. I got to take pictures in an Atlanta Dream jersey. It was just awesome."
Hrynko is DePaul's ninth player since 1997 to be drafted in the WNBA, and the Blue Demons' first since Keisha Hampton was drafted 22nd overall in 2012. Bruno said he was extremely proud of his player.
In fact, Bruno played a role throughout Hrynko's waiting in trying to keep her calm.
"I was in a state with her where I kept telling her that it doesn't matter when, it's more important where," Bruno said. "There's not a big difference in money. It's about the fit and the opportunity to make a team.
"I like the fit because the Dream play a fast paced style that's made for Brittany," Bruno said, adding that Hrynko's developed role as a facilitator will play a key role at the next level.
Hrynko's next challenge will be making the roster. She'll join the Dream shortly before training camp begins May 17.
She was one of four players taken by the Dream, who currently have 16 players. The maximum roster size for a WNBA team is 12.
But the Dream saw enough value in Hrynko to trade for her.
"Brittany is a talented combo guard who had a great career at DePaul," Dream president and general manager Angela Taylor said in a press release. "She is someone who we think could be a great pro because of various aspects of her game — her ability to finish with contact, her range beyond the three-point line and her solid handles, which compliments Coach (Michael) Cooper's system in which either guard can handle the ball in transition or in the half court."
Bruno said she should enjoy her moment being drafted, and that it was time for her to focus on the next task. But there's no mistake that Bruno is extremely proud of Hrynko for even getting to this point. He's perhaps the only person who has seen how much Hrynko has grown on a day-to-day basis for the last four years.
"Dreams are what fuel young athletes," Bruno said. "Britt, at age eight or nine, had a dream to play high school, to play in college and then play in the pros. To see that dream start to be fulfilled, it's a thrill."
Hrynko achieved her dream, and now she'll be playing for them too.
"I'm just looking forward to going to Atlanta," Hrynko said. "I'm looking forward to seeing what I can do for the Atlanta Dream."
View Comments (1)