White Mystery premieres 'That Was Awesome' film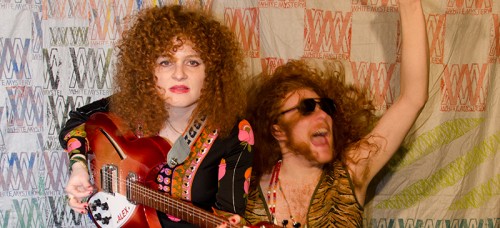 "That was awesome!" People cheered as the credits for White Mystery's debut full-length film "That Was Awesome" rolled across the screen.
The project, which boasted five different short stories, was created, filmed, and edited all in less than six months. The project isn't a band documentary for White Mystery. Instead, it's a fictional tale based on the fiery, red headed siblings themselves. Adventures, including fairytale like whims and twisted nightmares, drive the film. The different mediums the film encompassed, which included animation, home videos, and real life video (including concert footage) satisfied White Mystery fans, friends and family who traveled to the Logan Theatre on April 20 to see the premiere.
The film, which stars the White siblings, is definitely enjoyable even if a person doesn't know the band. The five sections (filmed and edited by five different directors) captured attention throughout the night. Each story is completely different, switching from two ex band members who own a smoke shop to a future Woodstock inhabited by tattooed and pierced cannibals. While the stories were entertaining, it was difficult at some points to tell exactly what was going on.
One story, which relied on a combination of home videos and simple animation, was unclear in the plot line (if there even was one), seeming like some sort of an inside joke for close friends and family. It was endearing to see the young White siblings performing, illustrating the strong musical environment in which they grew up.
One of the most amusing, comedic sections of the film was "Orange Psycho." The two siblings became fuzzy, orange monsters, crawling their way out of a barren desert in order to persuade people to come to their show. The victims they target are soon affected by some sort of disease and turn into orange monsters themselves. Miss Alex White and Francis Scott White narrated the scene after the director wove the portion together. This improvised narration gave a glimpse into the sibling's true personality, giving off the vibe that they are fans of music and very involved in the local music scene.
The movie also featured cameos from those involved in the local Chicago music scene, such as Brandon Reed from The Holy Motors.
It's a dark, psychedelic comedy that music and White Mystery fans should most definitely check out.
"That Was Awesome" and its soundtrack will soon be available online.