DePaul, other universities make strides, still struggle to fight sexual assault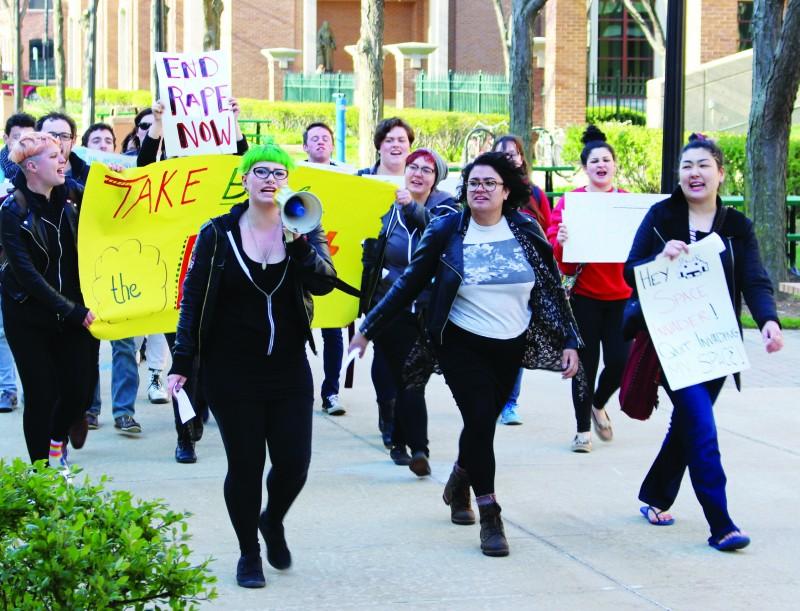 [dropcap]O[/dropcap]n an unseasonably warm evening in mid-April, about 20 students — a few alumni as well — met in a lecture hall in McGowan South. They weren't there for a chemistry lecture, but instead for a lesson on consent, why the phrase "Consent is Sexy" is "problematic," what the "pizza model" of consent is, and why a T-shirt campaign isn't going to solve sexual assault on campus.
Presented by Feminist Front, the "Consent and Campus Culture" discussion was just one of the many events throughout the month of April at DePaul for Sexual Assault Awareness Month. From the annual Take Back the Night march to guest speakers such as YouTube's Laci Green, April was filled with about 20 events to educate and involve students.
But the two dozen people talking the intricacies of consent on DePaul's campus and the 40 marching through the Lincoln Park campus are the tiniest percent of DePaul's student body, and a fraction cannot effect change for culture of the university on sexual violence. It's why DePaul is constantly working to close the gap, making sexual assault everyone's problem to solve.
"I like to say that sexual and relationship violence is everybody's business," Dean of Students Ashley Knight said.
"The whole time (students are) here, I want it to be … something that we're talking about," Knight said. "Each department, each division, each college, each student and each student organization would take it seriously."
One of the responsibilities of the dean of students is to assume the role of Title IX coordinator, who makes sure the college complies with Title IX, which prohibits sex discrimination in all the operations of this college. Sexual violence can be a form of sex discrimination under Title IX.
"The person who is Title IX coordinator is someone who listens, looks at the whole campus culture and tries to see where things need to be improved and where we need to make remedies," Knight said. "So one of my philosophies is that we stop, we prevent and we remedy instances of harassment and discrimination when we see them."
The Dean of Students office will help survivors with counseling services, Public Safety or Chicago Police reporting, medical resources, safety planning and going through the Student Conduct Process, holding students accountable for violating DePaul's sexual and relationship violence policy.
One of the newest initiatives DePaul will be starting is the implementation of Haven, an online training program for all incoming students, starting Autumn Quarter 2015. Similar to AlcoholEdu, Haven is a series of modules that inform students about sexual and relationship violence, bystander intervention, campus resources and more. The module has already been adapted by Southern Illinois University, UCLA, Emory University and more.
"It uses a lot of scenarios and case studies to bring the point across, it talks about how (sexual violence) affects people of all genders, all sexual orientations, and it talks about bystander intervention and provides some ideas on how you can intervene in a safe way," Rima Shah, sexual assault and violence prevention specialist at DePaul, said.
"Haven is a best practice in the United States," Shah said. "It was recommended by the White House Task Force (to Protect Students from Sexual Assault), a lot of universities across the country are using it, and a lot are going to start to use it this fall. It's an existing online module created using a lot of research, and evaluations have been very, very positive, universities have loved it."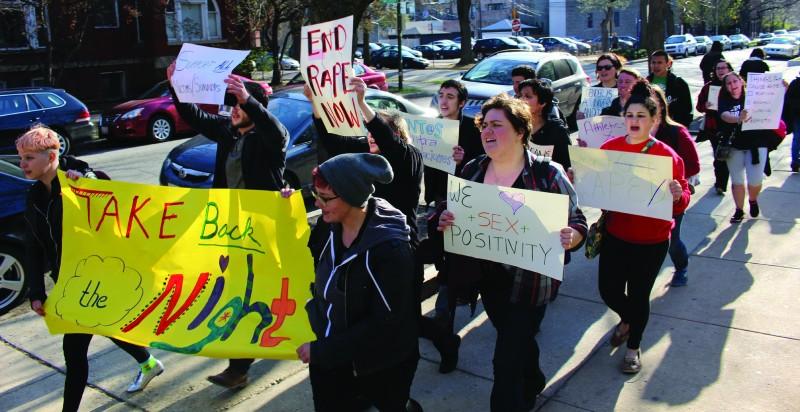 While the online module is a step in the right direction and allows all students to have a "common knowledge" the university can refer back to in later programming according to Knight, it raises some concern from students, especially those heavily involved in raising awareness for sexual assault.
"I've heard of (Haven), but haven't seen all the content so I can't say 100 percent for sure, but it sounds like a really important step," Laura Springman, a senior and a member of DePaul Feminist Front, said. "Although I am a little skeptical just because I know I didn't really take the (AlcoholEdu) seriously because I don't drink so I thought, 'Well this doesn't apply to me so I'm just going to half ass it,' and I'm scared lots of students will say, "Oh this doesn't apply to me,' and won't fully get into the information."
But this isn't the only disconnect between administration on the issues of sexual violence and students.
"I think DePaul, like all other universities, can do better," Springman said. "I think they fail to listen to students saying that we still feel unsafe and more actions need to be taken to discuss rape culture and provide more resources for survivors."
Recently, DePaul was recognized for its sexual violence prevention and response by the Attorney General Lisa Madigan's office. The university was invited to the Strengthening Campus Response to Sexual Violence summit to speak on a variety of panels about sexual violence and response on college campuses, and DePaul was represented on more panels than any other university.
Despite these advancements, the disconnect is felt between administration and students.
"I think Rima Shah has done an amazing amount of work, and it's important to distinguish Rima from the rest of the DePaul administration," Ira Lowy, a junior and member of Feminist Front, said. "I think there is a very deep disconnect between what the students want and what the administration wants. The students are concerned with safety, and the administration is concerned with appearances. The students are concerned with if they will be assaulted or killed."
The gap between what universities are doing for sexual assault and what students want isn't a DePaul-specific problem; it's a problem at many universities.
[quote]I think there is a very deep disconnect between what the students want and what the administration wants. The students are concerned with safety, and the administration is concerned with appearances. The students are concerned with if they will be assaulted or killed[/quote]
Last Thursday, Vice President Joe Biden visited the University of Illinois Urbana-Champaign campus to applaud the university on its work with the "It's on Us" campaign.
The "It's On Us" initiative was launched by the White House last September to help put an end to sexual assault on college campuses. The initiative encourages bystander intervention, saying that "it's on everyone" to step in and say something, do something to combat sexual assault.
Fixing the problem of sexual assault on college campuses is something Biden is clearly passionate about, making it clear everyone — including colleges — need to take responsibility in stopping sexual assault.
"All too often those institutions re-victimize the victim in the process; that happens on some college campuses when you report," Biden said. "There's no doubt that colleges and universities have to step up."
But for one U of I student, junior Lincy Pompilus, her experience with the university has been just that, revictimizing.
Pompilus published an open letter to the university's chancellor Phyllis Wise last week criticizing how her case was handled. Pompilus is a survivor of sexual assault, and while her attacker, her RA from her first semester at U of I, was dismissed from the university spring of 2014, he was allowed to petition his dismissal and return to campus this semester, and will graduate this May.
"I, as the victim, have to reconsider my every move: Is it okay to go out tonight? Should I go to class today? What if I see him on my way there? Is it worth the possibility of running into my rapist? Words cannot express the anxiety I feel on a daily basis just over that possibility. Because of that possibility, many times, I do not go out, I do not go to class, or do anything else," Pompilus wrote in her letter.
"I was tired of being ignored and ran in circles by the university officials I was speaking to about my case," Pompilus said of writing her letter. "And tired of feeling like nothing could be done."
Pompilus' letter has been shared nearly 200 times on Facebook, and the overwhelming response got her a meeting with the chancellor, scheduled for next week.
For Pompilus, she knows that U of I has certainly made advancements for combating sexual assault on campus, but there's still a long way to go.
"I don't want to say that the university isn't doing anything, that strides aren't being made, because that's false — strides are being made, I just don't think the application all the time is as parallel as it should be," Pompilus said. "I can't fathom how — I mean, we just had the vice president of the United States here — an RA who violated one of his residents is allowed to come back and graduate, it doesn't make sense to me."
Pompilus' requests for the University of Illinois are very similar to what some students would like to see at DePaul.
"I would like to see the university give more funding to Health Promotion and Wellness office, Rima Shah and The Women's Center," Springman said. "DePaul needs to take a harder stance against abusers, students accused of sexual assault must be removed from campus housing immediately to prevent them from hurting more students."
DePaul has certainly made advancements when it comes to sexual assault awareness on college campuses, but enough can never be done — not at DePaul, not at the University of Illinois, not at any college in the U.S. But in time, the culture will improve.
"The culture of silence that surrounds these issues, of course it continues to be there," Shah said, "but it is definitely becoming less."
View Comments (1)
About the Contributor
Courtney Jacquin, Editor in Chief
Courtney was editor in chief in 2014-2015. Before that Courtney was the Managing Editor and Arts & Life Editor. You can follow her on twitter @courtneyjacquin