Review: FIDLAR at Double Door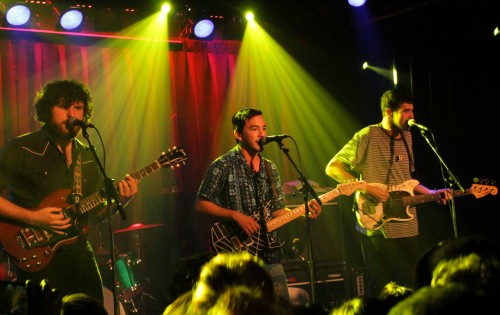 Combine flying cups of cheap beer, getting kicked in the head by crowd surfers, delightfully ugly tropical dad shirts, and you'll get a FIDLAR concert. The four piece, scummy and dirty garage skate rock is every suburb kid's rebellious dream, but in a good way.
Before FIDLAR took the stage, Meat Wave, a local punk band, opened the set. Although they seemed to hone their craft – the singer screaming so hard into the microphone his neck veins bulged and his face turned a fiery shade of red – it seemed as if the audience wasn't really connecting. The three-piece group has influences from late '90s and early 2000's punk groups, merging sinister, dark undertones and fast-paced guitar shreds and heavy percussion. While a good act, they might be better suited for a crowd who is more into bands like NOFX and Bad Religion.
Despite Meat Wave failing to spurring the audience, even before the Californian band clamored onto the stage, people were swaying back and forth in anticipation, eager to erupt into a full out brawl. As soon as Zac Carper, lead singer of FIDLAR, stepped on the stage, it exploded into pure chaos. FIDLAR egged on the crowd screaming for everyone to get louder –  if that's even possible.
FIDLAR fans are very reactive, hoisting themselves up onstage and then diving right back off. Some performers tend to be annoyed by the constant crowd surfing and stage diving, but FIDLAR seems to rather enjoy it. It's amusingly violent, backed by a wonderfully messy, out of control set by the band themselves. Mario Cuomo, lead singer of The Orwells, made a guest appearance, giving Carper a passionate kiss before launching into "Wake Bake Skate," a fan favorite, and then launching himself into the audience.
In addition to pleasing the audience with classics like "Awkward" and "Cocaine", FIDLAR also tossed a few new songs into the mix. While keeping the same typecast of short, swift songs and lyrics about hard drugs, surfing, and drinking too much beer, it was very refreshing to hear some new material. It's the same old FIDLAR who scrounges off a few dollars and gets themselves into sticky, drunken situations.
Carper, along with band mates Brandon Schwartzel, Elvis Kuehn and Max Kuehn, made sure every person got their money's worth. The show sold out within the first two weeks of tickets going on sale, and packed Double Door from wall to wall. The only real downside was the short, 40-minute set. But FIDLAR, besides all of the awful jokes about not being able to find any merchandise outside of their shows (everyone knows Amazon exists, Carper), is one of the classic Californian skate bands every Burger Record kid at heart needs to see.
FIDLAR, born from DIY shows and recording songs at their own homes, is growing more popular without a doubt. Their new album is due to be released later this year.