DePaul women's tennis beats Kentucky, falls to Michigan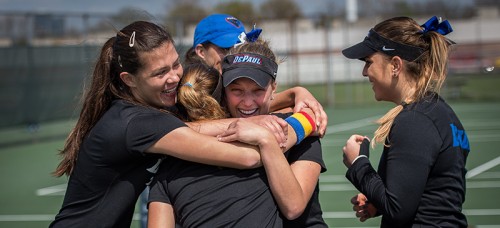 DePaul women's tennis bowed out of the second round of the NCAA tournament Saturday with a 4-2 loss to Michigan, ending their 2015 season. Instead of being dissatisfied with the day's result, however, the team was happy that they had gotten to previously uncharted territory.
By getting to the second round of the NCAA tournament for the first time in school history, they had taken another step forward.
"It's something that we've always worked for and I truly believe that all the teams in the 19 years I've been here have been waiting for that moment and they helped build to that moment," head coach Mark Ardizzone said.
After winning the Big East tournament and getting to the NCAA tournament in 2014, this year was another push towards more success in the postseason.
"Every little step you take in college tennis is like walking up the Sears Tower, it's incredibly hard to take those next steps," Ardizzone said. "When we get to the round of 16 it will be a monumental step some day. We'll enjoy these little steps but it's great to know that all the work that we put in is getting to these steps."
DePaul won the Big East tournament in 2015 with relative ease, sweeping all three opponents in the tournament. With that out of the way, they set their sights on winning their first ever NCAA tournament match and standing in their way was No. 25 Kentucky. DePaul, however, took the Friday morning match and started off strong with a doubles point, which helped propel them to a 4-1 victory in the opening round.
By winning the match against Kentucky, DePaul had completed most of its goals heading into the season.
"At the very beginning of the season we set up our goals and one of our goals was to win the Big East," Senior Patricia Fargas said. "And one of our other goals was to not only go that far but to get past the first round of the NCAAs."
The experience in making the NCAA tournament twice in a row helped not only for match day experience, but also for managing expectations.
"Last year when we played in the NCAA tournament I think we were just happy to be there but we weren't just happy to be there against Kentucky," Ardizzone said. "We were there to win."
After dispatching of Kentucky, however, DePaul did not have a "happy to be there" attitude against Michigan, and came close to defeating the Wolverines in a 4-2 loss.
"It was fun, it was a great college tennis match," Ardizzone said. "I don't think we started well enough in the doubles to win the match to get ready for that first big punch that they were going to give us, but every single match was competitive, it was back and forth. When I watch us lose a match like that, I can be satisfied because the tennis was so high level."
The Blue Demons lost the opening doubles point, which put the onus on the singles performers to win four out of six singles matches, which they were only able to pull out two.
"When you get out there after losing doubles it's rough because you're down 1-0," Fargas said. "For me at least I thought about getting it done, not necessarily the person next to me but just to do it myself for my teammates and hopefully the other girls get it done too."
This team will lose two seniors, Fargas and Jasmin Kling. For Fargas, who has seen the team take many of the small steps in her career at DePaul, the difference between the start of her freshman year and the end of her collegiate career was the taking of opportunities.
"At the end of the day it's all about opportunities and chances and we had some chances back then but we didn't take them," she said. "But these last two years we've really taken opportunity of our chances."
And next year, they'll be looking to take another small step.
"What I'm hoping is that they got a taste of this and that it makes them want another taste of it," Ardizzone said. "You can't replace (Fargas and Kling) and what they've done for us, but these other kids will work hard to have this opportunity again. The future is bright but they'll get a week off and then we'll get back to work."