Coach Doug Bruno of DePaul women's basketball reflects on 29 years, looks to future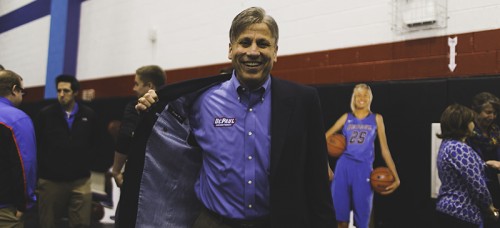 Whether it was the administration, his numerous assistant coaches, players, alumni or boosters, DePaul women's basketball head coach Doug Bruno did as he always does: give the praise to someone else.
At the DePaul basketball fan forum Thursday, Bruno was the first session for fans to ask questions; led by Fox Chicago sports anchor Lou Canellis. He asked Bruno about some of the successes he has had in his 29 years as a head coach at DePaul, including having the court at McGrath-Phillips Arena named after him.
"It's a humbling honor, I try not to think about it too much," Bruno said. "The blood and guts that people put into this court is so much more than my name on the court."
Bruno then turned it around and used a "shameless promotion" as he called it to thank the boosters who donate for the amenities that the women's basketball team utilizes.
The fan response was sparse as there was only one question asked from a fan, regarding the team's non-conference schedule and how the program planned to play old rivals such as Connecticut and Notre Dame.
"We're working very hard to keep the schools that didn't have the wisdom to stay in the Big East on our schedule," Bruno said in response. "If you look at the Big East teams we play right now, we look forward to leading the beast that is the current Big East."
Bruno then went on to confirm that DePaul would play defending national champions Connecticut Dec. 2 at McGrath-Phillips Arena. DePaul played at Connecticut in 2014-15. He also said that the Blue Demons would go to Notre Dame after hosting them in 2014-15. DePaul's season also came to an end at Notre Dame in the second round of the NCAA tournament.
The full non-conference schedule is expected to be released in the next couple of months.
With the Blue Demons coming off a second consecutive Big East tournament title, as well as a second consecutive Big East regular season title, Canellis asked about the pressures that such high standards and previous successes bring.
"It's all about the players," Bruno said. "It's all about their strength up the middle: their heads, their hearts, their guts."
He also talked about continuously working for the next season and how the players know that, despite the returning strengths, they need to continue to strive to make themselves better.
"They understand that nobody can take last year from you but tomorrow is not guaranteed," he said. "These players are working very hard for DePaul women's basketball next season."
View Comments (1)