Cadavillo wins DePaul SGA presidency, allies sweep cabinet positions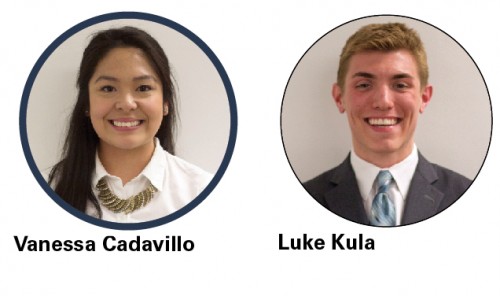 Vanessa Cadavillo and Ric Popp were elected Student Government Association President and Vice President for the 2015-16 school year after receiving more than 60 percent of the vote against the Vincentians United ticket headed by Luke Kula and Michele An.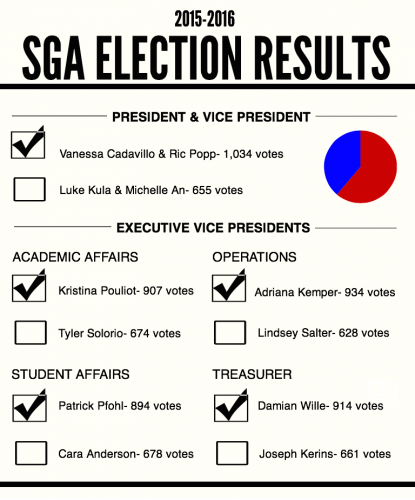 Cadavillo's slate of candidates won every cabinet position, with Kristina Pouliot being elected Executive Vice President of Academic Affairs, Patrick Pfohl EVP of Student Affairs, Adriana Kemper EVP of Operations and Damian Wille was elected Treasurer. Each candidate's share of the vote ranged between 57 and 60 percent. No candidates from VU were elected.
"We are beyond honored to have been elected to serve the student body through Student Government Association," the victorious slate said in a statement. "We want to thank our family, friends and all of the students with whom we recently made relationships. We cannot wait to get started serving the student body in our respective positions and continue connecting with students to hear their concerns."
The group also touted the many relationships they have made throughout the campaign and vowed to keep reaching out as they seek to make meaningful change.
And while they came up short, VU thanked the students who supported them and promised to keep fighting to make SGA more transparent.
"The fight to make SGA a transparent, open organization is not over," the statement read. "Vincentians United will carry forward because we see the importance of having proper and transparent representation in student government, and plan to hold those elected accountable to the student body. Over 600 students supported us in these elections and want to see active change and progressive work come from student government and it is our hope that they listen to these students."
In addition to Kula and An, the VU candidates included Tyler Solorio for Academic Affairs, Cara Anderson for Student Affairs, Joseph Kerins for Treasurer and Lindsey Salter for Operations.
The election featured the first contested presidential race in years as Kula, a senator representing the College of Liberal Arts and Sciences, ran as a reform candidate against Cadavillo, the incumbent EVP for Student Affairs, who was viewed by many as the establishment choice.
Many of Cadavillo's initiatives mirror those of former President Casey Clemmons' administration and incumbent Matthew von Nida's. Kula and VU, on the other hand, ran on a platform that shared the reform spirit of One DePaul, a coalition of student organizations that ran candidates last year with the mission of reforming SGA.
Though voting was open for a week, turnout in the presidential race was a meager 7.1 percent, with 343 less people voting despite last year's election being uncontested.
This drop in turnout may in part be due to a mild decline in enrollment and the lack of a ballot initiative to activate grassroots organizations. Last year, the issue of divestment of university funds from companies that do business with Israel was put before students, which generated passionate debate and increased interest in the elections.
DePaul's Feminist Front attempted to get a question on contraceptive access before voters, but fell short of the 1,500 threshold of verified signatures to qualify.
Most races down the ticket were uncontested, but a few were hotly contested. Sarah Levesque won a three-way race to become the next Senator for Sustainability, garnering 38 percent of the vote. She beat Demetra Gasouniotis and Eric Favela, who received 34 and 28 percent respectively.
In addition, Senator for Commuter Students Omar Ortiz lost his write-in campaign for re-election to Benjamin Cohen, 32-27, with other write-in Lorna Diaz pulling in 16 votes.
Student Michael Mulligan won a three-way write-in contest to become Senator for Mission and Values, getting 36 votes. Second and third place write-ins Jamian Griggs and Shawn Tigue earned 22 and 20 votes respectively.
The new SGA senators and cabinet will be sworn in this Thursday.