Review: Hilary Duff – 'Breathe In. Breathe Out."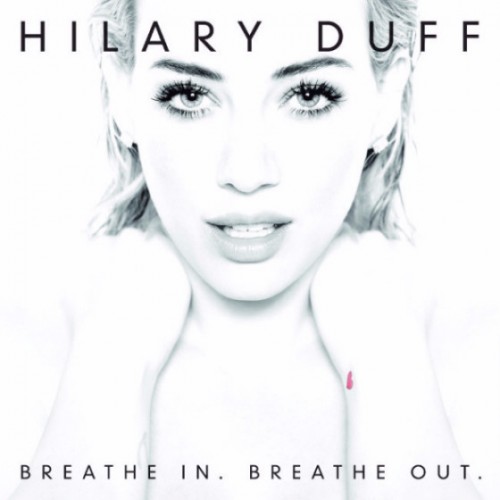 I am Hilary Duff's biggest fan. If not number 1, I'm sure I'm among the top 20. I copied her haircut in 2002, and again in 2009. I memorized every lyric from her 2003 album, "Metamorphosis." I visited the Trevi Fountain in Rome, partly because it is a beautiful destination, and partly to see if I would lock eyes with an Italian pop star and live out my own "Lizzie McGuire Movie."
Needless to say, I've been waiting a long time for Hilary Duff to make her comeback in the music world. Despite my extreme fandom, listening to the first few songs of her new album, I was a little disappointed — and I was fully prepared to write a rave review for "Breathe In. Breathe Out." Listening to the first few tracks, I got nervous that she had just hyped up her fans for her long awaited album, only to dish out a handful of forgettable pop songs. I expected more from my girl Hilary.
I was hoping that this album would be an opportunity for the 27-year-old pop star/actress/mother to dig a little deeper and produce a more mature album. This would be a great way to connect with her fans who have grown up with her since her Lizzie McGuire days. While it may not satisfy an older audience in general, I can see this as a hit album among heartbroken teens or women. The lyrics are full of declarations against lying boyfriends and optimistic tracks about finding new love.
Her singles released last year, "All About You" and "Chasing the Sun" were a taste of what might have been to come for this new album. These songs still captured Duff's signature pop vibe, but incorporated a kind of folky sound, which I really enjoyed. 'Breathe In. Breathe Out.' completely lost this quality. The only song reminiscent of it was the cute duet at the end of the album,  "Night Like This."
"Tattoo" is my favorite song from the album by far. Ed Sheeran, whose music I love, was a writer for this song, so I'm not surprised that this was my favorite. "Tattoo" has a strong melody, and is a nice break from the dance beats and repetitive choruses dominating the rest of the album. I'm also a fan of the title track, "Breathe In. Breathe Out."
Duff capitalized on the season, releasing her album in perfect timing for listeners to roll down the car window and sing along to her catchy, upbeat tunes. Had her album been released in October as originally planned, it may not have been so well received.
Another clever move in the creation of this album was the use of "Sparks" as the first single.  Duff collaborated with Swedish pop star, Tove Lo, on this song and used footage from her Tinder dates as part of the music video. This scheme for the video drew a lot of attention, and led to plenty of media attention about her Tinder dates — I for one was left wondering what else she had up her sleeve for the rest of the album and couldn't wait until it came out.
"Breathe In. Breathe Out." May not be unique enough to compete with today's pop icons, but is worth a listen. The high-energy music would make a great addition mixed into summer playlists.
For the record, my disappointment in this album has in no way affected my love for Hilary Duff. There are very few people who can pull off mermaid-esque blue hair the way she can, so I remain a loyal and devoted fan.