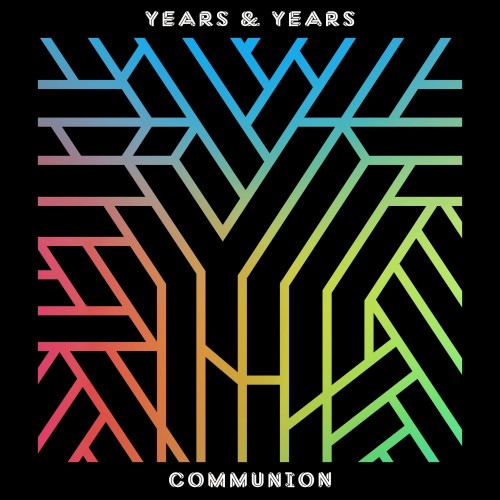 Communion is defined as "the sharing or exchanging of intimate thoughts and feelings, especially when the exchange is on a mental or spiritual level." "Communion" is also what British electro-pop trio Years & Years chose as the title for their debut album. While "Communion" doesn't necessarily evoke emotion on a spiritual level, the defiantly honest lyricism found on most tracks is enough to make any listener who has ever been in a relationship, good or bad, feel connected to the personal life of lead vocalist Olly Alexander.
Despite releasing several low-key extended plays over the last few years, "Communion" feels and sounds like a new, fresh body of work. The 13-track effort dives into various genres like house, 90s R&B, and EDM with a hint of indie-rock, making for an exciting but familiar listen. Almost every song on "Communion" could be relatively successful on Top 40 radio, easily blending with club-ready tracks from mainstream contenders like Clean Bandit and Disclosure. Though this makes some tracks easily forgettable, like the down-tempo "Border" and slow-paced "Ties," "Communion" makes up for these fillers with incredibly strong tracks that dominate the album.
Initially formed in 2010 as a five-piece group, Years & Years spent their former years crafting their sound into what it is now; upbeat dance music with sad lyrics. Bass-player Mikey Goldsworthy and fellow guitar player Emre Turkmen accompany Alexander, who also plays keyboard. With Diplo and Flying Lotus, two strikingly different artists, as influences for "Communion," it's no surprise that the album finds itself scattered across multiple sounds.
The opening track "Foundation," with its quiet bubbling bass tucked under Alexander's echoed vocals, prepares the following track, "Real," to explode. Released as a single in February 2014, the fiery record resists sounding dated with its foot-tapping drum pattern, snap-a-long pre-chorus, and crisp sounding, sparkly synths. Alexander's sagacious songwriting abilities become apparent as he questions his love interest: "I think I'm into you / How much do you want it to? / What are you prepared to do?" That same energy can be felt on "Shine," a shimmery 80s synth-pop-inspired song that delves even deeper into the emotional psyche of Alexander and his past relationships.
"Communion" then takes a sharp left turn with "Take Shelter," a reggae-thumper that seems crafted for the dance floor and large stadiums alike. Similarly, "Worship" serves as an audible curveball drawing on 90s R&B with slight elements of gospel. The album finally reaches a slow point with "Eyes Shut," a piano ballad reminiscent of songs on Sam Smith's "In The Lonely Hour" but with more edge. Again, Alexander's crafty writing shines through on the song's chorus: "Nothing's going to hurt me with my eyes shut / I can see through them."
The emotional journey through Alexander's lost lovers continues throughout the latter half of "Communion," where some of the strongest tracks on the record lie. "King," for instance, capitalizes on the Alexander's melancholic confessions and his bandmate's new-wave house beats. It's also the group's best performing single yet, selling hundreds of thousands of copies and earning the number 1 spot on the UK Singles chart.
"Desire," then, is perhaps the most enthralling listen on "Communion." Beginning with Alexander's hazy echoed vocals over a bouncy club beat, listeners are immediately thrust into the conflicted mind of Alexander himself as he wickedly screams on the anthemic chorus: "Is it desire? / Or is it love that I'm feeling for you / I want desire / 'Cause your love only gets me abused."
Ending with "Memo," an R&B-infused track adhering to the whispered sound of The Weeknd, "Communion" has the potential to capture listeners' attention down to the last second.