Pitchfork Music Festival kicked off their 10th annual festival last night, on July 17, with stellar Chicago acts like Wilco and Ryley Walker, as well as performers from all over the world, including CHVRCHES, who hail from Glasgow. Pitchfork is a significantly smaller festival than Lollapalooza and Riot Fest, taking place in Union Park in the Near West Side, so while it took some time to get used to knowing my way around the festival grounds, festival goers were able to spend most of the day enjoying the music, food, poetry readings and everything else Pitchfork had to offer, rather than getting their bearings. As the stages are so close, it was easy to hop around from one stage to another, watching great performances all day.
Ryley Walker
Playing early in the afternoon, Ryley Walker was the band that kicked off the festival. The Chicago-based guitarist played with a medley of musicians for the festival, including a trumpeter, upright bassist, keyboardist, drummer and second guitarist.The group played folk music with obvious influences derived from jazz. Their first song began with a long instrumental component, making me wonder if there were ever going to be vocals. The music built throughout their set, though, into a frantic, but also methodical chaos of instrumentals, reminiscent of "Heroin" by The Velvet Underground, which was fascinating to see. – Erin Yarnall
iLoveMakonnen
As a break from the indie artists who previously played throughout the day, rapper iLoveMakonnen performed a fun set, which helped to distract crowd members from the blistering heat. The hip-hop artist took time to appreciate the fact that he was playing such a large music festival, and even called his mom on stage to tell her how excited he was, adding at the end of the call "Shouts outs to all your moms as well," to the dancing and joyous crowd. iLoveMakonnen was reminiscent of Lil B, where his raps aren't impressive lyrically (one song was him repeating the words "flip phone, Nokia" over and over again), but they're fun to dance to, and glaringly easy to stick into the listener's head. – Erin Yarnall
Mac DeMarco
Easily one of the most anticipated sets of the day, Mac DeMarco started off the early evening, taking the stage at 5:30, with a massive crowd awaiting him. Starting off his set with "Salad Days," DeMarco then moved throughout his next few songs, including "Blue Boy" off his 2014 album "Salad Days," and "The Stars Keep On Calling My Name," off of "2."
DeMarco sounded just as good live as he does on his records, a feat not all musicians can claim, and despite the laid back nature of his music, provided one of the most fun sets of the night. This is due to the evident fact that DeMarco doesn't take himself too seriously. He danced around the stage, yelped throughout his songs and dedicated songs to "all the dads out there." He also doesn't take the music business too seriously, saying about his new album "It leaked. Feel free to download it, I don't give a s—." The large amount of fun he was having on stage flowed throughout the crowd, giving crowd members an incredibly enjoyable time. – Erin Yarnall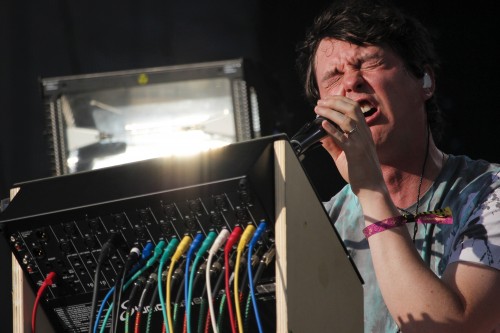 Panda Bear
Animal Collective's notoriety and sound – from that found on the splattery "Centipede Hz" to folky "Feels" and even denser, studio-centric albums like "Merriweather Post Pavilion" – can handle an outdoor set. In fact, its eccentricities thrive in a festival environment with hyped up fans, even if casual fans are just waiting around in hopes of hearing "My Girls."
But Panda Bear's hymnals, quiet brilliance and visuals need the indoors to fully capture the audience, which he did very successfully during last year's tour previewing tracks from "Panda Bear Meets the Grim Reaper." He's not one to cater his setlist to the crowd either: he opened with "Untying the Knot," a great, albeit obscure track from his "Mr. Noah" EP. The only "Tomboy" he performed was "Alastian Darn." And no "Person Pitch."
Though his sets are choreographed ahead of time to sync with Danny Perez's bad-trip visuals and this is, of course, a "Panda Bear Meets the Grim Reaper" tour, a few nuggets of more notable tracks might have been more satisfying. –  Kirsten Onsgard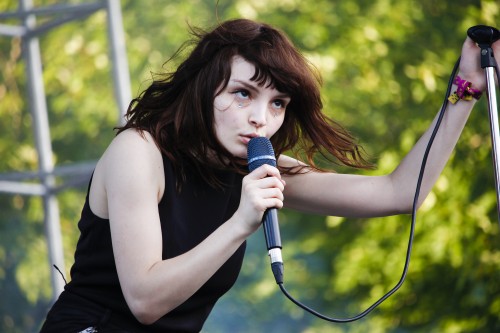 CHVRCHES
The Scottish group, CHVRCHES, was the poppiest group of the night, perfect for when the sun started to go down, and the day wasn't so unbearably hot anymore. Singer Lauren Mayberry has a flawless voice, and when she wasn't using it to belt out the band's enjoyable electronic tunes, she used it to humorously criticize Mac DeMarco for leaving his "disgusting" cigarettes in a beer bottle on stage after his performance.
The band altogether sounded incredible, and led to a lot of dancing crowd members, but ultimately, were pretty boring on stage. Although they had some fun interactions with the crowd (involving Mayberry attempting to kick a beach ball into the crowd), their stiffness in their performances made for a boring band to watch, despite how sonically pleasing they were. – Erin Yarnall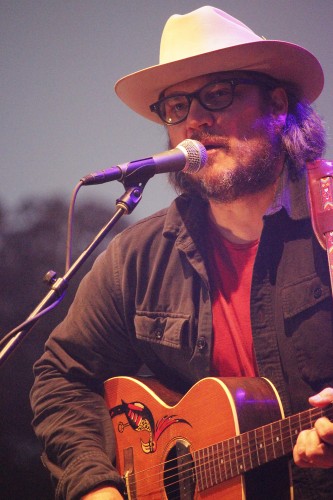 Wilco 
As the sun set, the dad population skyrocketed (complete with lots of lawn chairs, blankets and little ones) in anticipation of every paternal Chicagoan's hometown heroes.
Pitchfork's Friday legacy acts like Beck last year are well-rehearsed and universally likeable. They're amicable, good for winding down and relaxing to, and pull in a new audience to the festival.
With a live set that swayed a little Americana and Jeff Tweedy sporting a tasteful cowboy hat,  Wilco was expectedly tight. They toyed with a few song from "Star Wars," which dropped for free Thursday night, showcased their jam chops on "Impossible Germany" and threw in a few more hits for good measure.
Their music was perfect to end a day in which almost all of the crowd members were overheated and exhausted. That's not to say Wilco had a boring set, they played incredibly, but their music is good for winding down and relaxing to, rather than seeing an incredibly upbeat and energetic performance. – Kirsten Onsgard & Erin Yarnall
[box]Saturday recap and photos[/box]
[box]Sunday recap and photos[/box]