Lollapalooza 2015: Sunday
[slideshow_deploy id='13691′]
A semi-pointless evacuation, shortened set times for the headliners and unbearable heat still couldn't bring down the enthusiasm at Lollapalooza's final day. With great music throughout the day and headliners Florence + the Machine, Bassnectar, Kygo and Nero, the final day of Chicago's most famous festival brought out thousands upon thousands of tired and dirty fans to celebrate their love of all things Lollapalooza.
The Wombats
There was no better way to kick off the final day of Lollapalooza than by catching The Wombats' set. The band, who recently released their latest album "Glitterbug," played a collection of songs off of their new beloved album, as well as fan favorites like "Moving to New York" and "Tokyo" from their previous two. For having just played an aftershow eleven hours earlier, The Wombats were filled with energy, as bassist Tord Knudsen bounced and leaped throughout the stage. While bands who open festivals normally are there to start off the day in a relaxing way, The Wombats left many people drained from jumping and screaming the band's lyrics for 45 straight minutes. – Erin Yarnall
Twin Peaks
Is it really still accurate to give them the diminutive title of "Twin Peaks boys" anymore? After all, even though they are college dropouts, they have graduated through not only the DIY scene, but the Chicago fest circuit too, after performing  at Riot Fest, Pitchfork and now Lollapalooza. With a few swigs straight from a vodka bottle, they flailed through "Wild Onion" and "Sunken" cuts with a perfect sloppiness. Their signature, though, is their Chicago connection: pointing to their old high school across Michigan Ave., reminiscing about smoking weed in Grant Park and bringing James Swanberg of local bands Today's Hits and The Lemons up as a guest vocalist. Thought they might not be older than their Team Peaks fan base – who were out in full force – their musicality and on-stage ease is a sign of a much bigger things. – Kirsten Onsgard
Evacuation
Another Chicago festival, another weather-related evacuation. With mostly clear skies overhead and a few dark clouds hiding behind the skyline, festival personnel announced that Lollapalooza would be momentarily shut down at about 2:30 p.m.
But unlike Pitchfork, Lollapalooza draws about 100,000 attendees per day, and moving that mass of people in and out and communicating multiple schedule adjustments proved to be a logistical nightmare. Though organizers set up three emergency shelters at the Millennium and Grant Park garages, many took to nearby restaurants, huddled underneath overhangs or even dashed to DePaul's Loop campus.
An hour later, attendees learned that the festival would reopen and the schedule would be adjusted without cancelling acts via app push notification. Funneling back through the gates was one struggle, and then figuring out the new schedule with thousands of phones struggling to find a signal was another. At that point, headliners were pushed back, stretching their sets to 10:45 p.m.
Later that night, another adjustment was made: headliners were cut short to an hour at the main stages, and even less at the smaller ones. – Kirsten Onsgard
Marina and the Diamonds
After the evacuation was weird. People initially sprinted into the festival in all directions, and chaos ensued for a while. Welsh singer Marina Diamandis took to the stage while the chaos was ensuing. Diamandis played a mixed set list of songs off of 2012's "Electra Heart" and her most recent album, "Froot." Despite the chaos from the evacuation, Marina and the Diamonds still commanded a massive crowd who were jumping and waving their arms throughout her set, and for good reason. Diamandis has a beautifully powerful voice that captivated everyone in attendance for her mid-afternoon set. – Erin Yarnall
Bully
With refreshingly honest lyrics, and an unbelievable voice on frontwoman Alicia Bognanno, Bully has been blowing up recently. Their debut album "Feels Like" is one of the best alternative releases this year, channeling the rawness and anger of the riot grrrl genre. Bognanno is able to flawlessly transition from screaming on songs like "I Remember," to singing on fan-favorite tracks like "Trying," in such an impressive way.
Bully has been performing in Chicago a lot lately, enough for Bognanno to comment that her new favorite restaurant is Handlebar in Wicker Park. Just two weeks ago, Bully played one of the best sets at Pitchfork Music Festival in Union Park, the first time I ever listened to them. It was easily one of my favorite sets throughout the festival, and made them a must-see at Lollapalooza. – Erin Yarnall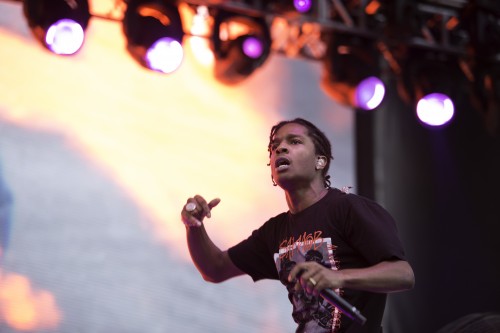 A$AP Rocky
The combination of heavy bass and a huge mass of hopping fans quite literally shook the earth beneath the south end of Grant Park during A$AP Rocky's set. Call it post-evacuation excitement, but A$AP knows how to hype up a crowd, from bringing out Vic Mensa and covering "U Mad" to yelling over a recording of "Smells Like Teen Spirit." While the latter was an unnecessary gimmick (why has Nirvana been co-opted by everyone claiming rebellion?) A$AP Rocky's strong releases and impressively stage production complete with warping visual clips proves he's a standout in today's rap scene – even if that means moving the ground beneath his feet. – Kirsten Onsgard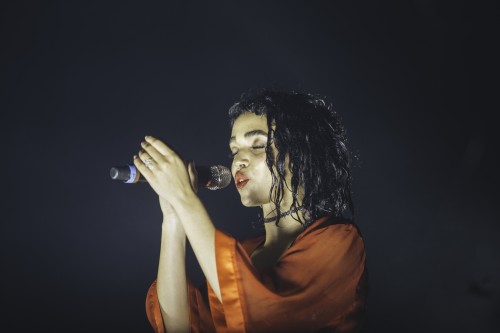 FKA Twigs
With gusts threatening another impending storm – and a few extra app push notifications confirming what was to come – FKA Twigs basked beneath the smoky and dusty darkness of the secluded Pepsi stage. Anywhere larger, and the minimalistic songs might have lost her mysticism, her silhouette buckling as her dancing powerfully illustrated tracks from her latest album. Her dance background is certainly a plus, but it wouldn't be as spine-tingling if it weren't for her effortlessly soaring vocals and creaking production. She may be a performer riding on a lot of hype, but she deserves every second of it.  – Kirsten Onsgard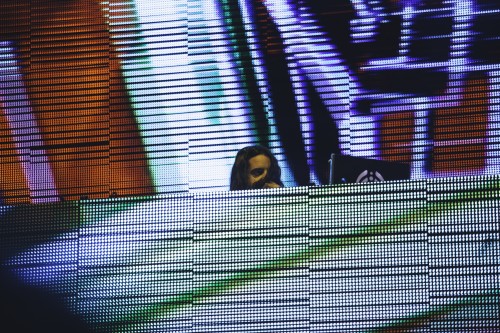 Bassnectar
Say what you will about the abundance of electronic headliners Sunday (three out of four, if you're counting) but with legacy acts in the spotlight for the rest of the weekend, it wasn't a poor scheduling choice. And Bassnectar sure knows how to throw a fun party for both his most faithful followers and casual listeners alike. With his set whittled down to a little less than an hour, he managed to squeeze in everything from newer releases like "Speakerbox" to a romping "Pink Elephants on Parade," complete with saturated geometric visuals and Dumbo clips. A full set would have been more fun, but after three schedule changes, this quick best-of was satisfying enough. – Kirsten Onsgard
Florence + the Machine
As a band that formed in 2007, Florence + the Machine are not quite legendary like the other headliners on the Samsung stage this weekend, but after watching their performance, they definitely will be one day, if just for live performances. The band, fronted by singer Florence Welch, dominated throughout their hour-long set, which was cut short due to an impending storm. Their set was also moved back thirty minutes because of the evacuation, but none of this messed with how well the English band performed.
The massive crowd danced through the night, even with an impending storm with lightning flashing in the background as the band played songs like "Shake It Out," in which Welch lamented that they couldn't bring a choir and asked the crowd to sing even louder.
Earlier this year, Welch broke her foot jumping off the stage at Coachella, but that didn't deter her from dancing, spinning and yes, eventually leaping off the stage to run into the middle of the crowd and sing along with them during "Rabbit Heart." Welch's enthusiasm and liveliness was enough to make for a good set, but with their extraordinary music as well, it made it unforgettable. – Erin Yarnall
[box]Lollapalooza Friday recap[/box]
[box]Lollapalooza Saturday recap[/box]
View Comments (1)