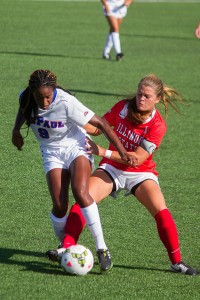 It wasn't quite the result the Blue Demons were hoping for in their first match at Wish Field this season, but it was a deserved draw against the Utah Utes. Each team went scoreless in a defensive battle.
From the opening whistle, it was apparent that the Blue Demons' home opener Sunday was going to be a grinder of a match with both teams playing at a high intensity from the beginning, despite both teams having traveled a decent amount since Friday.
No. 21 DePaul (1-0-1) was coming off a 2-1 win in Cincinnati to begin their fall campaign while the Utes (1-0-1)  earned a 1-0 win over Marquette.
"It was a typical Sunday game where both teams were fatigued from the Friday game," DePaul head coach Erin Chastain said. "We had a tough weekend in Cincinnati and bussed home right after the game and got in at three in the morning."
While both teams had their share of chances, neither could find the back of the net. Senior Elise Wyatt credits the Utes' backline for disrupting the Blue Demons usually comfortable attacking nature.
"We definitely couldn't play our style of attack and finish balls like we're used to," Wyatt said. "They were really good with tracking our runners and tracking our runs."
Chastain said Utah's backline is so good because they have to be in the conference they play in. Going up against powerhouse schools such as Stanford and UCLA each season in the PAC-12 gives the Utes the opportunity to play against some of the best attacking teams in the nation. Utah's defensive goal was to just make life difficult for the Blue Demons up top and that's exactly what they did.
"We didn't create as many chances as we normally do from an attacking perspective and part of that is credited to their back four," Chastain said. "Part of it was we (also) looked a little off sync today."
DePaul was held to just seven shots while Utah doubled that. This meant the Blue Demons defense had to play just as well as Utah's in order to keep a clean sheet.
Senior center back Brianna Ryce led the line and made a few game saving tackles throughout the match. It got to the point where she knew one goal could win or lose the match, so a clean sheet was of the utmost importance. Despite not picking up the win, Ryce was pleased with the result.
"It was a grind in general," Ryce said. "I'm happy with the whole team to grind out a result after a tough game against Cincinnati."
Ryce also found a lot of positives in the defensive effort. Ryce and the rest of the back four played cohesively and caught the Utes offside several times.
While three points was the expectation entering the match, the Blue Demons should be more than pleased to earn a point against the Utes in the home opener.
"They're solid all over the pitch," Wyatt said. "We need teams to challenge us, we need teams to make us think differently and think on our feet."
Chastain said she sees the result, in addition to the win at Cincinnati on Friday, as a learning experience. The team needs tough weekends such as this one to really grow and get better before conference play begins.
"It's early in the season so we're happy to be 1-0-1 so far," Chastain said. "We're going to build off of what we saw this weekend."
The women are in action again next weekend as they compete in the Loyola Invitational hosted by Loyola University Chicago.