DePaul women's soccer routs Eastern Michigan, St. Francis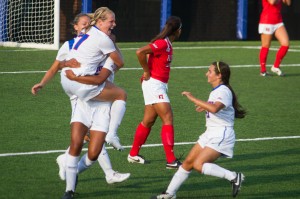 The Blue Demons were nothing short of dominant on Friday night, as they saw four different players find the back of the net, wiping out the Eagles of Eastern Michigan, 7-0.
Junior forward Abby Reed kicked off the scoring in the 29th minute with a sweet little bump shot to the right corner of the net off a crossing assist from sophomore Jessica Weaver.
Senior Elise Wyatt would tack on another goal in the first period, as she cashed in on a penalty kick in the 17th minute after she was taken out in the goal box, one of seven fouls committed by the Eagles in the first half.
Wyatt wasn't done.
She would add two more goals on the evening, mounting a hat trick. The third of which being an aggressive, line-drive-boot from roughly 25 yards out of the goal box with four minutes remaining in the contest.
DePaul settled in nicely. They were patient, dictated the pace early, and seemed to bait EMU into overly aggressive plays, leading to some clear passing and shooting lanes. In total, they mustered 21 shots on goal on Friday night.
While the goals garner much of the attention in a one-sided game like this, the defense was equally impressive.
"The defense was beyond solid," head coach Erin Chastain.
"We executed well and didn't let them find much of a rhythm. Only three shots allowed all game, and no corner kicks? That's pretty good."
It was good indeed, as senior defenseman Sarah Gorden and Brianna Ryce were huge in keeping the Eagles out of Blue Demons zone. The one save by reserve goalkeeper, sophomore Lauren Frasca was the extent of the goalie action in the game.
The second half would see eight substitutes get some game action, something that carries weight for this team down the road as they progress towards another NCAA Tournament appearance.
"It's important to get our younger girls and reserves in the game," Chastain said optimistically.
"Their confidence is important, and that game experience is invaluable. It will be prove to be significant over the course of a long season."
The Blue Demons continued their dominant performance on Sunday, rolling over Saint Francis 5-0. Wyatt put in another two goals, while Franny Cerny and Lucy Edwards put in their first collegiate goals, supplemented by a goal from Reed. They extended their regular-season unbeaten streak to 22 games and moved to 3-0-1 on the year.