Review: Albert Hammond Jr. at the Bottom Lounge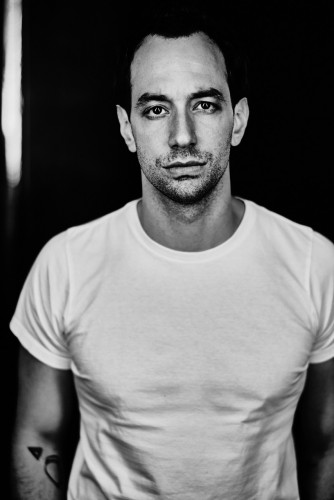 At the Bottom Lounge this past Tuesday, the crowd knew they were in the presence of one of the most iconic guitarists of the last 15  years. Whether it was a dad wearing worn out Nikes while sipping on a beer or a teenage boy trying to channel his own personal indie rock persona, everyone was eagerly awaiting the arrival of guitarist and keyboardist for The Strokes, Albert Hammond Jr. Almost immediately after a soulful open by Prinze George, people started chanting for Hammond Jr. every time the lights even flickered.
Prinze George, a three piece (with an additional guitarist on stage) out of New York, floated onto a soft, warmly lighted stage donned in all white. From first glance, I nearly assumed this was going to be another baby born from Mumford and Sons and The Lumineers. When the first guitar chord was strung, their true sound emerged: synth pop that manages to sound a little bit melancholy despite its disco-influenced beats. Even though their music is a little too saturated by mainstream indie pop, what makes this band stand apart is their authentic stage presence. The crowd remained eerily silent while they played, but at the end of each song, erupted into a surprisingly loud applause. Prinze George seems like a more mature version of bands like Chairlift or Magic Man. It was a welcoming start to the show before Hammond Jr. hopped onstage.
But even though the show would please any person who likes indie rock in the slightest, Albert Hammond Jr. is still searching for ways to perfect his live sound. He has a long list of experience playing live with The Strokes (which anyone at the show would probably faint at the mention of), which is a shining focal point of his solo work. However, his vocals during his performance aren't up to the same standards as his recorded albums. Still, the crowd didn't seem distracted at all. Most people were whispering in between songs, talking about how in awe they were that they had the opportunity to even be in the same room as one of their idols.
Albert Hammond Jr.'s ability to shred the guitar so gracefully and vivaciously is what really makes his set worthwhile. Backed by some of the most stellar musicians I have seen in a while (definitely pay attention to the rhythm guitarist), Hammond Jr. makes it worthwhile to get a ticket just to hear his guitar solo on "Born Slippy". Playing his entire set with an indescribably happy smile on his face, he still seems incredibly humble despite playing in a band that's a household name. Mixed in with a few terrible jokes and banter, he went out of his way to acknowledge not only a fan that has been following his last few tours dates, but also the fact that he has an immense amount of support for his solo project apart from The Strokes.