Women's soccer battles Loyola to 0-0 draw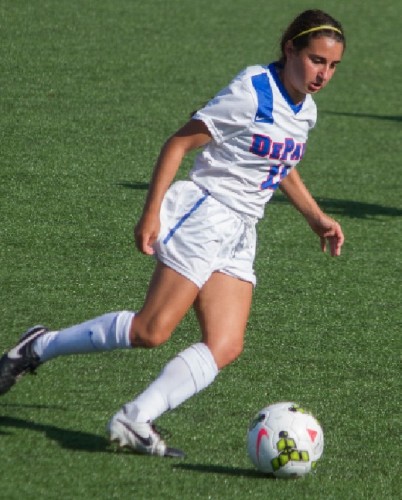 Inclement weather disrupted both the starting time and both team's offenses in DePaul's Thursday night match-up with the Loyola Ramblers as they battled to a 0-0 draw. 
The Blue Demons moved to 6-1-2 on the season and extended their unbeaten streak to three games. Loyola moved to 4-3-2 on the season.
The game opened with sloppy plays from both teams. Loyola's Kara Ruffalo failed to convert a one-on-one against a defender and an open goal in the 15th minute, only to be matched by Abby Reed and Elise Wyatt failing to connect on the counter-attack.
Coach Erin Chastain was disappointed with her team's effort in the offensive third.
"Our normal quality in the attacking third wasn't there. We had 16 shots and only three met frame, so that says to me that we aren't paying attention to detail," Chastain said. "When you don't put away your chances, the other team can make you pay."
The Ramblers' Shelby Cook gave the match the first of three combined shots on goal in regulation in the 28th minute. Loyola did not test Godinez for the rest of regulation.
Ana Greik subbed in the 38th minute and injected some juice into the Blue Demons' offense. She quickly created a chance for Reed and Wyatt, who couldn't convert once more.
The first half came to a close with DePaul in complete control, leading in shots and corners. However, the score remained tied.
In the second half, DePaul came out with a new sense of urgency. Both teams pushed the ball deep into the opposition's territory, but an Elise Wyatt rip that sailed way high in the 54th minute accurately summed the game up for the Blue Demons. Neither team came close to scoring for the rest of regulation, leading to a 0-0 regulation score.
Loyola exploded in the first overtime, amounting to a blast from Katie Grall that was saved by Godinez in the fifth minute. DePaul countered with an Alexa Ben chance in the eighth, and two shots from Elise Wyatt that somehow failed to hit the back of the net in the ninth.
The second overtime saw another failed chance from Elise Wyatt, and a yellow card for Alexa Ben. Elizabeth Endy had a chance off of a corner as time expired, but goalkeeper Maddie Ford saved it, sealing the game as a 0-0 tie, easily stopped her header.
DePaul had chances to score all game, but the offense never put it all together.
The heavily favored Blue Demons were visibly frustrated after the game. Unable to beat the underdog Ramblers, DePaul looked next to their Sunday matchup with Long Beach State, a team which recently had beaten top-teir squad UCLA earlier this month.
"Our kids will feel this like a loss, even though it's a tie, they'll be more motivated on Sunday," said Chastain. "We expected to take care of business."