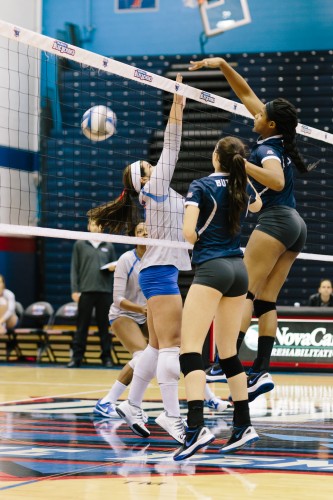 Despite winning the first two sets of Wednesday night's Big East opener, DePaul volleyball couldn't quite hold it together when Butler eventually forced a fifth set that cost them the match, 3-2. Butler's adjustments trickled in during the interim of sets two and three, proving to be more than the Blue Demons were ready to handle.
"We just have to expect a battle, (because) we've got ten good teams in our conference, and everybody's going to want to work; nobody's going to want to lose," said Nadia Edwards, head coach of DePaul's volleyball team. "No matter what a team gives to us, or what they do to us in terms of games and switches, we just need to be able to keep on our toes, and stay confident and believe in ourselves."
The Demons' first set win was shut out with a beautiful kill by Callie Huebner, a senior, who gained a team-high of 11 kills and 12 digs throughout the match. Even with a close game at 25-23, DePaul continued to be in control, rallying to showcase their great team chemistry and livelihood, well into the second set.
It was the third set where the Demons began to trail off, even with various leads throughout. Close to the end, still down at 23-19, the Demons forced a timeout for Butler who sought to regroup and adjust.
"I think it should definitely be a good confidence booster for our team to know that even though they were still up, they had to call a timeout because they knew that we had the potential to come back and win and close out the set," Huebner said.
Still, it wasn't enough to keep the lead, as the Demons fell 25-21. The sets to follow proved to be rough for DePaul, even with impressive performances, including freshman Brittany Maxwell, who notched 15 kills out of 30 total attacks within the match.
"I think that it just shows that volleyball is such a game of errors and whoever makes the less amount of errors is definitely going to come out on top," junior Colleen Smith said. "I thought it was huge for us to come out strong right away, and our outsides played unreal, and same with our middles, and Brittany on the right side. Just all around, our passing was really good."
The subsequent set proved just that, as Butler gained a strong lead at 17-9, managing to shut the Demons out to a 25-17 win. In their fifth and final set, Butler continued to make use of their strongest key player, Mary Striedl, who saw a total high of 27 kills on 47 attacks. They finished out the set to win them the match at 15-9.
"I think it was just the momentum change," Smith said. "They came out and just started attacking us, so it's definitely a lesson learned for us that every Big East opponent we're going to face is going to be really good, so we need to make sure that we use our practice for game-like situations coming up right out of the shoe and just hit that game in three, because we're definitely capable of it."
Looking ahead to face Marquette this weekend, the ladies are ready come out and fight against a top-25 team.
"We're excited for Marquette," Huebner said. "We realize that this game is over, we play everyone twice in the conference, and we're looking for a sweep this weekend."