DePaul volleyball earns first Big East win of the year over Xavier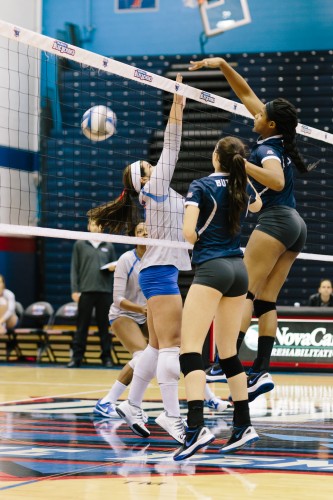 DePaul volleyball overcame an eerily familiar start and was able to finish the match to win in four against visiting Xavier.
Sloppy play plagued the Blue Demons early on in game one, suggesting that DePaul might fall swiftly to the heavily favored Musketeers. Led by reigning Big East Player of the Week, Outside Hitter Abbey Bessler, Xavier's offense dominated DePaul's defensive front.
Coach Nadia Edwards was prepared for Bessler's impact.
"We knew that she's the person that could control the match for that team," Edwards said. "We tried to put the pressure on her pass to hit, and serving strategically to take others out of the equation so we could focus on her."
Bessler's seven first set kills were not enough to stop the balanced, error-free attack of DePaul. DePaul took the lead after a 25-23 opening set.
It apparently took a full set for Caitlyn Coffey to get hot, as she punished an early game two middle set to re-charge DePaul's offense. DePaul's other middle, Jasmine King, was also nearly perfect on the day at this point, hitting .750 through the first two sets.
The middle-centered attack for DePaul was no fluke. Coffey and King were fed throughout the match.
"We saw in the video that they would just have one block up in the middle, so we used that to our advantage," said Coffey, who exploited Xavier's weakness for eight kills Wednesday night.
Despite nine kills from Bessler, the Blue Demons were able to secure a win in the second set, winning 25-23 again.
Taking an early 2-0 lead is nearly a guaranteed victory, but just last week DePaul dropped a match to division foe, Butler, after getting up two games to none.
DePaul got up to an early 4-2 lead in game three, but slowly lost their grip on the game. King continued to be unstoppable, but Xavier's Bessler looked poised to top her career-high 33-kill performance against St. John's that she posted last week.
Bessler had seven kills in Xavier's final ten points, fittingly including the game winner at 25-20. Shades of the Butler game crept into the minds of both fans and players.
DePaul's outsides, Saige Gallop and Callie Huebener, had barely been heard from throughout the game. However, Coach Edwards, a former outside herself, was wasn't disappointed with her senior duo.
"They played smart. If they could get kills, get kills, if not, put it in a spot," Edwards said. "You might look at the stats and say we didn't get a ton of kills from that position, but we played smart."
Teams have to play smart if they plan on overcoming an awesome force on the opposing side, like Abbey Bessler. DePaul spread the ball around the entire team, with five players recording five or more kills. DePaul also only had eight errors, to Xavier's 24.
Game four brought the first signs of flustered play from DePaul. In the first rotation through the line-up, DePaul missed three serves, but blocked Bessler twice. Coach Edwards's adjustments paid off, and Bessler was nearly completely phased out for the rest of the match.
DePaul reached match-point with a four point lead, but three grueling rallies put Xavier back in contention, down only one point. Refusing to let the Butler letdown beat them twice, DePaul fought back, winning off of a Saige Gallop kill 25-23.
DePaul will bring new found confidence to their weekend match-ups with Seton Hall and Villanova, after their first Big East win.