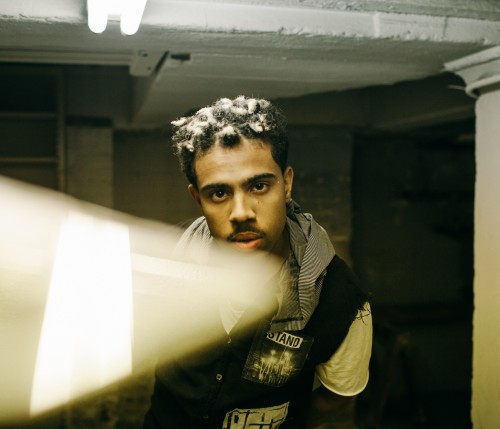 Chicago rapper Vic Mensa discussed the evolution of his career in a new documentary titled "Down To Start A Riot." Filmed in one week, the 12-minute documentary follows Mensa as he tours his home neighborhood of Hyde Park while reminiscing on childhood friends, the beginnings of the hip-hop collective SAVEMONEY, and the continuing issue of violence on Chicago's South Side.
At the young age of 22, Mensa has achieved several career milestones to which he gives much credit to the Internet. "INNENATAPE," Mensa's second mixtape that was released in 2013, helped establish him as a solo artist and break away from his previous status as a member of the rock group Kids These Days. After touring with rappers J. Cole and Danny Brown, Mensa released "U Mad," a haunting hip-hop track featuring Kanye West that received critical success earlier this year.
Produced by music publication The FADER, the gritty documentary follows Mensa around the streets of Hyde Park where he spent most of his youth. While giving a tour of the community, Mensa proudly points out buildings where he illegally tagged graffiti, hosted rap battles with a then smaller version of SAVEMONEY, and where he witnessed some of the harshest acts of violence the city has to offer.
"I was like a straight A student," Mensa said. "But I was always in the b—. Smoking, drinking, fighting, stealing."
Over the past few years, the ceaseless violence on Chicago's southside has received an overwhelming amount of mainstream media coverage. From several in-depth reports by local news outlets to Spike Lee recently filming a documentary conveniently titled "Chiraq", most if not all of the gang-saturated territories has received attention. "Down To Start A Riot," however, highlights the contradictions that can sometimes arise when living in such a racially and economically diverse area.
Keen to how outsiders perceive the community, which boasts the prestigious University of Chicago campus as well as President Obama's former residence, Mensa expresses how the attraction of street life can often conflict with the traditional values that the community upholds.
"It's so in the middle of what can be seen as light and dark," Mensa said. "These two very different worlds just clash together by a couple of blocks."
According to a report by The Chicago Maroon, the University of Chicago's student newspaper, Hyde Park has had a slight increase in violent crimes since 2009. Despite this, Hyde Park's overall crime rates remain significantly lower than other areas of Chicago. This is due in part to the diverse nature of the neighborhood and the University of Chicago's ability to bring in a wide range of ethnic backgrounds and income levels.
Sydney Sewell,  a DePaul junior, spent time exploring the neighborhood this summer. She admits to being stunned by the aesthetics of the location; yet understands why violence could still prevail.
"Hyde Park is like the epitome of diversity and culture," Sewell said. "It's just like any other neighborhood at the end of the day, though. Crime doesn't discriminate. It happens everywhere."
Towards the end of the documentary, Mensa is shown driving and reflecting on his success thus far. Seeing himself as a product of his environment, including overcoming the violence that surrounded him, Mensa hopes to be an example to anyone facing similar difficulties with big dreams.
"I never was perfect," Mensa admits. "I was in all types of trouble — law trouble and legal trouble. Its possible, and that's a manifesto if I ever want one."