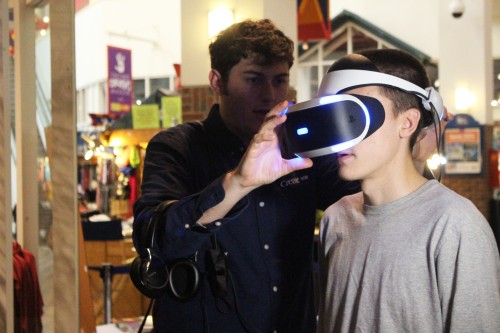 What makes something impossible? Many believed that walking on the moon was impossible. The same goes for the incredible feat of walking across the Twin Towers of the World Trade Center. Not only does walking across a 140 foot gap, towering over 100 stories seem like enough, but also going unnoticed sets the bar even higher for Philippe Petit, who is already balancing over New York City.
This true story unveils the pressure, the dedication, and the love for wire walking through the eyes (and feet) of French wire walker and street performer Philippe Petit's daring journey in 1974. Following the critically acclaimed documentary "Man on Wire" and adapted from the book authored by Petit himself, "To Reach the Clouds," comes a narrative biography film starring Joseph Gordon-Levitt and Ben Kingsley. "The Walk" opens in IMAX theaters on Sept. 30 and everywhere on Oct. 9.
The DePaulia attended a pre-screening of "The Walk" at Navy Pier's IMAX 3D theatre. Following the screening, The DePaulia participated in a virtual reality simulation of Petit's walk across the Twin Towers.
Developers of the system detailed their newest program for gamers and moviegoers, "Sony Computer Entertainment America LLC (SCEA), Sony Pictures Entertainment and IMAX Corporation have teamed up to deliver "Can You Walk the Walk?" – a virtual reality (VR) experience that puts you right out onto a high-wire walk between the towers of the World Trade Center in 1974. The demo will be presented on "Project Morpheus" (Morpheus) – a VR system developed by Sony Computer Entertainment Inc. (SCE) that takes the PlayStation4 (PS4) system to new levels of immersion and demonstrates the future of gaming."
After gearing up with the headset, goggles, headphones and some mental preparation from the words of Petit, the users footsteps become Philippe's. The virtual reality simulation creates an entire 360° HD vision of New York City booming 110 stories high. As you inch over the ledge, cars and busses drive the city streets below as you try to balance on a one-inch diameter wire. The simulation operates through the Play Station 4 newest features, which are predicted to be released in 2016.
"Morpheus enables players to experience a sense of presence, where they feel as though they are inside the virtual world of a game, through high resolution visuals, advanced tracking, 3D audio technology, and the power of PS4," the developers said.
Wire walking is a craft to many. The director, Robert Zemeckis, who also directed classics like "Forrest Gump" and "Back to the Future" explained it as, "You could say it's a stunt because it's risky. It's dangerous, that sort of stunt – you're on a wire hanging in the case of the World Trade Center towers over 1300 feet in the air – but it's also dance. It's also gymnastics. It's also ballet. It's a whole physical performance, it's not just the stunt – it's an art form unto itself. It's really interesting in that regard. In movie terms, it's stunt work, but in reality it's really probably ballet."