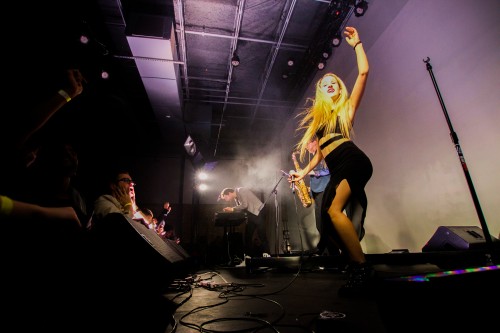 Duo Marian Hill swayed their way into Chicago on Oct. 7 with an irresistibly spirited and satisfying show.
First Ward, the industrial show venue located inside 1st Ward, offered classy high ceilings begging to be filled with sound, and the band didn't hesitate to do just that.
One-man opener Heavy Mellow took the stage in front of his keyboard and laptop. At first he tested the water with a slow song, matched with sparse but encouraging applause from the still-growing audience. He caught more attention with his third song when he took center stage with electric guitar to jam along to his electronic music.
Marian Hill took the well-built crowd to chill and back. Vocalist Samantha Gongol and production artist Jeremy Lloyd combined as a force of magnetic alternative R&B. A fan favorite, saxophonist Steve Davit brought the much-needed addition of a live instrument to the set, playing bass in between his monumental and jazzy sax features.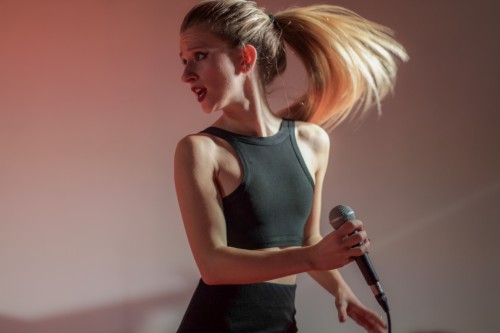 Elegant and tough, Gongol kept absolute control over her sultry voice. She sang deeply through her range, staying steady through the well-paced lyrics characteristic of their songs. The mesmerizing combination of her provocative confidence and her addictive voice hypnotized the crowd as she kept them in a trance through the night, especially early on with "Wasted" and "Lips."
The show held its energy all night, keeping the excitement high to the end of the show, exploding with "Lovit" and "Got It" as the finale. Both songs feature the best of all three performers, with a well-mixed variety of beats, ripping saxophone, and daring vocals on some of the most passionate lyrics. Gongol let her hair down from its high ponytail for the final song, ending the concert with the exclamation mark of a highly expressive jam.
Photo by Toby Murray / The DePaulia.
[aesop_gallery id="16111″]