How DePaul athletes balance school, social lives and athletics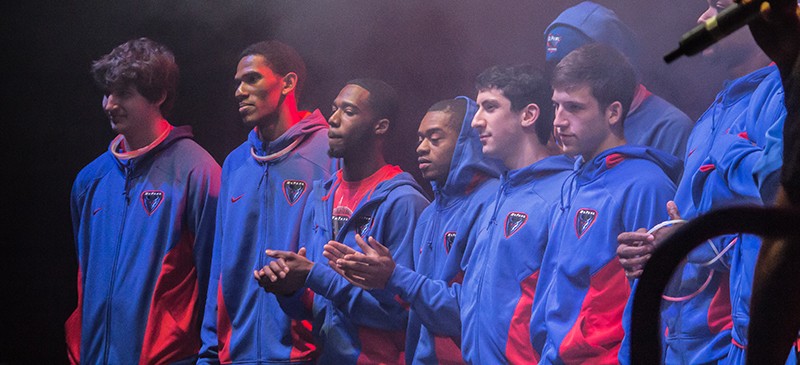 The life of the modern-day student-athlete has recently been in the spotlight. There are the nation-wide disputes over paying student-athletes. Although they're a constant pressure point for the media, we rarely hear what it's like to actually be an athlete.
"Really the most I do is just play FIFA," Simon Megally, junior DePaul men's soccer player said. "Especially during the season, there isn't much time."
It's a disarming response to hear from a Division I athlete, and not one that too many fellow students would probably expect. The most common interaction between students and the student-athletes is walking past each other on the streets of campus. The athletes often walk around together, creating bands of muscle-laden, uniform-clad champions around campus. It's imposing and a bit isolating.
RJ Curington is a junior on the men's basketball team, and he's also 6'5 and 210 pounds.
"If I were a regular student, I would definitely be intimidated," Curington said. "We're so tall. We're literally looking over people."
Athletes are nigh always wearing custom DePaul Nike dri-fit clothing. They tend to stick out among a student population that rarely sports DePaul gear.
Another reality of being a student-athlete is that you spend almost all of your time with other student-athletes. It's mostly a matter of convenience.
"At DePaul, we have a really small athletic community, so it's really easy for us to get to know each other and socialize," senior women's tennis player Ana Vladutu said, a senior on the women's tennis team.
Athletes spend the bulk of their time at the Athletic Center with workouts and practices.
Although they're just students, athletes have a lot going for them that much of the student body would long for. They have an identity, they're in fantastic physical form and they have an abundance of friends. However, they aren't as integrated into the student body as the common Blue Demon.
When asked about how they interact with non-athletes, a common response from the athletes was "group projects." Some athletes are fortunate enough to be from the Chicago area or be a part of an accomodating Greek life system. But even so, many athletes are out of touch with students.
This disconnect can be seen in how the athletes view their reputation. Most of them have never been told anything about it. Megally recounted a story where someone using the app Yik-Yak called out the soccer team for being "cocky."
"We aren't good enough to be cocky," Megally said. But, even with no conference wins, Megally said that's what people think about the athletes in general.
Curington also said that the basketball team in particular doesn't think that they're on top of the world. The basketball team has had a woefully bad record in recent seasons.
There could be a serious issue in the way student-athletes are affiliated with the schools they attend. By spending the vast majority of their time with other athletes and not integrating with the rest of the student body, the athletes are self-othering.
Just look at someone who isn't a student-athlete.
Adam Chalifoux is a junior and is involved in Radio DePaul, DePaul College Democrats and  the fraternity Alpha Epsilon Pi. Those are three vastly different cultures.
"One of the things I enjoy about DePaul is that I have so many different groups of people to hang out with," Chalifoux said. "I don't want to pigeon-hole myself to one group. That would be incredibly boring."
Chalifoux's college experience is in no way the norm, but involved students like him are the majority at DePaul. Through the brutal time commitment, athletes can rarely be a part of anything other than sports.