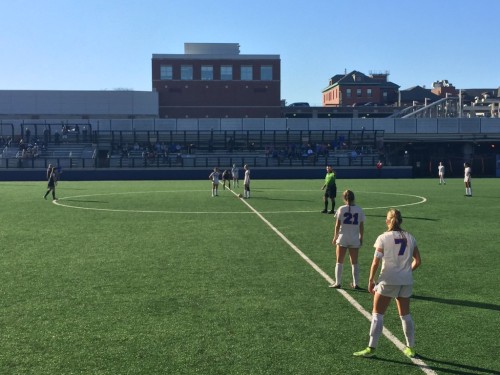 "It's never easy to lose. It's never a position you want to be in," Elise Wyatt said, holding back tears. "This team made a good run and Providence gave us a run for our money and on this given day, Providence was hungrier for it."
DePaul's (12-4-4) season came to an end in the first round of the Big East Tournament when Providence (13-7-0) came to Wish Field and left with a 1-0 win, despite the Blue Demons dominating the second half.
"We were all over them in the second half and one undisciplined foul, one set piece … it's hard to take a goal like that," Wyatt said. "In the second half they had maybe two opportunities and one of them they scored on."
"It's hard, it's really hard."
A free kick in the 80th minute would lead to the game-winner in an intense conference tournament match against the one team all conference season long to beat the Blue Demons.
Hannah Wear sent in the free kick about 40 yards out on the left flank to Catherine Zimmerman who chested it down to Morgan Thomasian. Thomasian crossed the ball far post and Kathryn Hiller was there to volley it over Alex Godinez in goal. Set pieces have been Achilles' heel for an overall stout DePaul defense all season long.
"Credit to Providence, they had one really good chance and they scored," coach Erin Chastain said. "Set pieces have been a problem for us this year … we've paid the price in other games so I'm not surprised that's the goal they scored."
Chastain said she sees a little bit of last year's Blue Demons squad in the Friars because of their tenacity and attitude.
"They have a nice spirit about their team and I like that," Chastain said. "It kind of reminds me of our team last year with the belief they have."
DePaul outshot Providence 12-to-7 and had 10 more corner kicks, but just could not capitalize on it.
"Today we didn't have a bad game, I just think (it came down to) not finishing it and getting scored on with set piece(s)," freshman Franny Cerny said.
In the midst of the loss, Cerny already has one eye on next season.
"We're just going to have to remember this loss and make sure it motivates us to come out to every single game as hard as we can and to never back down," Cerny said. "We're going to have to work on defending set pieces because that's how we've (been scored on) a lot."
Knowing what to improve on for next season doesn't make the loss any easier, though. Cerny said it's not easy going out the way they did after working so hard all season long and improving week after week.
"It's disappointing for us and our seniors who have been such a big part of this team to go out in a loss like this," Cerny said.
The loss spells the end of five Blue Demons' careers, something Chastain and Cerny agree is disappointing.
"I'm most disappointed for our seniors who will now be done with our program," Chastain said.
Goalkeeper Alex Godinez suited up for the final time between the sticks for DePaul. Defenders Sarah Gorden and Brianna Ryce, the backbone of the DePaul defense, featured as a menacing duo for the last time.
DePaul's all-time leading goal scorer, co-leader for goals scored in a single season, and the heart of the team also hangs up her boots for the Blue Demons: Elise Wyatt.
"It's been an unbelievable, beautiful ride," Wyatt said. "There have been many teammates who have come in and helped me grow as an individual and my coaches have shaped me into the person I am today."
"It's hard to say goodbye to such a beautiful thing."