Review: Jimmy Whispers and Twin Hits take over Lincoln Hall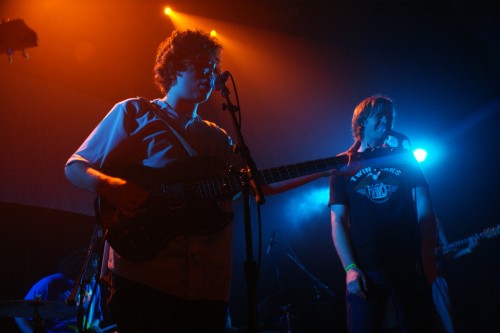 Nothing about Jimmy Whisper's headlining show fit together at Lincoln Hall. The small theater was home to the strangest assortment of groups performing together — but that's not to say that it was a bad performance at all. In fact, the differences between all of the artists performing made for an incredibly engaging and unique show which encapsulated some of the most fun acts that Chicago has to offer.
Fee Lion, a project by Chicagoan Justina Kairyte is a fun blend of electronic pop and soulful vocals, and the multi-instrumentalist switched between guitar and keyboards throughout her set. While her performance was solid, the opening set at Lincoln Hall was a weird atmosphere for the artist. Most of the people in attendance were there to see the other artists, who were from varying genres dissimilar to Fee Lion's electronic pop.
Throwing another curveball for the members of the crowd unfamiliar with his work, Tim Kinsella performed a solo set. The musician, who is also known for his work in the bands Cap'n Jazz, Joan of Arc and Owls, has been performing solo music under his own name since the early-2000s. Kinsella's solo set consisted of himself with a guitar and someone playing noises off of a computer. Unfortunately, the noises did nothing to help his set — instead made me wonder where the weird static noises were coming from and being annoyed by them. Kinsella's music without the noises was fine, despite years in the music business, Kinsella's voice is still as good as his earlier work.
Most of the crowd was at the show for Twin Hits, a mash-up between Twin Peaks and Today's Hits. The two bands consisted of two guitarists, two drummers a bassist and vocalist all pumping out garage rock magic.
Guitarist Clay Frankel carried many of the tremendously performed songs with his lead guitar parts, despite having bashed his cheap guitar to fans before the show. With so many members on stage, it was no surprise that their set was kind of a mess. All the members were interrupting each other, seemed high and most of the guitar straps had fallen off by the end of their set — but the messiness is what made it fun. The young band can pull off being messy, but still sounding fantastic, which is exactly what they did Wednesday night.
The headliner of the night was Jimmy Whispers, the DIY scene's equivalent of Andrew W.K. He's not someone that attracts fans through his music, but rather his energy and enthusiasm for everything about life. At his headlining show, Whispers sat on different speakers throughout the stage, danced, jumped around, sang in the crowd and crowd surfed — all in one song. He's a ball of energy, and when he's performing it's hard not to be happy.
The Chicago-based performer took advantage of his headlining set as an opportunity to experiment with new songs and a full band, including an accordion player, a clarinetist, trumpeter, guitarist, keyboardist and of course Whispers himself — a strange assortment of musicians and artists, but a fun and unique show.