DePaul's 30 international athletes have unique experiences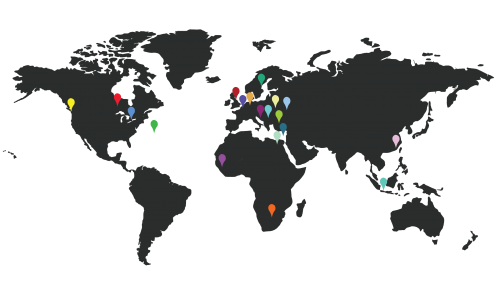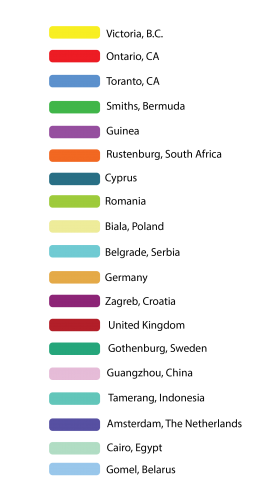 When women's tennis head coach Mark Ardizzone goes abroad to recruit potential DePaul players, he's not allowed to show his itinerary to the athletic department staff.
They won't let him because they don't want to see it. He's going to be on a brutal schedule: 10 flights in four days, watching tournaments, scouting players and building relationships.
"To me, it's all about the preparation. When I go on a two week trip, it's all about making sure I'm gonna see kids," Ardizzone said. "I don't like to go anywhere and not have anyone I know. But it is fun to go to a tournament where you don't know anyone. I've been to tournaments where I don't know anyone and then all of sudden someone comes up and you meet a coach and they might email you about a player."
The nature of recruiting international athletes is an entirely different beast from  recruiting high school players in the United States. For some sports, the possibility of going professional is simply not available coming out of high school in many sports in the United States, such as basketball.
"There's the understanding of what they're getting themselves into," head men's basketball coach Dave Leitao said. "The good ones have to judge coming to the states versus playing professional, so they've got to turn down opportunities to make money."
The allure of both high level soccer and academics can draw international students to the United States.
"I had the plan for America long ago, it was my 'plan b' if I don't go pro in Germany," sophomore men's soccer midfielder Hans Wustling said. "The plan was to go to the U.S. because you can play soccer and have good academics at a high level for both, so that's why I came to America."
This can be said for players who either aren't at the level to go professional in Europe or who may not be able to afford the costs of attempting to go professional.
"If you look at it, you go to a pro tournament in Serbia, you gotta pay entry fees, hotels, foods, then you go to the next place. It's an expensive journey," Ardizzone said. "A lot of kids will try to be pros, but then the parents go 'Uh-oh.' In Serbia there's probably a few kids who are getting all the money. The country's helping those few kids to help them go. But, if you're a little bit below that, you're not getting anything."
The lifelong dream of playing high-level sports is a main factor in driving athletes to the United States. Men's basketball has two international players on their team: freshmen Erten Gazi and Oumar Barry.
Gazi is from Cyprus but also has Turkish citizenship. He represented the Turkish youth national team at the 2013 U-16 championships and the 2015 U-18 championships, and he attempted to come to the United States to further his career. The same can be said for Barry because he was unable to get the same opportunities for basketball in Guinea as he can in the United States. He came over to the United States when he got a scholarship to play at Bishop O'Connell High School in Arlington, Virginia.
"It was my dream," Barry said. "When I was young I always wanted to come to the United States to play basketball because in Guinea, basketball is considered a second-level sport, so I wanted to go somewhere where I could play basketball and really get better."
Finding the players who want to come to the United States is a challenge in itself, but financial restraints make the coaches accept monetary restrictions as an added barrier to recruiting.
"You have to really plan and strategize on the recruiting front and we decided to put 'X' amount of dollars aside to potentially get a German," head men's soccer coach Craig Blazer said. "We went with the German idea because the German academic system is so rigorous, the language isn't an issue and their soccer is good."
Because of this, DePaul coaches with a lot of international recruiting experience also have experience with maximizing their trips in terms of seeing and talking to players.
"I'm on Kayak every minute of the day. I'm watching for fares. Like I said, I got a fare from England to Spain for $26 with Ryanair. I'll maximize the trip," Ardizzone said. "(Athletic director Jean Lenti Ponsetto and senior associate athletic director Kathryn Statz) are so proud. Last year I was in Italy, I took a picture of the Coliseum, but I was there for about five hours. I wasn't going waste my time. I'm going to see four girls in less than four days on this trip."
When abroad, the coaches have to sell a school that some students may not have heard of or may not have the chance to see before having to commit.
"It was really hard because I committed here without ever coming to see the school, because like I said, I was being recruited from China. It's halfway across the world, so it is expensive to come here on a visit," sophomore volleyball outside hitter Jameson MacPhee said. "But I mean, just through Skype calls, (head volleyball coach Nadia Edwards) was super welcoming, and the girls reached out to me through like, Facebook, or whatever they could because I had a Chinese number and it was confusing."
One advantage that DePaul coaches do have is being able to sell a Chicago experience as an addendum to DePaul.
"Chicago is in so many media forums whether it's in the movies, the Chicago Bulls. It's one of the most attractive cities in the country and in the world," Blazer said. "It resonates with the right young man."
The diversity of a big city can also be attractive to an international student.
"It was a totally different feel from the two schools I had gone to, so the city really attracted me here. Also the coaches and everything they were offering me, everything DePaul offered was just amazing," senior men's soccer defender Jalen Harvey, who is from Bermuda, said. "The diversity here and the atmosphere is just great here and I love it. It's why I stayed all four years."
While college, for some, can be a way to explore outside of home, some international athletes have the burden of not being able to see their families and homes as much as those who live in the United States. It also means that some families are not able to see their child play live.
"It's a 15-hour flight to (come see a game)," MacPhee said. "So (my family tries) to stream online, but they've never been able to come here, in-season or out of season. But hopefully in the future they'll be able to go to a game."
Working with other international athletes and creating bonds makes the transition to college life in the United States easier.
"After (the first couple of months) you have to keep motivating yourself because sometimes you miss your family obviously and you miss the German culture," Wustling said. "But I have another German on the team, Phillipp (Koenigstein), and we can talk about a lot, and make some German food together."