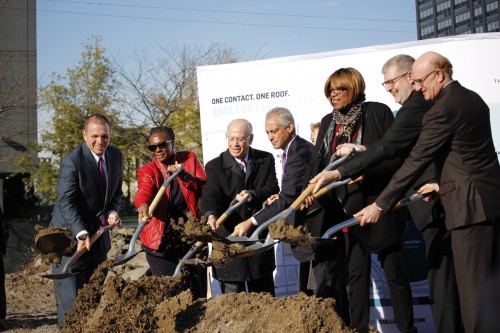 Though the construction work has already started, a groundbreaking ceremony was held Monday morning at the McCormick Place Events Center, otherwise known as the DePaul arena.
"We're always proud to grow the university in ways that grow the city's needs," DePaul president Rev. Dennis Holtschneider, C.M., said. "Today, we're particularly proud again to assist in the renaissance of the famed Motor Row and the South Loop neighborhoods."
The arena was officially announced in May 2013 and construction started earlier this fall. The ceremony was attended by Holtschneider, members of the Metropolitan Pier and Exposition Authority board, 3rd Ward Alderman Pat Dowell and Chicago mayor Rahm Emanuel.
"DePaul has been a part of Chicago at every venture," Emanuel said. "DePaul knows that when Chicago thrives, DePaul thrives and that when DePaul grows, Chicago grows."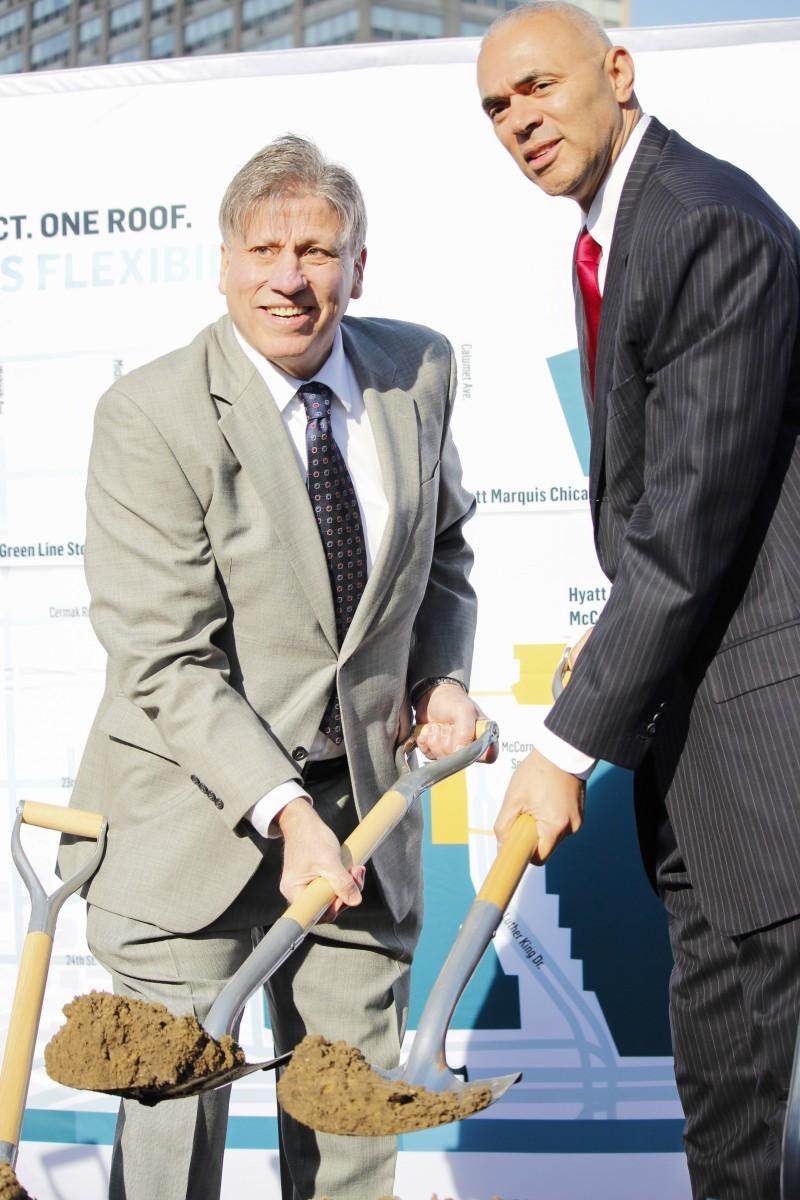 The arena is slated to be open for games for the 2017-18 season, a year later than initially announced. In addition to being the home court for DePaul men's basketball, the arena will host select DePaul women's basketball games, conventions, concerts and will be the site for DePaul commencement ceremonies.
The project was a partnership between DePaul University and McCormick Place in an effort to boost convention business and tourism to the South Loop. The focus for DePaul was to bring the men's basketball team to an arena in the city.
"We're happiest of all that Blue Demon basketball is coming home to Chicago," Holtschneider said. "This brings a whole new meaning to 'home court advantage.'"
Since 1980, DePaul has played at the Allstate Arena in Rosemont, a place that allowed for the expanded seating needed when the program was drawing enough to fill the 18,000 seat capacity despite being off campus. Struggles over the past two decades, however, have brought attendance down.
Men's basketball head coach Dave Leitao believes that the new arena will be a boon to DePaul in terms of recruiting as it adds a new element to bringing players into the city.
"The phrase that I use is 'game changer,'" he said. "It has an opportunity to change some of the proud history of the past 60 or 70 years. Having a new venue makes it so we can have it in our community and we can really be Chicago's team."
Leitao was joined at the ceremony by DePaul athletic director Jean Lenti Ponsetto and women's basketball head coach Doug Bruno. They took part in a second round of the ground breaking ceremony after the MPEA board, Holtschneider, Dowell and Emanuel participated in the primary ceremony.