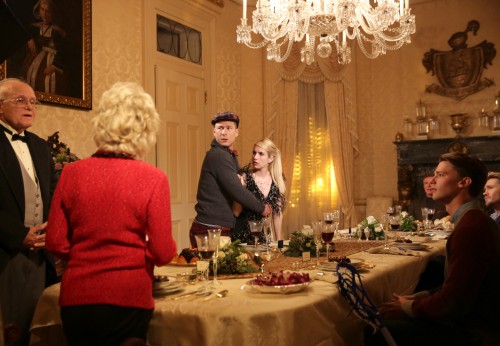 I'm thankful for extra hot pumpkin spice lattes, designer clothes and Chanel's sudden outburst of sisterhood love. This week's "Scream Queens" episode delivered more than a peek inside our favorite Kappa sisters' family turkey days, but also a look into the mind of each one to see what evidence is stacked against whom.
In a meat locker from Narnia, Hester's body, which had recently fallen down the stairs, was missing at the beginning of the episode. But no worries, because Chanel's attempt to kill for love still managed to get her spot at the Radwell Thanksgiving table whether she knew where Hester's assumed lifeless body was or not.
The messed up family from 53 Shady Lane, Gigi and the remaining Red Devil sibling, enjoyed a Thanksgiving of room service quail, the Macy's Day parade and turkey coloring books until the Red Devil had to leave to keep up her alibi.
Chanel #3 arrived home to what she considered the Tinder date of Thanksgiving: the Swenson family tradition of eating the frozen food dinners that made the family their fortune, while upset that Jay Cutler is starting for the Bears. #3 leaves no sooner than she came, announcing she is going "home," the Kappa house.
In the kitchen of the Kappa house Dean Munsch is slaughtering away at Tiberon, the turkey she recently pardoned on the quad. Since her ex-husband's family still believes she is responsible for the death of her ex-husband she was not so surprisingly uninvited to Thanksgiving. When Chanel #3 discovers this the two pair up to have a Thanksgiving celebration of their own at Kappa.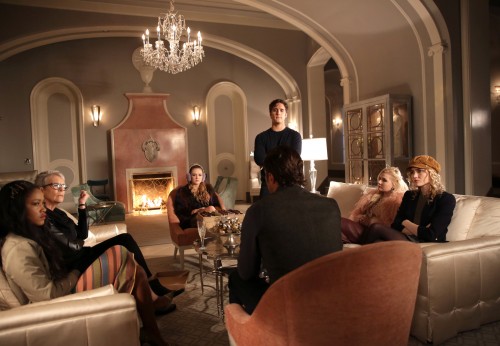 As we have discovered, Grace not only has mommy issues affecting her holiday spirit, but also arson convicting lying daddy issues as well. After Zayday and Grace cancel their plan to head to Oakland to celebrate with Zayday's family, Wes calls Grace and tries to get her to come home. Instead, Grace invites Wes to the Kappa House orphans Thanksgiving.
The most anticipated Thanksgiving of all, the Radwell Thanksgiving in the Hamptons, is going just as Chanel had hoped, without an appearance of a neck brace. However, Chanel has bigger issues, like Bunny Radwell, Chad's mother. While it is almost unanimous that the Radwell family is thankful that the Red Devil did not kill Chad, Bunny includes a sly comment about the traditional long line of wealth in the Radwell family.
Chanel counteracts with a story of the first Oberlins signing the Declaration of Independence and coming on the Mayflower. Bunny is not impressed and her disdain for the women in Chad's life only grows larger when a special bedazzled guest arrives. Hester announces to the entire Radwell family that not only did Chanel's push down the stairs possibly cure her severe scoliosis but she also has the seed of Chad Radwell inside her. The family is not happy and offers to pay her off to make this go away. Chanel is alarmed when she discovers in the Radwell's eyes her and Hester as exactly the same, gold digging hoochies.
Despite the intense feelings in the house, Chanel and Hester stay for a game of Pictionary. However, the game becomes an intense, spirited attack on Hester's appearance and Chanel finally shows her Kappa presidential colors. Chanel invites Hester back as Chanel #6 and claims that all she really needs is sisterhood and that no one should ever be talked to like the way the Radwells spoke to her. Chanel also comes to her senses and ends it with Chad forever.
Back at the Kappa house, Dean Munsch has suggested a game of guessing whom the Red Devil is while Tiberon cooks. Munsch offers up her evidence first, claiming Chanel #3 is the Red Devil because of her father, Charles Manson, as well as on the night of the chainsaw attack in the house Dean Munsch says she saw #3 running back up the stairs sweating. Chanel #3 defends herself by saying she uses the downstairs bathroom to poop every two weeks and it becomes quite the workout. She then offers up her guess as to who the Red Devil is: Dean Munsch. #3 recently passed by Munsch at the café reading Play Girl magazine and eating a bologna sandwich, proving that Munsch is not allergic at all to bologna or other deli meats.
The game is interrupted when Chanel #5 shows up late. Suspicous? Her alibi is that her family left for the Maldives without her and she takes seat at the Kappa Thanksgiving. Wes accuses his own daughter of being the Red Devil because Grace's visit day to Wallace last year matches up perfectly with the acid spray tan incident where the victim claimed to have seen a Red Devil after she was sprayed. Grace is saved by Pete, who also decided to stay at the Kappa house and begins presenting evidence against Wes being the Red Devil. For someone who has a habit of sneaking into places, it seems odd Pete's first piece of evidence against Wes was that back in 1995 Wes attended the Kappa tunnel parties, meaning he would know how to get into the Kappa house. Pete also found footage of Wes sneaking into the meat lockers and spray painting the camera lens. Wes explains that he steals the meat for his paleo diet since the Chanels don't eat anyway. Grace mentions he does happen to look more fit. Do we believe him? Or is he more fit because killing can be quite the workout?
However, the "orgy of evidence" leads to records that reveal that Wes is the father of the bathtub siblings.
After the intense news, the quasi-family seems perfectly okay with sitting down and sharing the Thanksgiving meal together anyway. Chanel and Hester arrive and Chanel #5 carries out the platter with the cooked turkey. She lifts the lid to reveal not Tiberon but Gigi's head.
PREDICTIONS:
Even though the news of Wes being the father to the bathtub babies is shocking, I don't think that has any more evidence to him being the Red Devil. We know that the Red Devils are siblings so that immediately excludes him. However, this could soon become a conflict of interest, as he would never want to hurt his own child.
I still believe there's a fairly strong case against Chanel #5. Not only does she complain about everything Chanel does in Kappa but she also has the worst alibies. Everyone was too quick to believe that her family left for the Maldives without her. And as a Chanel why would #5 offer to help with anything for dinner rather than have it served to her? So it seemed suspicious to me that she offered to help grab Tiberon. Maybe because she knew that it was Gigi's head she just cut off and wanted to secretly gloat about her work?