Doug Bruno asks for DePaul women's basketball to be "ultra competitive" against UConn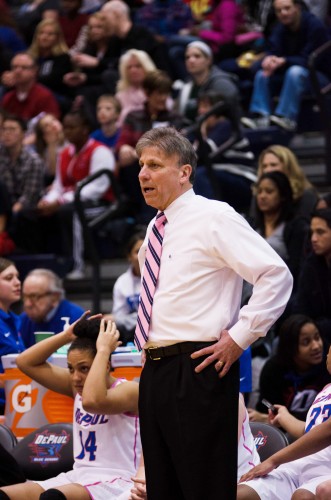 Doug Bruno left Waco, Texas with a better idea of what his team needed to do against one of the best teams in the country. The DePaul women's basketball head coach saw his team lose to No. 4 Baylor 86-72 on Nov. 22 and communicated his concerns to the Blue Demons.
"Baylor's very talented, but at the same time, I was probably irritated about the controllables," Bruno said. "When they make us do things, it's one issue. But there's the controllable: the passes that could have been made to open people, the rebounds that could have been fought for instead of watched for, those controllables are what we went to school about for the Baylor game."
The season is still a work in progress with the Blue Demons sitting at 5-1 while ranked No. 18 in the USA Today coaches' poll and No. 23 by the Associated Press.
However, the Blue Demons' next opponent will be a completely different animal when they face the best team in the country — the Geno Auriemma led UConn Huskies.
DePaul faces UConn at McGrath-Phillips Arena Wednesday at 6 p.m., and the Blue Demons will have their hands full.
Not only is UConn 4-0 this season, but they have won the national championship three seasons in a row. In fact, the Huskies have lost just five games dating back to the 2012-13 season.
"All I can ask these players is to be ultra competitive," Bruno said. "That makes you have to have a very high-adversity quotient. They're going to force you into adversity. They're not only one of the best offensive teams in the country, they're always a great defensive team. They make it hard for you to find shots, much less get looks.
"They're just a really strong defensive team, and you have to have a toughness about you to be able to handle mentally all the duress they're going to throw at you."
It's easy to call UConn the gold standard of women's basketball, a term Bruno also referenced. Bruno said the Huskies again have "seven pros," meaning they will have seven players drafted in the WNBA.
But UConn's best player starts with Breanna Stewart, a senior forward who has the chance to become the first ever women's basketball player to win four national titles. Stewart is averaging 22.8 points per game and 7.8 rebounds this season, while shooting 63 percent.
By all accounts, Stewart is a lock to be the No. 1 pick in next year's WNBA draft.
"That's a great group of talent," Bruno said. "But you have to come at the talent and not back down, and compete with the talent. What happens then is going to happen. That's what fearlessness is. You can't be afraid of people."
DePaul forward Jacqui Grant echoed similar statements.
"They're ranked No. 1 for a reason," Grant said. "But we have to go out and play our own game. And focus on ourselves."
In the two teams' previous meetings, Bruno has lost every game to Auriemma. Last year, the Blue Demons lost 98-64 to the Huskies on Dec. 19 in Connecticut.
Bruno and Auriemma are close friends — with Bruno serving as the top assistant on an Auriemma led staff in international basketball — but Bruno is 0-12 all-time against Auriemma.
For years, the two teams routinely met in the Big East conference from 2005 until 2012 when Connecticut departed for the American Athletic Conference. Since Connecticut's departure, the Blue Demons have ruled the Big East, winning the last two conference championships.
And so as Bruno and the Blue Demons prepare for meeting No. 13, Bruno said there are no pulling rabbits out of a hat to get clean looks. For the Blue Demons to play well, Bruno said his job is to help his team get clean looks and then his players have to make them.
"If you can just stay strong and really compete every trip, every possession, that's all I can ask of our players," Bruno said. "If you do that, I think we can surprise ourselves. I think our players can surprise ourselves of where we fit in the food chain in this year's NCAA basketball tournament."
View Comments (2)