Kanye releases 'Yeezy Season 3' and new album with spectacle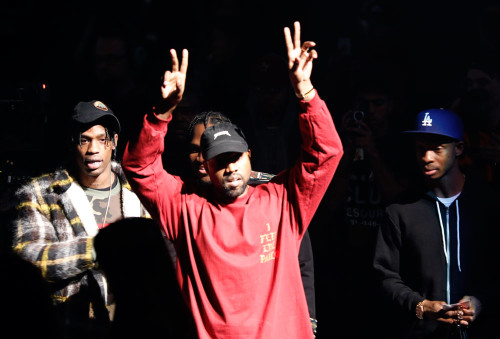 Take a moment to firmly understand that this has not been done before.
When I learned just a few days ago Kanye West, would be broadcasting his new album in my hometown, I jumped off the couch like a 7-year-old on Christmas morning .
West, DONDA (the Chicago Native's creative team) Virgil Abloh and Adidas, coupled with Jay-Z's Tidal Music, managed to produce something both obscure and magnificent during their 90 minute window of "Yeezy Season 3," which included the release of West's newest album, "The Life of Pablo."
No modern artist has released a collection of music by way of stadium performance and global live-stream, though West did something similar when he displayed some visuals on various buildings around the world to accompany the 2013 release, "Yeezus."
He had also dabbled in such fashion events, releasing his first Adidas-produced line, YZY Season last February. With the help of performance artist Vanessa Beecroft, who West has collaborated with several times, this event would yet again challenge the consumer and critic.  The fashion was, and will always be radical, sharp, and in some cases, the complete opposite of what some would be considered normal clothes.
— KANYE WEST (@kanyewest) February 12, 2016
Cover by Peter De Potter pic.twitter.com/wdQOHk6QBA

— KANYE WEST (@kanyewest) February 11, 2016
As Kanye entered the arena behind his illustrious and gaudy wife, Kim Kardashian, accompanied by her royal pack of sisters and family members draped in all white attire (that West designed, because of course) the lights dimmed in the theatre. It's worth noting that former NBA star, Lamar Odom, who is recovering from a coma and complications from a drug overdose was with West. This is Odom's first public appearance since his hospitalization.
As Kanye absorbed the moment and approached the DJ table, we realized this was an extravagant listening session of sorts. Still, it's unheard of to think about an artist sharing music in this way
Not to mention the new age, homeless-rag articles of clothing that had been unveiled, and innovative pieces of footwear being displayed on the more than 110 models who stood in the center of the arena.
The energy was special right away, with the first track, "Ultra Light Beam," which features a gospel and soul sound with fellow Chicago native, Chance The Rapper, along with gospel music legend, Kirk Franklin.
Just a few tracks later, after moving on from the gospel feel-good, West rapped on a warped, techno-esque beat, forgiving women and other former loved ones for their past sexual encounters.
The music, coupled with the dozens of different designs, facial expressions, and colors that are on stage and below, the senses are on complete overload – being offended by the words you're hearing, but really loving and appreciating how it sounds.
It's challenging. Part of Kanye's appeal is the ability to touch on extremes of sensory emotion. Setting the scene in words doesn't do it justice, and I'll say it again – we've never seen anything like this.
But even with all of the spectacle, it felt like they were in the studio.  The interactions, the human element – it was all on full display. West is pictured, vibing hard and rocking around to his music among cohorts Two Chainz, Travi$ $cott and Don C.
"Yeezy Season 3" will forever be remember as something that elevated the perception of art, and the relationship between different segments of it. The maniac who's seen seven albums go platinum and is on the verge of taking over the fashion game is somehow improving.